Nairobi, Kenya
Kenya's repeat presidential election opened today to near-empty polling stations, sporadic protests, and a prevailing sense of uncertainty across the country. The much-disputed poll is a redo of a presidential race in August that Kenya's supreme court declared invalid.
At the National Social Security Fund Grounds polling station in central Nairobi, officials sat under a row of tents in a parking lot waiting for voters. Alphan Muthami, the presiding election officer said that just under 30% of voters registered at the station had cast ballots by midday. By this time in the August race, more than half of registered residents had voted.
"The queues were consistent and long last time, but not today," Muthami says. The numbers are so low that he expects to finish counting by 6.30 pm local time. Last time, the counting took until the middle of the next day.
Elsewhere few people were lined up at polling stations in Nairobi. In Kibera, a slum in the capital, protesters threw rocks at police and blocked access to polling stations. Voter lines were thin in cities along the coast. In Kisumu, a stronghold for the opposition party, at least one person has been killed in clashes between protesters and police.
Scenes across the country today stand in sharp contrast to the election in August when voters began queueing before daybreak to cast their ballots. Turnout in that race, which was won by incumbent president Uhuru Kenyatta, ultimately reached 80%.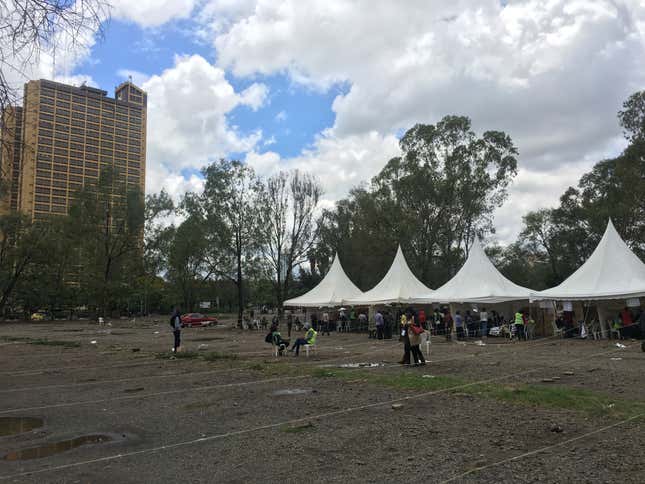 Depressed turnout, expected to be as little as half of what it was in August, is in large part because opposition candidate Raila Odinga has pulled out of the race. Odinga has urged his supporters to boycott the vote. Odinga yesterday called the election a "charade" and pressed for mass "civil disobedience." He wants to turn his NASA coalition into a "resistance movement," he said.
"We must rise to the occasion and save democracy not only for ourselves but for all of Africa," Odinga, 72, said in a speech yesterday. "We remind the people of Kenya that in this region, we are the last country standing and fighting for democracy. If Kenya succumbs to dictatorship, all of Africa will be in danger."
Odinga quit the presidential race in early October after his demands for reforms of Kenya's electoral commission, which the court deemed responsible for "illegalities and irregularities" in the August race, were not met.
Some blamed the lack of voter enthusiasm on heavy rains in the morning and the day before that delayed delivery of voting material and flooded voting grounds. At a polling station in Nairobi's Langata constituency, election officer Billy Sibua said, "The turnout is very low and the weather is not good."
Many Kenyan voters are also just tired and disenchanted after months of political wrangling and intimidation among Kenya's politicians and institutions. Kenya's highest court, which demonstrated its independence from the ruling Jubilee party by nullifying the election, appeared to buckle this week. Five out of the seven judges failed to turn up to a hearing yesterday on a last-ditch effort to stall the poll, preventing a quorum. Less than 24 hours earlier, the driver of the deputy chief justice had been shot and injured.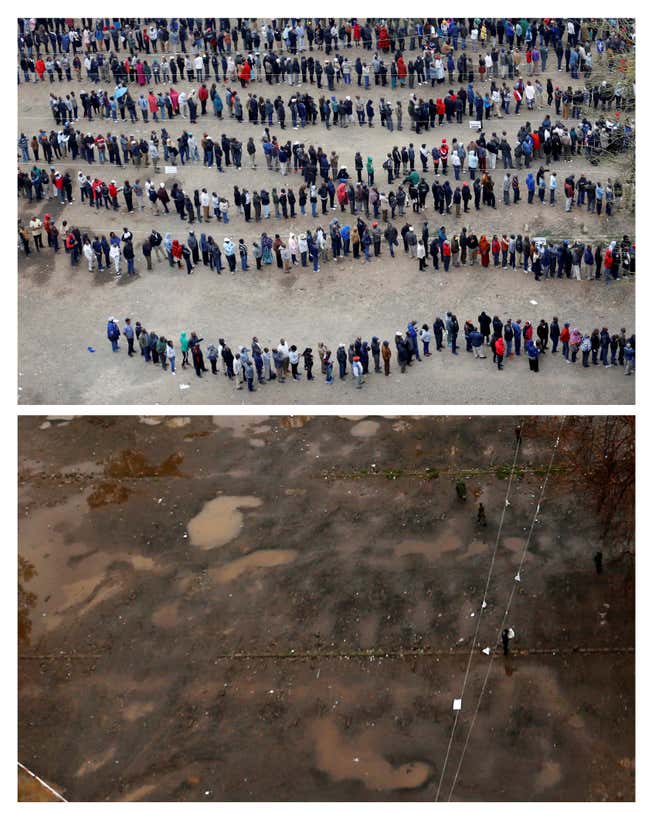 Jamal Harsam, 25, an auditor based in Nairobi, is boycotting the vote out of frustration with the system. Comparing the contest between Odinga's NASA or Kenyatta's Jubilee party as choosing between a "rock and the hard place," he said, "I will not practice my constitutional right to vote, because a lot more Kenyans have had something more fundamental, their right to life, stolen by the same system that failed to protect my [rights] in the constitution."
Few have faith in the electoral process. International election observers have called for a delay. Even the chairman Kenya's Independent Electoral and Boundaries Commission (IEBC), Wafula Chebukati, has said he isn't sure if the board can deliver a credible election. His chief executive has gone on leave, while a senior official resigned and fled to the United States, citing death threats. A week before the August election, another senior official was found strangled to death.
The past few months of uncertainty have wreaked havoc on East Africa's largest economy, where 40% of the population still live below the poverty line. From bus services to tailoring, traders, and shops, Kenyan business has been stagnant for the past four months.
Today's uncertainty is further compounded by the prospect of violence. At least 33 people have been killed in protests since the August vote, a majority of them in opposition strongholds in Nairobi and Kisumu. While Odinga has cautioned his supporters to stay home, it's not clear that they will. Police in Kisumu fired teargas on a group of young protesters this morning.
In a televised speech after Odinga's, president Kenyatta said the repeat vote was "Kenya's greatest democratic test." He said people should uphold peace whether they decide to vote or not.
On social media, Kenyans used the hashtag #LastDayOfDemocracy to lament the state of the nation and discuss whether they were voting or not. Alexander Ikawah, 30, compared the vote to waiting for a bus for five years only to be told it's headed in the wrong direction.
"If truly there is only one bus called Kenya, then the direction it goes must be agreeable to all," Ikawah said. "I will not vote because I am as worthy a passenger as any other, and I have waited too long in line for my voice to be ignored. Not to mention that I am paying for this bus with sweat, blood, and tax."