Election officials in Kenya have said less than 35% of voters came out to cast their ballot in Thursday's (Oct. 26) repeat presidential election.
Wafula Chebukati, the election commission chairman, said 6.5 million Kenyans out of the 19.6 million registered participated in the election—a staggeringly low number in a country where voter turnout has always been high. In the annulled elections of Aug. 8 alone, the leading two candidates, president Uhuru Kenyatta and opposition leader Raila Odinga, received a total of 15 million votes.
Election officials also said the country's repeat presidential election has gone off without a hitch aside from a few "challenges that are largely security related." The Independent Electoral and Boundaries Commission (IEBC) said that voting had "progressed well and peaceably in a majority of polling stations across the country," according to a statement.
In reality, the election, a redo of a presidential race in August that was nullified by Kenya's high court, was far from peaceful in several parts of the country. Blockades and protests from those boycotting the vote, mostly supporters of Odinga, were so severe that four counties have had to delay voting until Saturday. After police and protesters clashed in opposition strongholds in the capital and the western parts of the nation, at least three people were shot dead and 50 others wounded, according to figures from local officials and hospitals.
In a bid for transparency, the IEBC uploads the forms from individual polling stations across the country that form the basis for the total vote count. So far, 37,013 forms out of almost 41,000, one for each station, have been posted. Those forms, filled out by election agents, paint a picture of the election across the country.
In one form from Kibra, a Nairobi constituency that includes the opposition stronghold of the Kibera slum, only 17 out of 690 registered voters showed up. Still, the agent concluded, "the election was free and fair." In another, also from Kibra, someone has written in all capital letters, "Not a single voter voted." Another agent wrote, "There were lots of threats of violence between voters and police throughout." In a polling station in northwest Kisumu, the election official wrote that the station opened but due to "an attack by hooligans" the voting could not go on.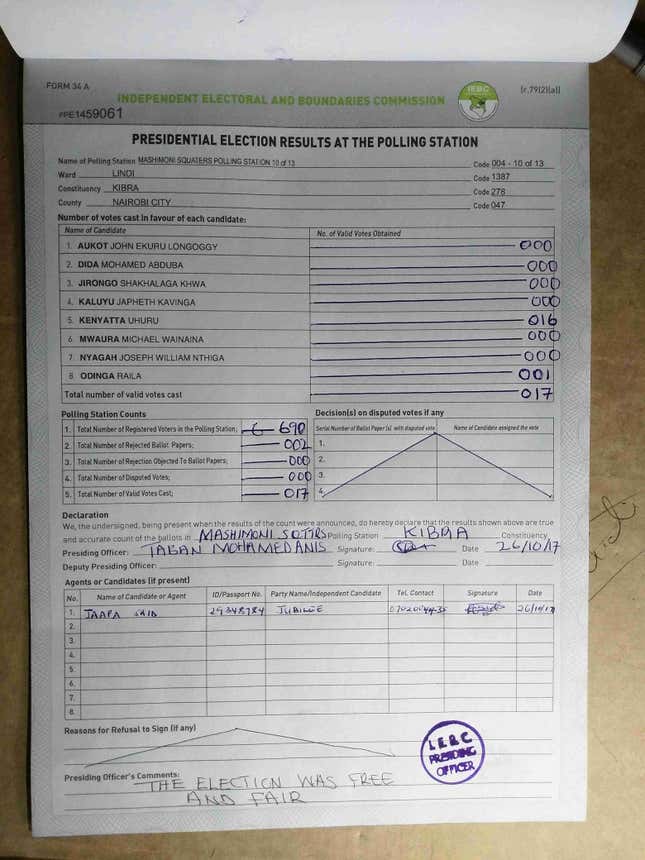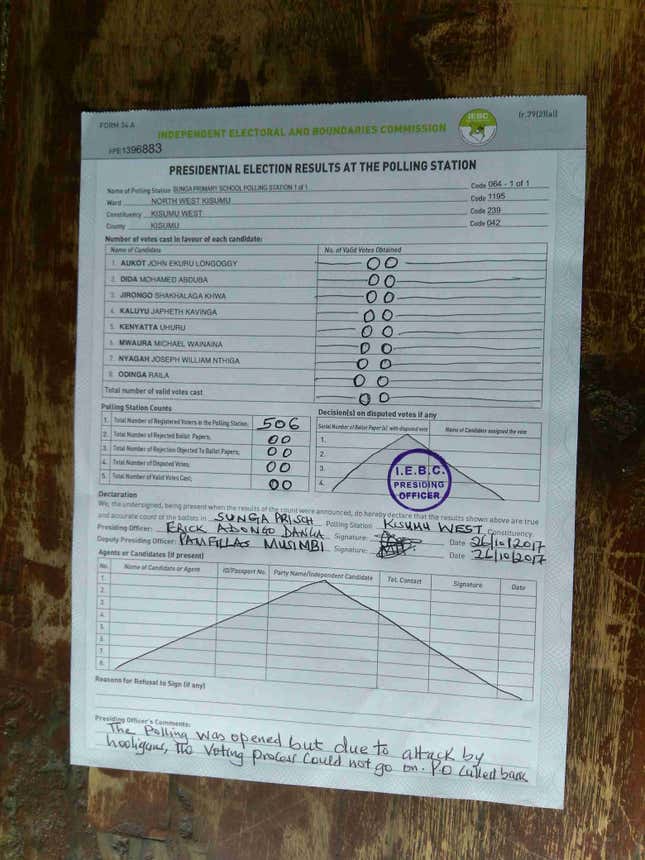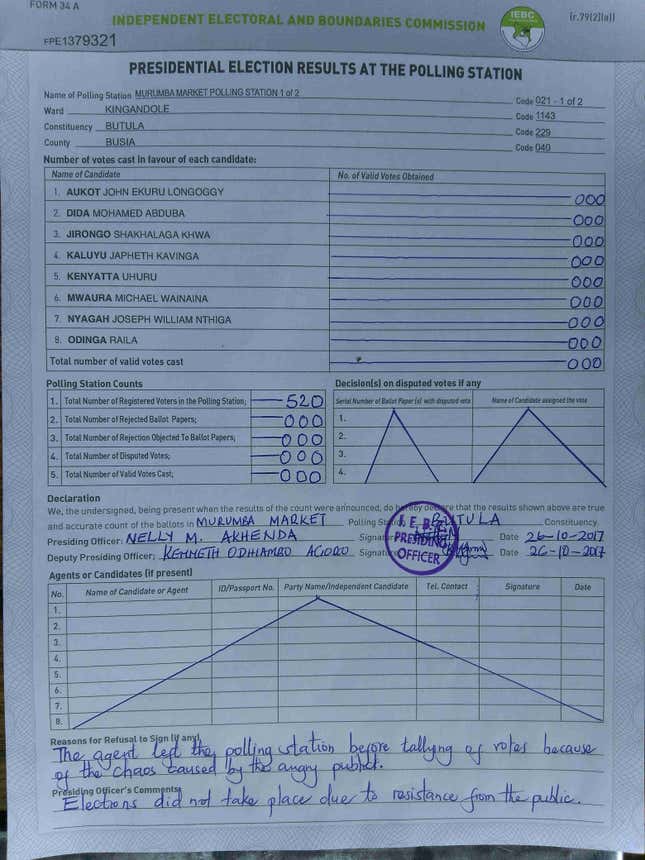 Odinga withdrew from the race in early October after accusing the commission of obstructing electoral reforms. Thursday's race, he said, was a "sham" and a "charade" meant to establish an "autocracy" in Kenya.
On Wednesday, Kenyatta wrote an editorial in the Washington Post saying the opposition sought to sow discord in Kenya. "Elections do not always reward those who think they should lead. Indeed, the true test of any democracy is not purely that citizens' ballots are cast and counted—but that the will of the people is accepted and duly reflected in the government they choose. We cannot have it any other way."