Yaoundé, Cameroon
At the Yaounde Multipurpose Sports Complex in late April, Cameroon held its first ever car exhibition. Potential car buyers marveled at a fleet of pick-up trucks, mini vans, station wagons, and sedans imported from China. The cars, brought in by a Chinese-Cameroonian venture, Cameroon Automotive Holding Company, are supposed to be particularly suited for Cameroon's rough roads that get dusty during the dry season and muddy during the rainy season. 
If all goes according to plan, these cars will soon be made in Cameroon and sold throughout the region under the brand "Star of Africa." Cameroon Automotive, started by a Chinese businessman Lu Fuqing, is trying to build an auto plant in an industrial zone near a Chinese-built deep sea port in Kribi in southern Cameroon. It will be the first car plant in Central Africa, one of the continent's least developed regions.
Lu, who has been in Cameroon for the past four years, is tapping into an underserved market. The majority of Cameroonian people can only afford imported used vehicles that incur stiff duties. Customs duties in Cameroon are often higher than the prices of vehicles. It means Cameroon has one of the lowest number of cars per 1,000 people at just 14 cars—the 160th in the world. The costs are even worse in landlocked Central African Republic and Chad, which depend on Cameroon's seaports for import and export trade.
"When we came to Cameroon, we noticed the streets were filled with very old cars. We also found out citizens buy used and worn out cars at prices which could fetch them new ones in Asia, Europe or America," says David Yonguet project manager of Cameroon Automotive. The company was originally looking at four potential countries including Cameroon, Ghana, Senegal, and Ivory Coast. In Cameroon they also found ready raw materials for glass, tires, leather chairs and other car parts are available in Cameroon. "That is when we developed interest," he says.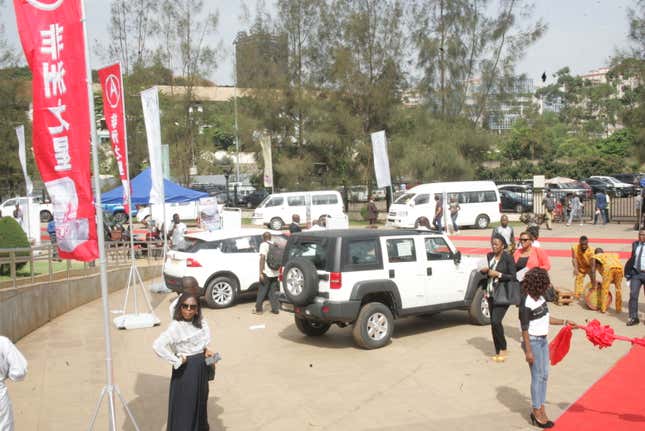 Chinese auto companies like FAW Group, ChangAn Automobile, and SAIC Motor been targeting African countries where car penetration is still relatively low. On average across the continent there are only 42 vehicles per 1,000 people, compared to the global average of 182, according to the International Organisation for Motor Vehicle Manufacturers.
Cameroon Automotive will begin by importing parts and assembling the vehicles in Kibri. It says it will eventually make the cars entirely in Cameroon after sending staff to train in China. The company is also recruiting members of the Cameroonian diaspora with experience in car manufacturing.
Its ambitions are helped by the fact that the Economic Community of Central African States (ECCAS) this month decided to fully implement a longstanding agreement to open up their borders for free movement of goods and persons within the economic bloc.
But the difficulties the manufacturer has had in setting up show the complications of doing business in Cameroon. Parts for the Star of Africa prototypes have already been made in China and are waiting the green light to be delivered to Kribi, Cameroon. Already manufactured parts of the car plant, made in China, are also awaiting delivery to Kribi.
The company has yet to get access to 500 hectares of land offered by the government of Cameroon for building the plant. The company is also yet to reach a conclusion in negotiations (French) with government over customs duties.
Cameroon's National Anti-Corruption Commission is investigating claims that government officials have delayed the plant over demands for shares in the company and kickbacks. Officials of the company say top ranking government officials have impeded the process. Yonguet said that Cameroon's president Paul Biya, with whom Lu has personally met, has had to intervene.
Other similar projects have been announced. Cameroon Automobile Industry Company, a consortium of local, Indian, and Chinese investors, said last year it would build two car assembly plants, in Kribi and Douala. Roger Ndjakam who represented the group said it would invest 92 billion Central African francs (about $160 million) into the project, the same amount Lu has promised.
Despite these obstacles, Yonguet says the company is determined to go ahead. "We signed a deal to manufacture in Cameroon and that is what we will do," he says. "We are determined to achieve our goal and we need government to be supportive."