Nairobi
East of Nairobi, Buruburu is a neighborhood of cul-de-sacs that the city's public servants and middle-income professionals call home. It's the kind of pragmatic neighborhood where telling your parents you plan to become an artist is a risk. It's an even bigger gamble coming from outside of the capital.
Boniface Maina knew no artists in his hometown of Nanyuki, so he searched online, found kindred souls in Nairobi and moved to the capital in 2012. Today, his surrealist swirling dreamscapes of tea stains, bleach and ink focused on emotions and psychology speak to an artistic sophistication that has evolved quickly since his arrival in Nairobi.
Much of his work hangs around the unassuming Buruburu house, almost waiting to be discovered. The Brush Tu Art Collective is as much a business solution as a shared creative space. The two-story house with a narrow staircase and creaking floors houses six artists, providing studio and exhibition space. At its foundation, the collective is an effort by the young artists to professionalize their ambitions in a country where artists barely make enough to eat.
In the last few years, Africa has undergone what the global art world has described as an "art boom." It's led to an international interest in contemporary art, shifting focus from the naive art and collected ancient artifacts. Here on the continent, it's generated enough interest to give rise to institutions like the Zeitz Museum of Contemporary Art Africa in Cape Town. It is this hype that young artists like Brush Tu Art Collective are trying to tap into.
"We came up with the idea under very harsh conditions," says Maina. He and fellow collective members worked together painting backdrops for a theatre company to make money. They banded together to buy supplies and eventually the Buruburu house, formally founding the collective in 2013.
Four of the six artists who spoke to Quartz are energized by the art world's interest in what young African artists are producing. They're also painfully aware about how hard it is to become an internationally recognized name like Wangechu Mutu and other Kenyan artists building their profiles. Especially since the East African art scene is modest compared to South Africa's well-established scene, or Nigeria, Ghana and Senegal's quickly growing art space.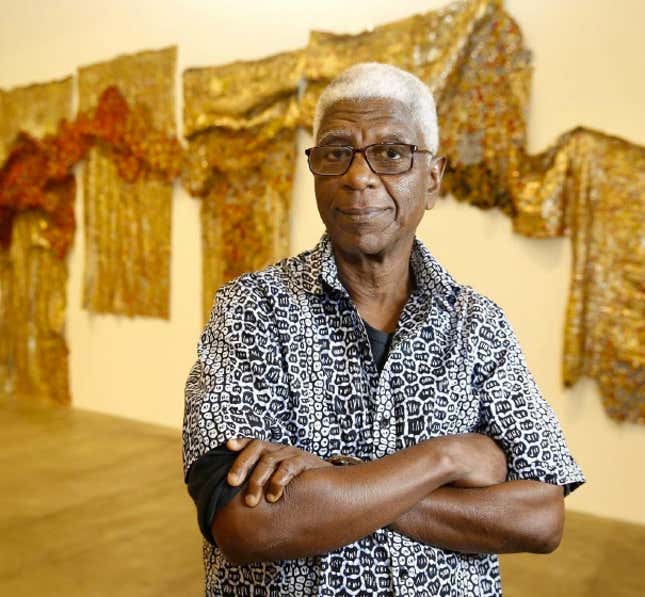 Contemporary African artists have gained more visibility at international fairs like Art Basel, while auctions reached record high. In 2015, for example, South African fine art auctioneers Strauss & Co sold Ghanaian sculptor El Anatsui's Al Haji for $186,781; while his 2015 Zata fetched $77,000 at Lagos' Arthouse Contemporary Art Auction, according to the 2015 Africa Art Market report. In November, Anatsui opened his first solo exhibition in Johannesburg's Goodman Gallery, a hint at the growing interest on the continent.
Among Africa's big earners were already well-known artists, like South African William Kentridge or modern artists of the early and late 20th century like Irma Stern and Gerard Sekoto and Malick Sidibé and Keïta Seydou, pioneering photographers only recognized late in their careers. This boom has not yet trickled down to younger artists, but it has helped with visibility.
"It's probably a little easier to get your work out there," said Joost Bosland of South Africa's Stevenson Gallery, which represents several African artists. That boom has come in the amount of coverage African contemporary art now receives, he explains. That attention has lead to increased support of local artists, as well as an increasing number of art collectors from the continent.
"The world is starting to pay attention, but as much as the world is waking up, it's the established artists who get noticed," says Michael Musyoka, whose work has a cubist take on urban life and culture.
It's not just the outside world, though. As Africa's economic prospects have improved, wealthy Africans are becoming collectors, especially corporations, according to he art market report. The multinationals setting up shop in Nairobi are eager to hang local art in their lobbies and boardrooms, boosting artists profits.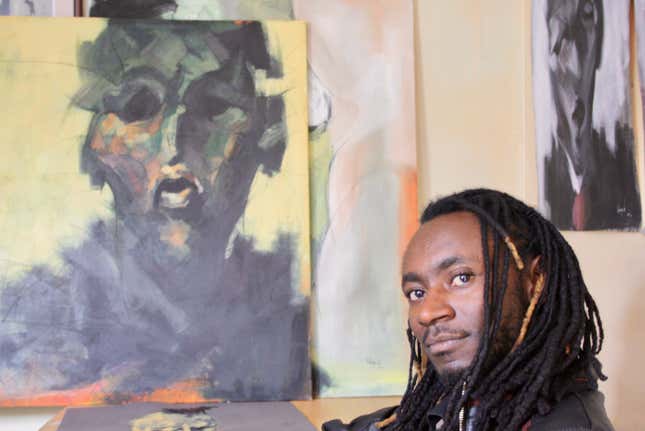 The Brush Tu artists cite business leaders like Google's country manager for Kenya Charles Murito and Safaricom CEO Bob Collymore as taking a personal interest in encouraging young local artists, a partnership Kenyan artists haven't seen much of since the 1980s according to the 2015 African Art Market report.
Locals, however, need more convincing about Kenya's fine art. The Brush Tu artists all lament the ubiquity of batik prints—"all from the same print"—and the local markets that are more for curios than art. And then there are the tourists, who always want an animal in the picture.
"My art has been dismissed as European, I've been told I've been colonized," said Musokya, arguing that contemporary art's wide field of interpretation has meant that his work is left out of what local collectors believe African art should look like. While the collective allows them all to pursue as a full-time gig, earning recognition at home has been hard.
It's why much of their energy in the second half of the year is channeled toward making the most of Brush Tu's presence at the annual Kenya Art Fair in Nairobi. Around the world, art fairs have disrupted the art industry, bringing thousands of buyers directly to galleries over a matter of days. In Africa, art fairs like the Turbine Art Fair in Johannesburg and Art X Lagos have introduced budding artists to new first-time buyers. At the very least, art fairs educate the public about contemporary art.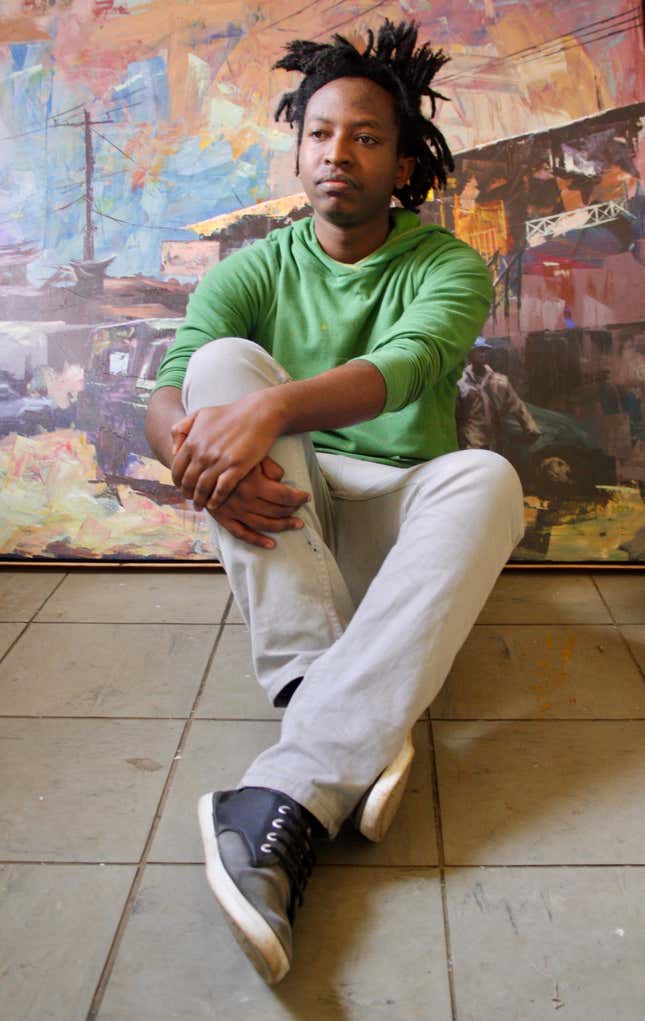 "Imagine how it is to introduce yourself as an artist and you're asked what song do you sing," said Elias Mong'ora, who held a solo exhibition at Nairobi's Polka Dot gallery last month. The 25-year-old moved to Nairobi in 2011 and sought out the art collective. Until then, like he relied on YouTube as a teacher. According to the Africa Art Market report, a quarter of the continent's artists are trained in workshops or cooperatives like Brush Tu. Most—62%—have attended formal art school, while 13% are self-taught.
The collective has also set up a residency of their own, instead of waiting for an international program to set them up. With the help of the Danish Embassy, they've set up Air Brush, a residency program of three months that has hosted Kenyan and other African artists, including the principal of the underfunded art school several members of the collective right in Buruburu.
The enterprising art collective's hustle has paid off though, with some of their work selling for a few thousand dollars and almost each of them headlining a solo exhibition. It isn't quite the price of more established artists, but it's enough to make a living off of. And like the house in Buruburu, it's a modest start to what will likely be a lucrative career in a still blooming African art scene.