Lubumbashi, DR Congo
Positioning a stand at the entrance to one of Lubumbashi's largest breweries is part entrepreneurial savvy, part defiance by Mwehu Kashala. Each day he sells mobile phone airtime vouchers under a large umbrella, displaying the disposable vouchers on a rickety table. It's been his main source of income since he lost his job a decade ago from the textile factory that used to operate from the same large industrial complex that is now a brewery.
The Syntexkin textile factory was the economic heart and cultural soul of Lubumbashi. The Democratic Republic of Congo was known for its intricate fabrics, and this is one of the factories that produced them for decades. Syntexkin would produce thousands of rectangles of cotton cloth with myriad designs from patterns made of everyday objects to swirls that are almost abstract. The cloth is often brightly colored, always bold, and instantly recognizable as uniquely African.
Then in the early 2000s production buckled and eventually collapsed under an influx of cheap imports from China, unravelling the local economy. The cultural significance of these prints was not enough to save the factory or the jobs of hundreds of family breadwinners.
The fabric known as kangas are everywhere, even today. Their cuts have evolved, from simple wraps to tailored suits—the matching of their graphic print along a modern seam is no easy task. It is also what springs to mind when people from outside the country and continent think of when they hear the generic words "African print," or Ankara.
Similar prints are worn in other African countries, and increasingly by a diaspora trying to reconnect with an African aesthetic. In the DRC, these printed fabrics about a yard wide and one and a half yards long have been a way of life for generations. It is why the loss of the commercial control of this print is so great.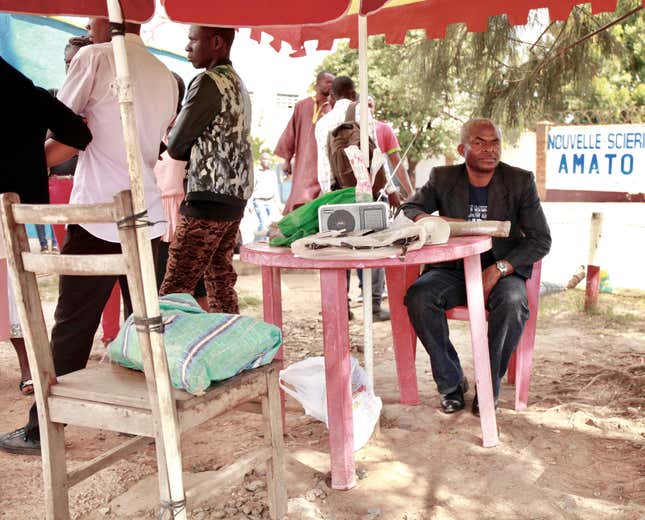 Kashala, now 58, started working in the textile factory at 17, after lying about his age so that he could support his family. He spent his days working on the sewing machines, making sure that the industrial-sized bobbin never got stuck and that reams of fabric always ran through smoothly.
By the 1990s, he'd worked his way up to a line manager of sorts, overseeing about 30 people in a factory of about 1,300 workers. The factory floor was a hive of activity, Kashala remembers. In one section workers mixed the inks that would dye the fabrics, in another they set the intricate design to a template, and in another they stamped the pattern onto fabric by hand, meticulously matching the lines and shapes with the naked eye. Kashala, a stern man who rarely smiles and always shines his shoes, ran a tight ship. Even today, his stall is never unmanned, with his unemployed son stepping in when necessary.
Years ago on the factory floor, there were whole teams responsible for applying specific families of color tones and others, like Kashala, who made sure the levers, gears and bobbins of the large sewing machines were always in perfect working condition. As the eldest of 17 orphaned children, Kashala made enough to feed his siblings, and then his own family, taking a second wife as the factory thrived.
Then the machines began to slow as demand for the textiles dropped. Kashala and other workers formed something of a civilian consumer watchdog group, checking local markets and shops to get to the bottom of why fewer Congolese were buying their fabrics. They inspected the hem of the cloth for the code that each factory prints as its signature, and interrogated vendors until they learned China had entered Lubumbashi's markets.
The Chinese entry was subtle, despite the large volumes of cloth that came to the Congo. At first they only supplied the bales of plain cotton fabric, according to Kashala. Then printed fabric began to arrive, the quality seeming to improve with every run until they were able to mimic the Congolese designs. Soon, it required a meticulous eye to notice the difference.
"We started changing our patterns and hiding them away from the Chinese," he said. "At one point we changed the sticker the Chinese had been mimicking so that we could check in the shops to see who was selling which one."
The subtle change of a number or letter in the code at the hem of the cloth was not enough. Each time the factory workers changed it, they would soon find a cheaper copy flooding the market. The unique designs they'd created were duplicated and printed in China on thinner fabric and brought back to the DRC and other African nations and sold for a lower price.
Syntexkin sold its fabrics for about 2000 Congolese francs (just over $1) for a piece of cloth measuring less than three yards, says Kashala. The Chinese sold theirs at about half that, and even the government took their business to Chinese dealers.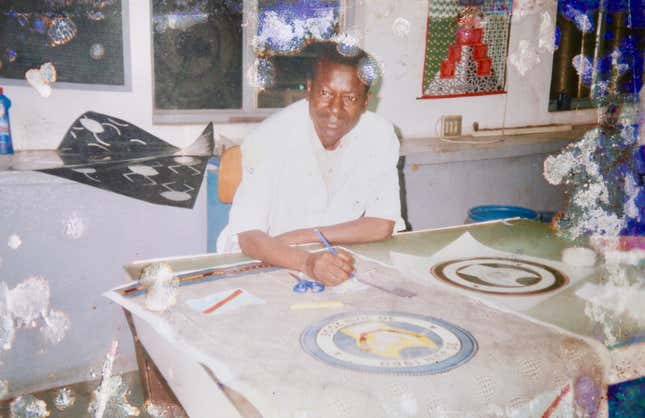 "I was a specialist, I could tell which was good or not," said Ngoyi wa Mwenze, a designer who has fallen on hard times since Syntexkin shut down. The home he built for his family has no roof because salaried work ran out before he could finish it. Instead he and his family live in a shack on the property, welcoming guests into the empty red-earthed shell of what should have been the living room.
He holds dear the stained memories of better days: photographs of the models who showed off his designs and sported his creations in local beauty pageants. He is especially proud of images of himself at his work station: clean cut with pen in hand, proof of the man he once was.
Nowadays his art is confined the colorful shopfronts he is sometimes commissioned to paint. The rest of the time he brews and sells liquor, a meager source of income that his former colleague and friend Kashala says fuels his alcoholism.
Wa Mwenze's love of art and patterns came from his grandfather who designed ceramics. He joined Syntexin in 1987 and quickly gained a reputation for his textile designs. His colours and patterns were bright and bold and were worn by Lubumbashi's most stylish, wa Mwenze recalls as he eagerly thumbs through the photos. There's a whiff of stale beer about him, even as the day has only begun.
He excelled at making cloth for special occasions, knowing just what symbol to use for events like Easter, Christmas and significant days on the Catholic calendar. He also had a knack for the more political themes like independence celebrations or local political campaigns. Politicians who wanted their candidates face emblazoned on a kanga or shirt would come to him from as far as neighboring Tanzania and Zambia to commission his work, he recalls. In the Congo and elsewhere in the Great Lakes region, cloth is not just covering but a means of communication and at times sloganeering.
"I was very proud and happy," he says, looking at his wife who is wrapped in her own faded cloth. "I remember my wife wearing it. I was beyond happy."
Wa Mwenze also blames the Chinese for his fate today: "Because things in Congo are bad, and people are suffering they settle for the Chinese products," he says. "I criticize the Chinese product because it is not good, I'm not impressed. The Chinese copied my designs."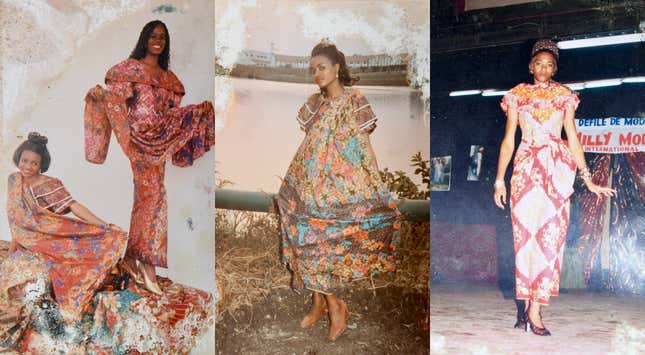 In 1990, the then Zaire had seven textile factories around the country, but cotton production had virtually stalled as armies and militia groups targeted cotton farms. Farms became collateral damage as Congo's longtime rule Mobutu Sese Seko struggled to maintain his decades-long rule, the Zaire he held onto crumbling around him.
Textile production decreased by 83% (link in French) in the chaos of Sese Seko's last years in power, dropping from 70 million meters in 1990 to just 12 million in 1996. The economy was further battered by looting and country-wide riots in 1991 and 1993, which destroyed small to medium-sized businesses and disrupted distribution networks. The civil war that followed Sese Seko's demise obliterated any chance of a peaceful farm life, much less commercial crops.
By the time relative peace returned, the Congo's textile industry had seen little investment, made worse by aging machines and workers who were now less efficient than their Asian competitors. Despite the beliefs of workers like Kashala and wa Mwenze, some argued (pdf) that the quality of Congolese products simply could not keep up.
China's textile sector was industrialized during the first Five Year Plan in 1955 (pdf). The state continued to devote resources to a sector that was labor intensive and required little technology, so that by the 1979 it was one of the domestic industries China was keen to expose to the world as it opened its economy.
In 2005, the Multifiber Agreement expired, ending global quotas on the textile and garment sectors and opening the world to Chinese textile manufacturers, including the DRC. Until then, China only made up 20% of the global market as the World Trade Organization tried to protect domestic textile industries. The DRC's textile industry was already on its knees by then. China, it seems, was merely taking advantage of an opportunity, and became the scapegoat for internal troubles.
One after the other, the factories began to close. A merger between the Chinese Cha Textile and Belgian-headquartered Texaf that created Congote in 2005 was supposed to herald a turnaround for local production but failed after only two years, citing the lack of locally produced cotton and the inability to compete with foreign producers.
What's more, the age-old model of selling in local markets by informal traders was hurting the formal industry. Tax collection is difficult to enforce with vendors, so their returns are their own, with little incentive to stock the more expensive local brands over the international imports.
It's a trend that continues today in Lubumbashi's markets, even though high-end wax fabrics like Vlisco can be found in more affluent parts of the DRC's economic capital. The presence of the well-known Dutch fabric company that has made a name for itself printing African designs shows that there could have been a market for higher quality, albeit more expensive fabrics, here and in neighboring countries.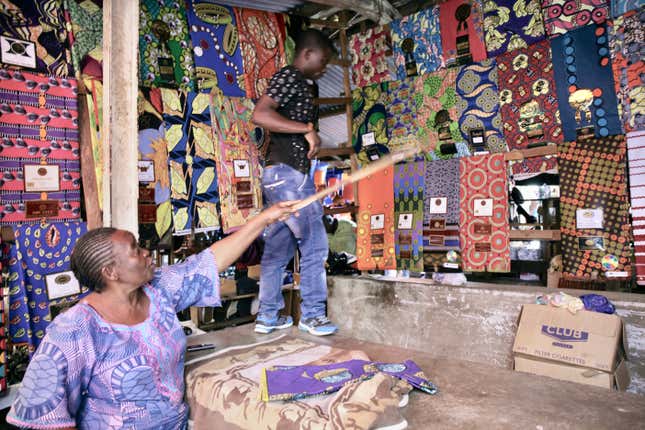 "For now the material is down," says Elvine Mbombo, a trader in her 60s who has made peace with selling poorer quality fabric. "Money is difficult these days."
Since Syntexkin shut down, she and other traders club together as an informal cooperative and send money via Western Union to the capital Kinshasa and Brazzaville, in the neighboring Republic of Congo, where fabrics enter the market from the Indian Ocean, she explains. Good wax print, and the few designs that are still made in the country, sell for 20,000 congolese francs ($13). She says she sells the Chinese-made fabric to students and trainee tailors at a negotiable 12,000 congolese francs, or $7,50. On a good day she makes about $20, on a bad day nothing.
The government's attempts to protect certain brands and locally designed patterns through an inter-ministerial decree in March 2002 proved too little, too late. Today, La Societe Textile de Kisangani (Sotexki) in northern Kisangani is the only surviving textile factory (pdf), working at only 15% of its capacity.
Syntexkin went under in 2008, having stopped designing any new patterns in 2007, said Christian Mwando, assistant general manager at Syntexkin for 10 years. Like Kashala and wa Mwenze, he also blames the Chinese for stealing local designs but he also blames the government for failing to put in place copyright laws.
The government should have protected the cloth not just as a business investment, but to protect Congolese cultural heritage, he told Quartz in a telephone interview from Kinshasa. Instead, corruption scuppered any attempts to implement the inter-ministerial decree, while customs authorities looked away as imports flooded the market.
About 600 people lost their jobs, adding to the thousands already unemployed by the collapse of the cotton industry, all further adding to Lubumbashi's unemployed masses. Kashala launched a labor dispute in the local courts that has dragged on for nearly a decade. He has stacks of paperwork that he says prove corruption and unfair dismissal as the factory was on its last legs. Judging from the throngs of people milling about the Lubumbashi courthouse on any given day, and the stacks of yellowed precariously piled files from the floor to the ceiling of the clerk's office, Kashala and others are unlikely to get justice.
The textile industry itself and the government failed to turn a lucrative domestic sector into a globally competitive industry by not investing in the industry. They could have created higher value by placing an emphasis on the specialized skills and cultural significance of a product that has been a part of the country's fabric through much of the twentieth century.
In the factory's shadow, workers like Kashala, wa Mwenze and hundreds of others struggle to survive. The brewery that has recently opened there has not yet had the social impact the factory once did. Vendors like Mbombo make do with poorer products and lower profits. Lubumbashi, the commercial capital, and the DRC as a whole, lost a significant part of its social and economic fabric the day the machines stopped printing.
Reporting for this story was supported by the International Women's Media Foundation.