On what would have been his 87th birthday, Google is paying its respects to Chinua Achebe on its homepage.
Achebe's influence on African literature is inestimable. He's been described as the "father of modern African literature" with novels which projected Nigerian and African culture globally at a time when much of the continent was freshly free from the shackles of colonialism. The literary icon passed away March 2013 in the US, aged 82.
The Nigerian author's journey to literary greatness started with Things Fall Apart, his first book. Released nearly 60 years ago in 1958, it's regarded as one of the most widely read books in Africa. It's since been translated into fifty languages and has sold over ten million copies.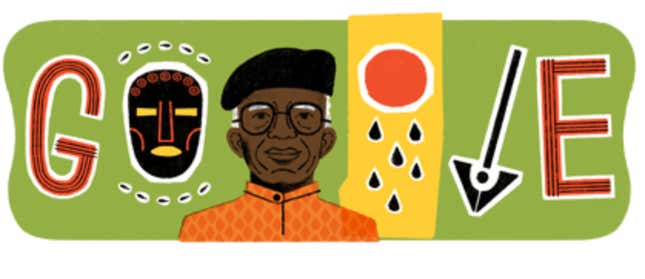 The global acclaim of Things Fall Apart, a story about Okonkwo, an Igbo leader who struggles with the arrival of Christian missionaries in his village, was a universal tale about the impact of colonial rule in Africa. It arguably helped set the tone for African literature and writers taking charge of their own narrative using distinct African characters.
In that respect, Achebe can be regarded as a pioneer in the fight to counter lazy racist stereotypes that have been used to portray Africa in literature and journalism. Joseph Conrad, author of Heart of Darkness, a controversial account of a journey on Congo River first published in 1899, has borne the brunt of Achebe's intolerance of demeaning African tropes. Achebe has called Conrad a "bloody racist" and described his book as "totally deplorable."
The Nigerian government was often also a target of Achebe's criticism. Twice, in 2004 and in 2011, he rejected the government's offer to name him Commander of the Federal Republic—one of Nigeria's very highest honors. Achebe cited unchecked corruption in government as his reason for turning down the awards.
Achebe never shied away from politics, matching his written words with action. Decades ago, during the Biafra war, Achebe sided with Biafra and worked with the breakaway government to push for the creation of a new country. As communications chief for Biafra, Achebe led efforts to secure aid and raise awareness about the plight of his people around the world.
His willingness to speak up on politics through his novels, essays, and speeches was at times controversial but, speaking to American author James Baldwin back in 1980, Achebe explained why politics feature in his art:
"Those who tell you, 'Do not put too much politics in your art' are not being honest. If you look very carefully you will see that they are the same people who are quite happy with the situation as it is. And what they are saying is not don't introduce politics. What they are saying is don't upset the system. They are just as political as any of us. It's only that they are on the other side.