Zimbabwe has a new president.
Emmerson Mnangagwa was inaugurated on Nov. 24 at National Sports Stadium in Harare in a televised ceremony. There were marching bands, heads of state and cheering crowds—after all, it was only the second time in nearly four decades that a new leader has placed their hand on a Bible on behalf of Zimbabwe.
"I, Emmerson Dambudzo Mnangagwa swear that as the president of the republic of Zimbabwe I will be faithful to Zimbabwe and obey, uphold and defend the constitution and all other laws of Zimbabwe," the 75-year-old said, according to agency reports. Mnangagwa will serve as interim president until the elections next year.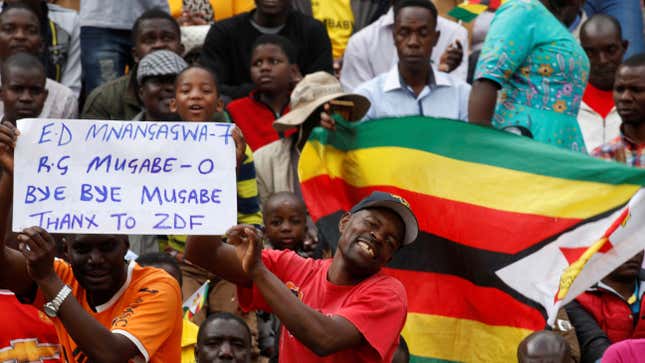 Mnangagwa went from ousted deputy president to head of state in less than a month. His Nov. 6 ouster triggered an unprecedented series of events, changing Zimbabwe forever. While Mnangagwa went into self-exile in neighboring South Africa, the military "stepped in." Emboldened by a military takeover, the ruling party fired Mugabe and appointed his former aide in his place. Mugabe resigned on Nov. 21, in what many called a "second independence."
Away from the cheering crowds, however, whispers are growing increasingly louder that Mnangagwa will not bring the change Zimbabweans so desperately hope for. At the same time as the inauguration, the former finance minister was admitted to hospital with injuries he seemed to sustain during torture, his lawyer told Reuters. Ignatius Chombo was detained when the military took power of Zimbabwe, and was accused of being among the "criminals" the generals said were derailing Zimbabwe.
Mnangagwa's increased profile has also resurrected the ghosts of Zimbabwe's violent birth as an independent nation. The man known as "The Crocodile," for his stealthy but effective politicking, has been linked to the Gukurahundi massacres.
The killings in the early 1980s were perpetrated by a North Korean trained elite forces known as the Fifth Brigade. They were soldiers from the majority Shona ethnicity, fiercely loyal to Mugabe, who were deployed to suppress the followers of Joshua Nkomo, Mugabe's political rival.
What followed was the indiscriminate murder of perhaps more than twenty thousand Ndebeles. Mnangagwa was a longtime security operative in Zimbabwe's army, but has denied any link to the mass murder. This blight on Zimbabwe's history has never openly been dealt with and has been brought to the surface again as Zimbabwe faces a new era.
Conspicuously absent from the inauguration was Zimbabwe's longtime leader, Robert Mugabe, whose era is undoubtedly over.