Today, South Africa's ruling party, the ANC, will choose its next leader, and by dint of its majority rule, the next president of the country. The choice is between Nkosazana Dlamini-Zuma, an accomplished female politician and former chairperson of the African Union, and Cyril Ramaphosa, a polished businessman and former political stalwart who made millions when South African markets opened to the world after apartheid.
Most countries would be thrilled to have a woman reach so far up the political ladder as to be one of two contenders in a presidential race, and many in South Africa are. But many more fear that a vote for Dlamini-Zuma is a vote to continue the corrupt and patriarchal practices of her ex-husband and current president, Jacob Zuma, who selected her as his successor.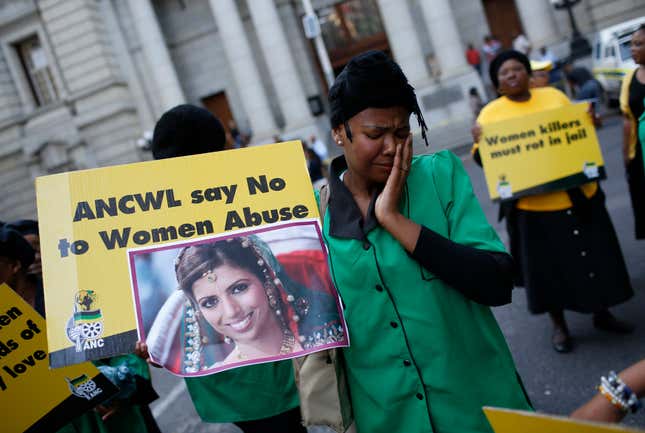 How did a vote for a female president turn into a referendum on gender equality in South Africa? To answer that question, we should look at the ANC Women's League, once South Africa's most powerful women's rights group. They have supported Jacob Zuma, president since 2009, through charges of corruption and rape, multiple weddings, and several votes of no confidence. Now, they have extended support to his ex-wife, despite concerns over how the country would fare under her leadership.
For the first 30 years of its existence, the African National Congress (founded 1912) did not allow women to join the party. In that vacuum, the Bantu Women's League formed, engaging in passive resistance and protest of discrimination against black women. Eventually, the ANC relented, leading to the formation of the ANC's Women's League (ANCWL) in 1948. The group and the wider Federation of South African Women would go on to form a pivotal part of the apartheid struggle, supporting the ANC but also defying it by conducting its own campaigns under the rallying cry, wathint' abafazi, wathint imbokodo: you strike the women, you strike the rock.
The Bantu Women's League was founded by extraordinary women like Charlotte Maxeke, one of South Africa's first black graduates, at a time when black women could barely dream about getting to high school. The organization went on to nurture the leadership of women like Winnie Mandela and the women who led the 1956 Women's March to Pretoria, defying apartheid's segregating pass system right at the doors of power.
Today, the ANC has no shortage of accomplished women, some of whom who have made themselves available for leadership during the elective conference. Speaker of parliament Baleke Mbete threw her hat in the ring with the declaration that she is "neither owned nor controlled by anyone." Naledi Pandor, the current minister of science and technology, has already served as acting president on numerous occasions (she is tipped to be Ramaphosa's running mate.) Like Pandor, Lindiwe Sisulu comes from South Africa's political elite, has spent her entire life within the party and has held various cabinet positions. Sisulu could "cut it easily, if not better, than most male politicians at that same level of political activity," says Ivor Sarakinsky, academic director at the Wits School of Governance.
So it's particularly remarkable that the Women's League, which only a few years ago said South Africa was not ready for a woman president, threw its might behind Dlamini-Zuma, For many, it showed that that endorsing a female candidate has less to do with shattering the glass ceiling than reinforcing the status quo.
The ANC Women's League has become "the gatekeepers of patriarchy," political analyst and gender activist Nomboniso Gasa told local radio station 702. It has "chosen to reduce itself to a small and insignificant appendage, unless the [ANC] gives its approval or asks them to do something," Gasa said. "Its preoccupation as evidently, is to protect President Zuma, protect President Zuma, protect President Zuma. And it doesn't matter the cost to the country, and the cost to the women."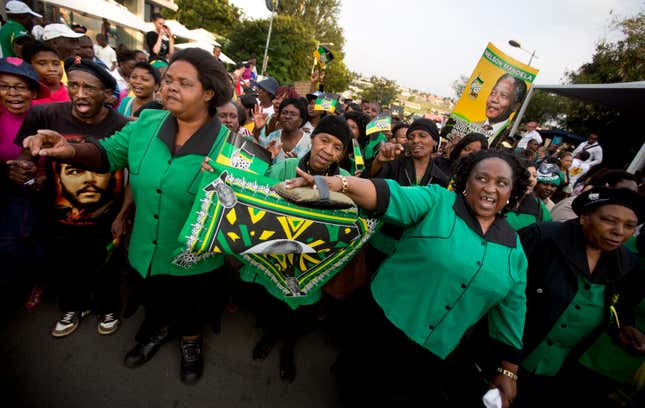 Nationalism and women
The evolution of the Women's League is just one example of how upside down life can be in South Africa, which has one of the continent's most progressive constitutions that protects women's rights, but where police routinely ignore cases of violence against women.
Amanda Gouws, a professor of political science at Stellenbosch University, says this is symptomatic of what's happened to women's branches of other liberation movements in Africa. These "party auxiliaries," as Gouws calls them, "get caught up in this whole understanding of nationalism as part of nation building. Nationalism positions women in a specific way: as mothers and as the reproducers of the nation. This is where the ANC Women's League has moved to—to supporting the men in the party."
As a result, even though women's equality is demanded by South Africa's constitution, and the ANC has pledged to have 50% female representation, South African politics has become quite hostile to feminist perspectives, despite embracing them in 1994. "They've changed completely from an organization that wanted equality for women to an organization that says, 'Protect the corrupt president.' I think at this point, the ANC Women's League is part of the problem," Gouws says.
This reflects a broader shift in the country from focusing on women's equality to talking about women's vulnerability. Government systems put in place to protect women's rights, like commissions, special units and desks, have been dismantled or weakened over the course of Zuma's tenure, Gouws says. In the place of these structures, the government established a ministry of women's affairs—which at one point included children and disabled people—effectively ghettoizing women's issues in the eyes of feminists. This shift is "why we're not making any headway on gender-based violence," Gouws says.
Flawed candidate?
It's a symptom of South Africa's political climate that separating Dlamini-Zuma from her ex-husband is almost impossible, even though they divorced in 1998. The couple were married for 26 years, and have four children together, but Dlamini-Zuma is a very capable politician and administrator and limiting her abilities to the title of "Zuma's ex" is unfair and sexist.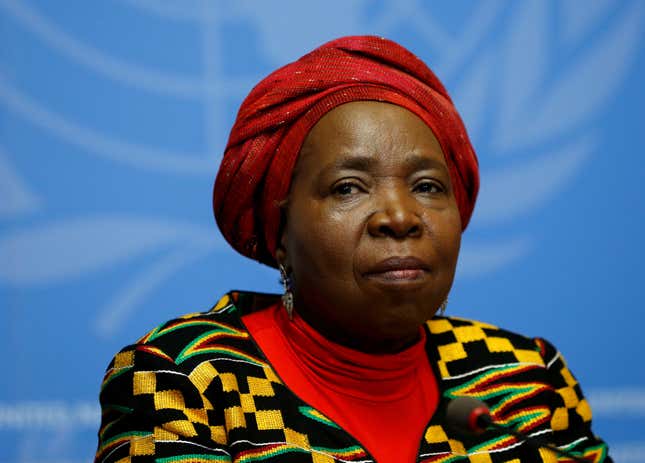 A medical doctor, Dlamini-Zuma played a significant role advising on gender equality during South Africa's negotiations to end apartheid. She then served as health minister, minister of foreign affairs, and minister of home affairs before she was elected the first woman to chair the African Union in 2012. Like former presidential candidate Hillary Clinton, she has been criticized for lacking the charisma of her opponent.
The Women's League has praised Dlamini-Zuma's "humility, integrity, and selflessness," throughout her career in politics. "She has distinguished leadership skills required to advance fundamental changes of the structure, systems, institutions and patterns of ownership, management and control of the economy in favor of all South Africans, especially the poor, the majority of whom are African and youth and women," they write.
And yet, she's been referred to as a "get-out-of-jail free card" for Zuma.
"The kinds of things that Clinton's husband did, and what Nkosazana Dlamini-Zuma's ex-husband has done … the extent and the nature of those acts that has put a cloud over her campaign," says Sarakinsky. "That's unfortunate, because she knew it would happen and she hasn't done enough in the run-up to [the ANC] conference to separate herself from that."
The future of women's rights
South African civil society has always been quite strong, and in place of government and political support, there's hope that women's groups will continue to advocate for gender equality and feminist perspectives—regardless of the results of tonight's election. One group, the Women and Democracy Initiative, recently ran a campaign called #NotOurLeaders, which singled out politicians who were accused of sexual assault. But many of these groups are locally-focused, Gouws says, and lack the strong national leadership that held together women's rights during the liberation struggle and the early days of democracy.
Sarakinsky takes comfort in the fact that the ANC has "a number of incredibly capable contenders" for leadership. "We're very lucky as a country to have that caliber of female candidates."
For Gasa, the future lies with young women who are rising up to take the place of older movements. "New leaders are coming up," she told 702. "And [they] are saying, 'We no longer feel that we are beholden to your narrative. We will take that narrative, we will take the courage you once had, and make of it what we will in this present moment.' And I think the Women's League is having a difficult time to keep in touch with that."