When Nelly Tuikong, originally from western Kenya, was studying nursing in the United States, she had trouble finding makeup. Drug store brands carried at most two shades for darker skinned women like herself. Buying from the higher-end brands at department stores was also hit-and-miss. Even finding an eyebrow pencil was difficult. "The darkest brown pencil would be the color of my skin, which was too light for my eyebrows," she says.
On a visit home to Kenya, Tuikong had an epiphany. "If I was having a problem finding makeup for myself, what about an entire continent of people who look like me?" she says. She quit nursing and started her own business, Pauline Cosmetics, in 2013 which is now one of the few local makeup brands on the continent focusing specifically on cosmetics for African women. She travels to China where she sources the makeup, now sold in all of Kenya's major cities and online. This year their slogan is #ColorsForOurColor.
Urbanization, massive population growth, and rising consumer wealth have meant that Africa's beauty and personal care market is one of the fastest growing in the world, second only to South America. Nigeria and South Africa are the continent's largest markets and Kenya isn't far behind. The cosmetics market in Kenya is projected to reach 6.6 billion Kenyan shillings (about $73 million) next year.
Despite the growth, most Kenyans still depend on the offerings of international brands that offer a limited number of shades for darker skin tones at prices beyond what most local shoppers are willing to pay. Brands like MAC, Estee Lauder, and BlackUp are available at shopping malls but cost as much as 5,000 shillings per product. (Pauline Cosmetics sell for between 500 Kenyan shillings (about $5) to 1800 shillings.) Most Kenyan consumers buy knock-off versions of these brands.
Tuikong's makeup line is also part of an emerging preference for indigenous brands, whether that is in natural hair care or make up. Quartz spoke to Tuikong about her company and the rise of local beauty products.
Can you tell us a bit about the growth in the makeup market in Africa and Kenya?
Tuikong: The African makeup market has grown exponentially in the past three years. Kenya is one of those countries with a growing middle class and with that, extra income to spend on luxury items like makeup. Another reason for the growth can be attributed to the huge social media presence in Kenya, where about 39 million Kenyans are on the internet. We are not left out of the "selfie culture" that has attributed to the growth of the cosmetics industry globally. 
How is your brand different from the makeup brands already present in Kenya? Who have you been inspired by?
Pauline Cosmetics is dedicated in designing and developing makeup products for the African woman. I focus on creating colors for our color, by exploring formulations that will give the best results as well as pigments that work for women with darker skin tones. I am inspired by other brands that are working towards bridging the gap to provide women of color with more makeup options.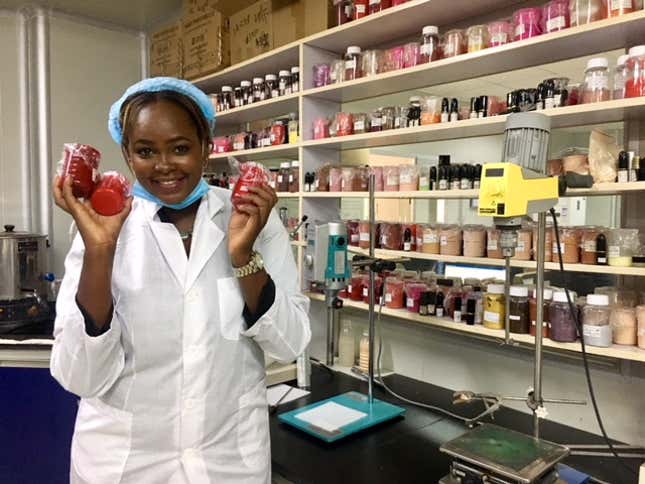 What will your makeup range be like? How do you research what shades and skin tones you should offer?
We are set to off up to 20 lipstick colors in different formulas specifically selected for women of color. We currently carry 12 lipstick shades. We are also launching our liquid foundation, which will provide the widest possible color range of foundation colors for darker skin toned women like myself. We will have 15 shades of foundation specifically for women of color.
Most of the international brands that launch in Kenya are stuck with the dilemma of having dead stock because they carry foundations and lipstick colors that don't work for women of color. Just because a color is red doesn't mean I can wear it!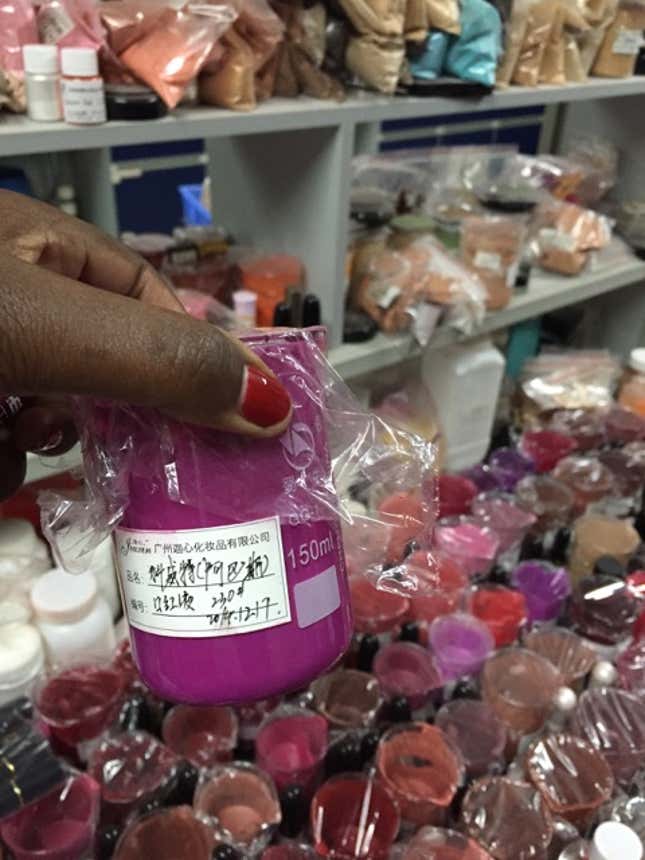 Are more consumers starting to prefer local makeup brands rather than the traditional international ones?
Yes, more and more consumers are embracing local brands. In the past we have been met with some resistance with the assumption that local brands don't provide great quality. However we have managed to challenge that myth.
I believe we need more indigenous brands. I believe that we need to be the ones creating solutions to our problems, be it in beauty or in healthcare! Gone are the days when we would rely on foreign aid for everything. Our people are well educated, well travelled and empowered to take part in raising the standards of our continent.