Defined by long delays and cancellations, limited connections, rickety planes, and dilapidated runways, flying across Africa can sometimes be quite inconvenient. The problem is also compounded by the restrictive regulations and protectionism that hinder intra-nation travel, leading African airlines to lose $800 million in 2016, according to the World Bank.
Yet some of those problems are set to become history when the Single African Air Travel Market (SAATM) is launched by the African Union (AU) in late January. As one of the AU's pan-African Agenda 2063 flagship projects, the plan aims to improve air connectivity in Africa and use air transportation as an engine for economic growth, job creation, and integration.
The idea is based on the 1999 Yamoussoukro Decision, when African ministers responsible for civil aviation agreed to deregulate air services, put in place mechanisms for fair competition and dispute settlement, and liberalize frequencies and tariffs. As part of the agreement, countries would also free the exercise of up to fifth freedom rights for passengers and freight air services, allowing a carrier to fly between two countries on a flight originating or ending in its own country.
By setting this up, African nations hope to imitate and build on the single aviation markets in places like Europe and Latin America. The AU also hopes to encourage cross-border investment and innovation, improve business operations and efficiency, increased route competition resulting in lower fares, create more jobs, help airlines grow, and allow for the free mobility of people and goods.
So far, 21 countries that command more than 670 million of the continent's population have committed to the plan. These include Benin, Nigeria, and Sierra Leone in the West; Kenya, and Rwanda in the East; Zimbabwe and South Africa in the south; and Egypt in the North. The single market is also host to eight of Africa's top ten busiest airports including Bole International Airport in Ethiopia and O. R. Tambo in Johannesburg, South Africa. Up to 15 carriers, which account for more than 70% of intra-African air travel, have also signed up for the common market including Ethiopian Airlines, Kenya Airways, South African Express, and Egypt Air.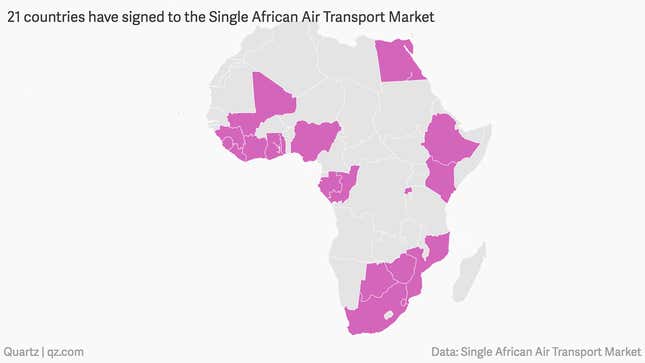 The move to liberalize air travel coincides with a push from African governments to open more borders and encourage inter-regional trade and tourism. Last year, Africans traveled more easily across the continent, and countries like Kenya, Namibia, and Ghana announced removing visa restrictions or granting visas on arrival. Local tourism in Kenya, Tunisia, and South Africa have also boosted domestic air travel, leading to the growth of budget carriers.
Yet despite the plan's best intentions, African air travel still has a long way to go. Carriers like Kenya Airways or Nigeria's Arik Air have struggled to make profit in recent years, plagued by debt or the results of a poorly timed expansion strategy. And unless more countries open up, government restrictions on visas and establishing air routes will continue hindering a potential five million Africans the chance to travel the continent, according to the International Air Transport Association. Air travel in nations like Somalia also have a long way to go before they can become fully integrated with the rest: after 27 years under the control of the United Nations, the country regained control of its airspace in Dec. 2017.