The fallout from Cameroon's Anglophone crisis is spiraling, leading to a refugee emergency, escalating tensions with neighboring nations, and threatening to put a dent in global cocoa production.
In recent weeks, more than 15,000 people have fled the English-speaking Northwest and Southwest regions to neighboring Nigeria, as the government intensifies its crackdown on a pro-independence movement. Dozens of people have also been killed by security forces, with Cameroonian troops even crossing into Nigeria in pursuit of the rebels in December. Suspected separatists have also killed more than 10 gendarmes (armed police).
The Anglophone regions of Cameroon erupted in protest in 2016, with people calling for more autonomy from the majority French-speaking government. While the origin of the crisis is based on the imposition of the French language in English courts and schools, it also has roots in economic marginalization and the allocation of resources. The government responded by shutting the internet and arresting protestors until detention facilities were overwhelmed. When separatists declared an independent state called Ambazonia in October, that prompted a military clampdown, violent attacks, and the flight of refugees from the area.
Last week, separatist activists including the leader of the movement Sisiku Ayuk Tabe were taken into custody while meeting in Nigeria. The arrest drew criticism from advocates, who worried that they risked torture and unfair trials if extradited to Cameroon. "Authorities in Nigeria should immediately disclose the activists' whereabouts, allow them access to a lawyer, and unless they have sufficient evidence to charge them with a recognizable crime, release them immediately," Osai Ojigho, director of Amnesty International Nigeria, said.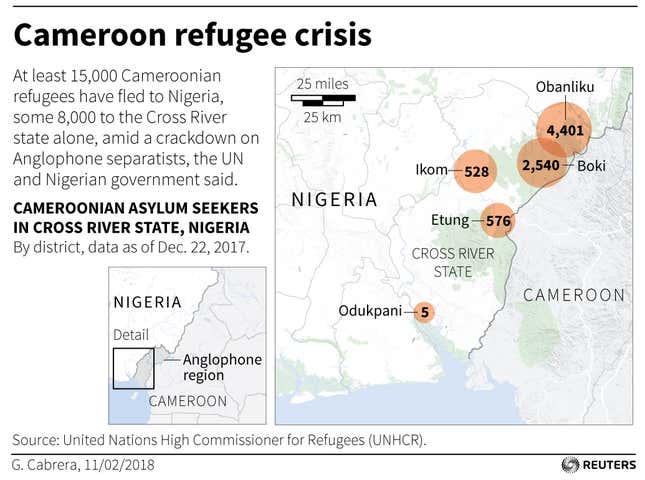 The simmering tensions represent the most direct threat to president Paul Biya's 35-year rule over the Central African nation. At 84 years of age, Biya is one of the longest-serving African leaders still in power and is expected to run in the October elections this year. As the world's fifth largest cocoa producer, the violence also portends a problem for the nation's cocoa output. Thousands of farmers have fled the government clampdown according to Reuters, with many saying buyers are afraid to come. One agent said the cocoa was "rotting in the bush."
As more people cross into Nigeria, the UN refugee agency said it was working to get more refugees away from border areas, create temporary camps, and help them gain access to economic opportunities. Antonio Jose Canhandula, the agency's representative in Nigeria, said more and more refugees kept coming. "They are still coming, and they are coming daily," he said. "It is a crisis."
Jeffrey Smith, the executive director or advocacy nonprofit Vanguard Africa, said the situation risks deteriorating if possible solutions aren't found. "With elections due later this year, and with President Biya's increasing unpopularity, this is a potentially explosive situation that merits much more attention than it has been receiving, namely from regional leaders who should, in theory, have an interest in containing the regional unrest," he said.