South Africans are teaching H&M a tough lesson on the importance of diversity.
Just days after the Swedish chain was forced to temporarily close some of its South African stores after anti-racism protests, an NGO is demanding that H&M executives undergo "compulsory anti-racism and diversity training, so that there can be a change of attitude within the company around issues related to race."
The Ahmed Kathrada foundation released a statement on Jan. 16 saying it had approached H&M's South African offices and its global headquarters immediately after spotting the advert with a black child wearing a hoodie with the slogan "coolest monkey in the jungle." The foundation says it wrote to H&M on Jan. 11 already, but only received a "a bland and automated response."
"It is of serious concern that your company published the advert without considering the historical context of how the word and image of a "monkey" has been used to racially demean black people for generations," the letter read. The foundation is the legacy of Ahmed Kathrada, a tireless anti-apartheid activist who was jailed along with Nelson Mandela.
H&M learned the hard way that an apology was not enough in South Africa, a country where race-based controversies often hog the headlines. South Africa's fraught, but brutally honest and very public conversations on race offer a lesson to global brands on the importance of diversity. Increasingly across the continent, consumers are teaching brands that diversity matters, as Nivea had to learn in Ghana last year.
H&M creatives baffled by why associating a black boy with a monkey is considered racism should have looked into the case of Penny Sparrow, a South African woman whose Facebook post calling black people monkeys resulted in national uproar, court proceedings and a fine.
Along with a discussion around legislating racism, the incident also displayed that simianization as a racist slur against black people is still such a painful topic. Even after it was removed, the advert remains so controversial around the world that the boy and his family have had to move out of their house in Stockholm. The boy's mother was lambasted after she said she saw nothing racist about the hoodie.
On Wednesday (Jan. 17) H&M's global head office announced on its Facebook page the retailer will be appointing its first diversity leader. "Our commitment to addressing diversity and inclusiveness is genuine, therefore we have appointed a global leader, in this area, to drive our work forward," said the post.
Perhaps H&M should have heeded the Kathrada foundation's early warning to avoid the violent protests that took place last weekend. Supporters of the left-wing, youth-oriented political movement, the Economic Freedom Fighters, stormed H&M stores around the country, trashing them and demanding that the retailer leave the South African market.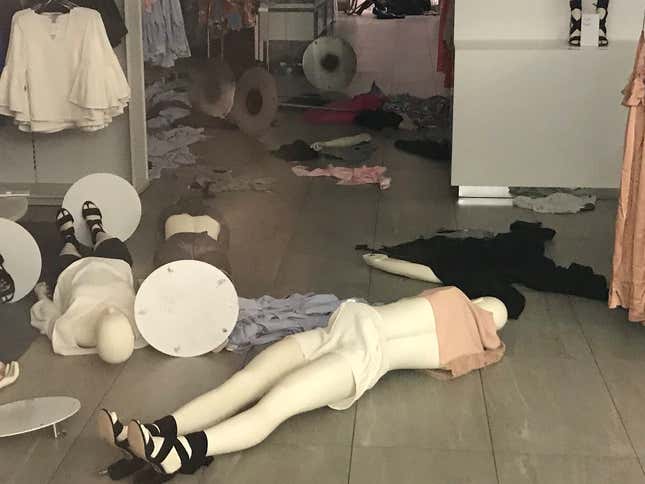 H&M's South Africa has now agreed to meet with the foundation. It's not clear what form the training will take, or whether executives at the company's headquarters in Sweden will also participate. H&M has not yet responded to questions on the training.
What's clear is that in order to operate in a majority black country and not incite the ire of black customers around the world, H&M will have to sensitize its marketing campaigns. When H&M opened its first store in South Africa in 2015, a local shopper questioned the lack of black models in its campaign. H&M's response that its ads were meant to convey "a positive image" infuriated South Africans on social media.
"These two incidents are perhaps indicative of the type of ignorance that continues to prevail around issues related to race, perhaps not only at H&M, but in the broader advertising sector and in society in general," said the Kathrad'a foundation's executive director, Neeshan Balton.