Cameroon put the internet back on in its English-speaking regions on Wednesday (Jan. 17) after nearly four months.
But it only lasted for 48 hours.
It was the latest example of a political strategy by the government to try and have it both ways. This week it switched on the internet ahead of a visit from a Confederation of African Football (CAF) delegation to towns in its troubled South West region. The delegation was there to examine the readiness of stadia and other facilities needed to host next year's African Cup of Nations, the continent's most high profile sporting event.
The delegation visited the towns of Buea and Limbe over two days. During their stay in the region, local internet users could access internet normally. But soon after the delegation moved out of the city of Limbe on Thursday (Jan.18), the internet left with it. People in the region said that later in the evening the region still had internet but it was slow to the extent that nothing could be downloaded or uploaded.
Since Jan. 17, 2017, the internet in Cameroon's South West and North West regions has been  completely off or severely slowed down for a total of 206 days as of Jan. 19 this year, according to Internet Sans Frontieres.
The shutdown is part of a wider effort by the Cameroon government to clamp down on local activists in the English-speaking regions who have been protesting against what they say are injustices and economic depravity being imposed by the dominant Francophone government.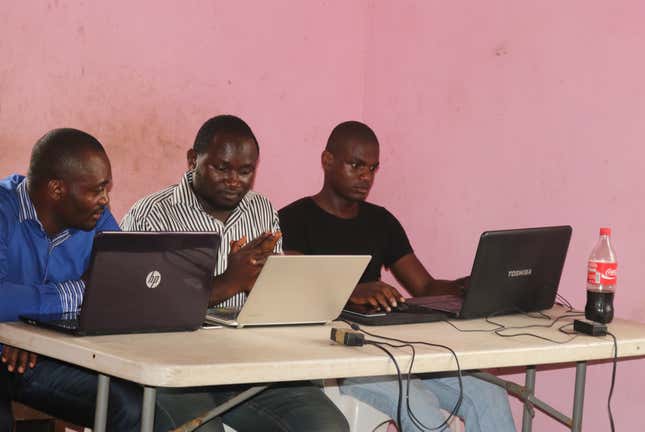 Otto Akam of the Buea Silicon Mountain hub of young digital startup owners said they had been expecting the internet to be switched off when the delegation left. He said the same thing happened when the Commonwealth secretary-general, Patricia Scotland, visited the region in December to meet religious, political and traditional leaders to find a way out of the ongoing crisis which has degenerated into an armed conflict. "We had 24 hours of smooth internet connectivity. It was completely switched off when she left. We returned to using other means of bypassing the blockage" he said.
Local journalists in the region, who asked not to be named, confirmed both events. The belief is that the temporary reinstatements are attempts to reassure important international guests like CAF and the Commonwealth that there are no issues with internet connectivity in the troubled region.
The internet was switched off in English-speaking Cameroon, on Oct. 1 when the region self-declared its independence with the formation of an interim government. Since then, citizens in the region have been using virtual private networks (VPN) to access the and bypass the blockage. A message circulated on WhatsApp groups while the internet was on advised internet users in the crisis region not to uninstall VPNs from their mobile devices because the internet reinstatement might last only two days; it did.