Miguna Miguna, a lawyer who administered the swearing-in ceremony of opposition leader and former prime minister Raila Odinga as the "people's president," was deported to Canada on Tuesday night (Feb. 6).
His lawyer Nelson Havi wrote on Twitter that he was "forced" onto a KLM flight and marked for "deportation" to Canada.
A dual citizen of Kenya and Canada, Miguna was arrested last Friday in a dawn raid on his home. He remained in custody for five days even though he was granted bail and a high court judge ordered that he be released. With his whereabouts unknown, on Tuesday, he appeared in a court in a county adjacent to the capital Nairobi and was charged with "treason" for administering the oath of office to Odinga.
The government, through its official online newsroom, said Miguna was "headed home." Havi, on his end, questioned the government's motives, saying, "Now, how do you deport a Kenyan? This country has been overrun by criminals."
Miguna has in the past fended off claims that he had renounced his Kenyan citizenship. After being arrested by the regime of former president Daniel arap Moi, he fled the country and was granted political asylum in Canada in 1988, according to his official website.
Kenya's constitution accepts dual citizenship under Article 16, and a citizen by birth cannot lose their nationality by acquiring that of another country. Under Article 17, citizenship can be revoked only if a person acquired it by registration. In that case, it can be revoked if the citizenship was attained through fraud or by concealing important facts, or if one is convicted of an offense and imprisoned for a term of three years or more.
A political firebrand, Miguna, always spotting a kofia hat, was a fixture on Kenyan television and newspaper columns. With a strong social media presence, he is also known for his pithy, impudent, and often viral comments against his critics on Twitter.
Despite his current support of Odinga, the duo clashed in 2011, with their political polarity garnering huge public attention. In 2012, Miguna also published Peeling Back the Mask, a weighty and gripping tome in which he revealed Odinga's lackluster leadership as prime minister. Even though Odinga declined to sue for defamation, Miguna was unabashed in his stances, and invited legal action by saying his much-publicized comment, "Come baby come." In the 2013 polls, Miguna supported president Uhuru Kenyatta, but his allegiances shifted to Odinga in the 2017 polls.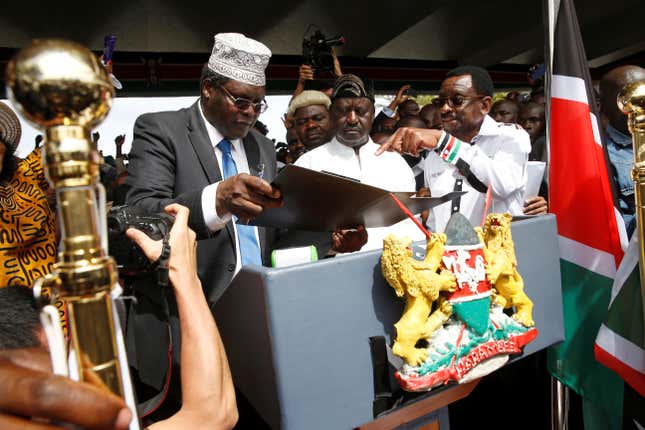 But beyond the legal ramifications, Miguna's deportation complicates a political reality in Kenya that's grown increasingly tense over the past week. In late January, Odinga made good on his promise to swear himself in after quitting the repeat presidential polls last October. The 73-year-old accused Kenyatta's government of presenting a "sham" and a "meaningless exercise" as a democratic process and called the results "fake."
But right before he took the oath, officials shut down four private television stations, causing an uproar over government censorship and heavy-handedness. Two of the stations came back on air after a week on Monday (Feb. 5), but the other two, including Citizen TV, are still off. The government also declared the opposition's National Resistance Movement an "organized criminal group."
Activists and lawyers took to social media on Wednesday morning to criticize the government's decision to deport Miguna. Boniface Mwangi, an award-winning photographer turned activist, tweeted that Miguna "didn't commit any crime because if he did, we have enough laws to jail criminals. He was deported illegally for speaking truth to power."