Cape Town's ominous day zero has been moved back from April 16 to May 11, thanks to a generous donation from farmers in the Western Cape province. On Feb. 6, farmers north of the city opened their dams to allow about 10 million liters of water to flow down to the drought-stricken city.
The city is about to become the world's first major city to run of water thanks to a drought that shows no sign of abating. The city has struggled to manage meager water sources and as of Feb. 1, water usage was forcibly reduced to 50 liters per person per day. Even as consumption is reduced, dam levels are still falling.
The province's farmers, though, have lived with the effects of climate change for several years now as annual rainfall has steadily decreased and have changed their relationship with what is now a precious resource, saving water even during wetter years.
"It started back in October last year when the farmers got together…and we realized we have a surplus of water," said Johan Groenewald of the Groenland Water Users' Association. The water will flow from private dams on farms to the municipal Steenbras dam, one of the dams which supplies Cape Town's residents.
Agricultural water in the region is managed by water users associations, which each farmer must belong to. The associations, a more inclusive version of apartheid-era farmers' irrigation boards, manage water licenses and allocation to farming communities in particular catchment areas, almost independently of state funding.
Still, agricultural water users understand that their relative abundance of water is because they do not have the burden of supplying water to as populated an area as Cape Town. Managing water use is also much simpler among a community of farmers than within an urban sprawl.
The Hex Valley Water Association raised its own funding, borrowing 68 million rand (over $5,6 million) to build its own pipeline scheme, an independent ultra-filtration scheme that purifies sewerage to drinking water standards and is currently enlarging the areas dams to secure the water supply for the future, says the association's CEO Christiaan Olivier.
The water associations offer a lesson in planning to the city of Cape Town. Farmers throughout the province have already reduced their water usage by as much as 80%. In the Hex Valley specifically, farmers cut back water allocation by 50% even after last winter's rains in order to save in an unpredictable environment. The association is "lucky," in that it's catchment area does not reach Cape Town, which would have affected its own planning.
"Climate change is real and it's happening," Olivier told Quartz, adding that "he just couldn't see" accurate weather predictions happening.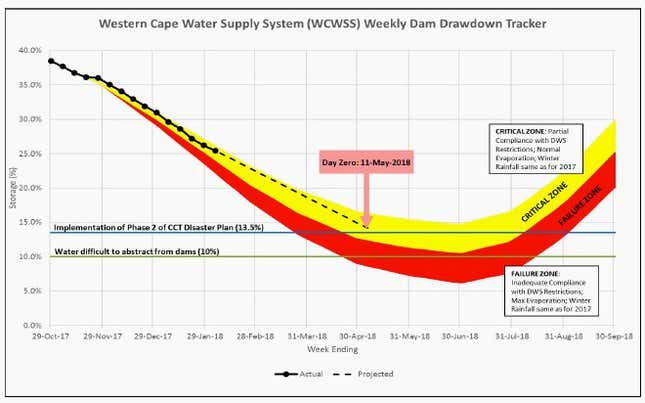 There are some farmers who have not been able to curtail the effects of the drought, despite planning. Some 300 kilometers north of the generous farmers of the towns of Grabouw and Elgin, homes in the Vredendal wine farming area are facing tighter water restrictions of 20 liters per person per day.
Farmers in the province have already reported a loss of 14 billion rand ($1,6 billion) this season and 50 thousand people may be out of work. Fruit and vegetable farmers are hardest hit, but poultry farmers have the additional burden of a bout of avian flue, said Carl Opperman, CEO of Agri Western Cape.
"A lot of our areas—for two or three weeks—are already in day zero," Opperman told Quartz.
Unless farmers are fortunate enough to have full private dams or an alternate water source, their only option is to watch their orchards die.