On the weekend of Jan. 20, a Fulani ethnic militia attacked the village of Kikan in the Numan district of Adamawa state, killing three people, injuring many more and carting away cattle.
Within hours, youths from the Bachama ethnic group dominant in the area mobilized and attacked neighboring Lauru village in a reprisal which also killed three people, a pattern that is increasingly common with conflicts in Nigeria generally and specifically, those between nomadic herdsmen and settled farming communities.
There was one problem, however: Lauru is not a Fulani community, but a Hausa one.
This "mistaken reprisal" shows the complexity of the herdsmen-farmers clashes in the northern part of Nigeria for the better part of two decades sporadically, but are increasingly growing in intensity, scale and sophistication but also now pushing southwards geographically.
Due to the fact that the herdsmen are mostly Fulani Muslims and the farming communities predominantly Christian, what is at its core a resource conflict is viewed by many as ethno-religious. It has exacerbated Nigeria's fault-lines because those who share the same faith as farming communities view these clashes as attempts at ethnic cleansing and even a modern-day reincarnation of Othman Dan Fodio's Fulani Jihad of the early 19th century; on the other hand, those who share the same ethnicity or religion and regional origin as the herdsmen are often reluctant to condemn the actions of their militias.
This complexity of ethnicity and religion also obscures the fact that a few of the clashes between farmers and herdsmen have also occurred between members of the Fulani and Hausa ethnic groups which are both predominantly Muslim and so closely related that they are often seen as one "Hausa-Fulani" ethnic group.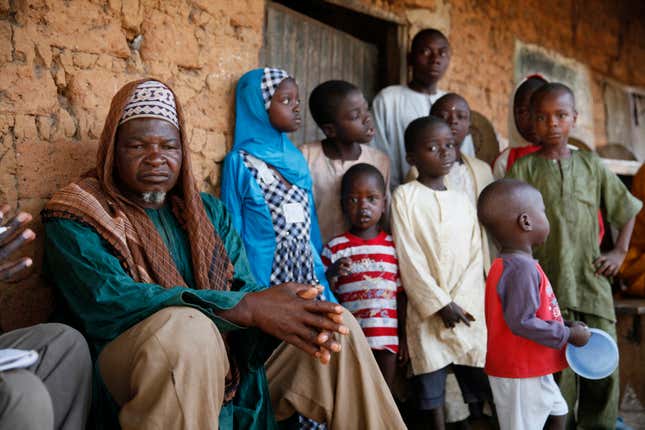 The most recent spate of clashes over the past six months have been among its most widespread, taking place in at least five states: Taraba, Adamawa, Benue, Kaduna and Plateau states. There have been also incidences as far south as Ekiti state in this period as well.
These clashes, together with previous ones, have not only led to the displacement of thousands of people but have also led to steep drop in food production as these areas make up part of Nigeria's 'Middle Belt', which is a rich agricultural zone well-watered by the Rivers Niger and Benue and its tributaries, or in the case of Plateau State, the topography and altitude allows it to enjoy high rainfall levels.
But the troubles have been discouraging farmers in the region from planting for several years now according to reports. This has been largely responsible for the drop in food production which caused a spike in food prices which the government blamed at various times on extortion by security agents at checkpoints and on exports.
The response of the Nigerian government to these clashes has been very tepid: this crisis has not received the kind of attention the Boko Haram insurgency in the North-East received, or even cattle rustling in the North West. In fairness to the Buhari-led administration, this tepidness is not exclusive to it as administrations before it also ignored this crisis. However, president Buhari has the added pressure of a shared ethnicity with the Fulani herdsmen who are principal actors and also being a patron of the Miyetti Allah Cattle Breeders Association of Nigeria (MACBAN), a trade group of mostly Fulani herdsmen.
In the absence of government action on the killings, two noteworthy trends have been taking place.
First, the formation of ethnic militias by communities to protect themselves and sometimes, even lead preemptive attacks on herdsmen. For example, Cheta Nwanze of SBM Intelligence reports in this article of the formation of militias by the Tarok people of Plateau state, Eggon people of Nassarawa state and Jukun people of Taraba state who working together have created a 'buffer zone' by attacking mostly innocent Fulani people in their domains in order to force them out of the area. Recent reprisal attacks in Benue state also suggest that a Tiv militia could be forming ostensibly to protect the people.
Another trend is that of states creating or backing extra-legal security outfits to fight militia. One state that has been leading this is Ekiti state, whose governor Ayo Fayose has repeatedly publicly charged hunters in the state to 'protect' the state against herdsmen militia. Governor Fayose's actions can be described as an act of necessity—although governors are referred to as the chief security officers in their states, they do not have operational control over any security agencies with Abuja often criticized for slow response to crises due to bureaucracy; one other governor, Benue has also criticized the federal government over its slow response to crises.
This failure by the Nigerian government to be an impartial enforcer of law and order is forcing communities to resort to self-protection, and with that, an increase in anarchy.
But while efforts to deal with the immediate causes of these clashes are not forthcoming, it is even worse with respect to solving the remote cause: competition for resources, specifically grazing/farm lands and water for crop production and animal rearing.
Divided
Opinions on this are sharply divided into two camps: one camp led by the herdsmen that insist on grazing routes that go as far back as the First Republic of 1960-1966. These routes which criss-cross the country have become largely swallowed as farmland as Nigeria's population has grown exponentially over the past few decades. Another alternative this camp has suggested is that the government creates grazing reserves or 'cattle colonies' – reserved areas with facilities for animal production.
The second camp, on the other hand, is fiercely opposed to nomadic cattle rearing and cattle colonies. As a matter of fact, some states have gone on to ban open grazing of cattle in a bid to force herders to invest in ranches. This move has been blamed in some quarters as the cause of the recent attacks in Benue state, including by the minister of defense.
This issue lies at the heart of the clashes, especially as the crises can only be expected to intensify in the coming years with increased resource competition: studies show that as much as one-third of Nigeria's land mass has been lost to desertification. This means that there will be more competition for land and water from the country's Middle Belt and towards the South.
Until this thorny issue is addressed, it is very likely that the killings and clashes will stop anytime soon. Left unchecked, this crisis has the potential to redefine Nigeria in its entirety.