It's been a whirlwind past year for Nigeria's contingent at the Winter Olympics in Pyeongchang, South Korea.
Fourteen months ago, Seun Adigun, Akuoma Omeoga and Ngozi Onwumere were attempting to crowdfund a bobsled training regime in a bid to secure qualification at the Games. Simi Adeagbo took up Skeleton after trying to join the bobsled team in a bid to revive a long-held ambition to become an Olympian. These days though, the athletes have become a major attraction.
They have won global appeal and have become darlings of corporate brands snagging several endorsements.
Just by being there, all four women will make history. Adigun, Omeoga and Onwumere will be the first Africans to compete in bobsled while Adeagbo will become the first African woman to compete in Skeleton.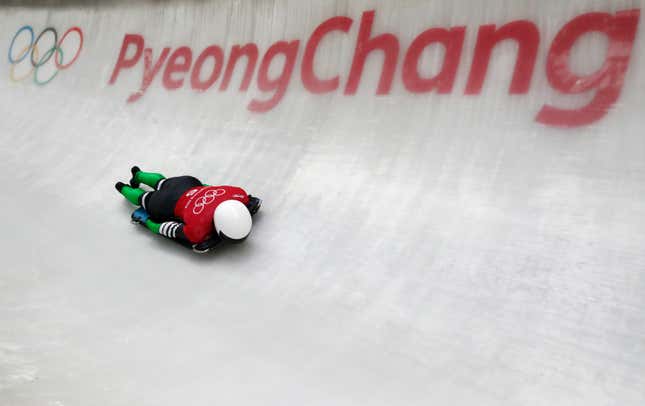 Adeagbo in action.
Bobsled Women Training Heat 1
The bobsled trio will start their campaign in Pyeongchang on Feb. 17 with scheduled training heats. Nigerians can catch a glimpse of the new stars at 4 pm. Nigerian time (10am EST). The team will participate in six training heats between Feb. 17 and Feb. 19. The goal for the team will be to fine-tune their runs and clock impressive times when the official heats begin on Feb. 20 and on Feb. 21 when medal ceremonies planned.
Skeleton Women Heat
Simi Adeagbo will start competing on Feb. 17 for Nigerians at 2:20 am (Feb. 16 20:20 EST). The former  triple-jump athlete will be hoping to do much better though as, so far, in four training runs, she has finished bottom of the pack.
Nigerians can watch both events of the Winter Olympics on DStv Channels 231 to 234 and  Kwesé TV Channel 306.