It's Black Panther week, and fans across the world have been flocking to screenings to watch the latest Marvel superhero movie.
The film has especially struck a chord with African American and African filmgoers, who are eager to see a true representation of themselves on the big screen. Set in the fictional and technologically-advanced nation of Wakanda, the country was never colonized and was largely hidden from the rest of the world. The movie's afro-futuristic elements also challenge on-screen racial and gender representation and embrace a cinematic experience where blackness and Africanness are equated with advancement, cybernetics, and sci-fi fantasy.
For award-winning Kenyan photographer Osborne Macharia, Black Panther couldn't have come at a better time. Before the movie's launch in cinemas in London this week, he was commissioned by Marvel to create an "exclusive art piece" and given the creative license to experiment. Macharia is known for his composite photographs, in which he employs elements of history, science fiction, and digital photo editing to comment on historical narratives and social issues.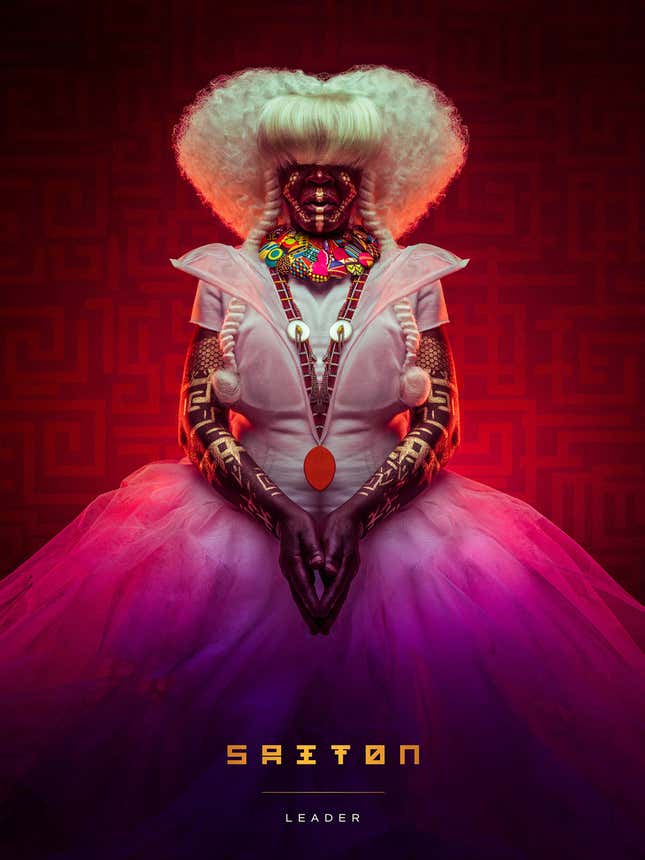 In the past, he has produced photos of the Kipipiri women, four brave warriors who undermined and help end British rule in Kenya. Other projects have also focused on persons with albinism, discrimination against street children and the elderly, and he also introduced a whole new cast of hip-hop grandfathers, extravagant grannies, and freedom-fighting opticians into the Kenyan art scene.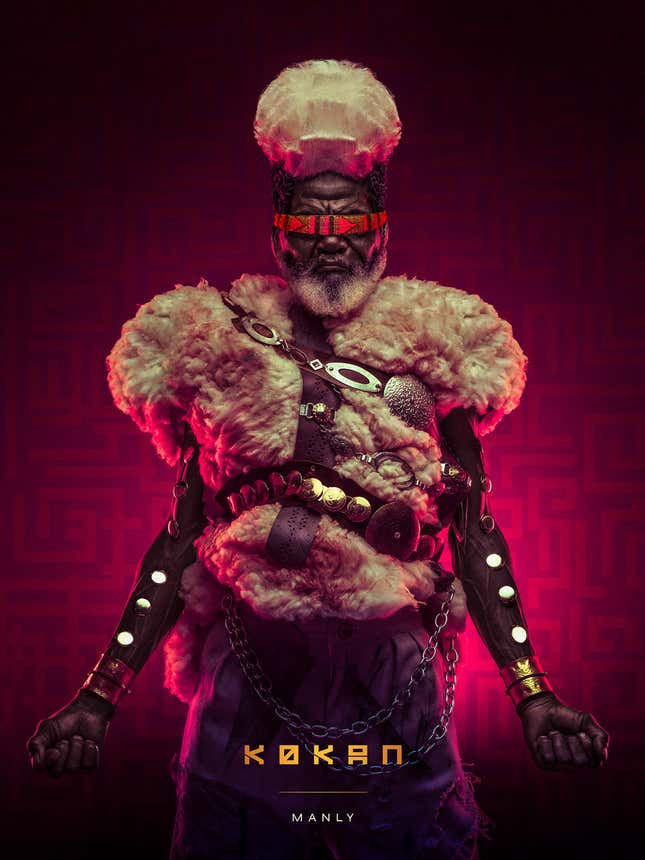 For Black Panther, Macharia created a project titled Ilgelunot, which translates to "The Chosen Ones" in the Maasai language. The piece tells the story of three elders of Maasai origin who were Black Panther's most trusted advisors—played in the movie by Chadwick Boseman. The elders were saved during World War II by the old king of Wakanda T'Chaka after they strayed across North Africa in search of refuge. And even though exposure to the fictional metal Vibranium had made them blind, the woman and two men gained supernatural abilities and acumen. Macharia also created a custom typography inspired by geometric tribal patterns for the photo project.
In a Facebook post, Macharia said the project was for him "A proud moment to be part of the most important Afrofuturistic movie in my generation."