Nigeria's Winter Olympics adventure was mainly driven by an all-female bobsled team which, despite tough odds, made history at the games.
More than a year after first embarking on the dream of becoming the first ever Africans to participate in bobsled at the Winter Olympics, the trio of Seun Adigun, Ngozi Onwumere and Akuoma Omeoga took part in women heats at the games over the past two days. In keeping with the whirlwind year they have had, their race was eventful as they briefly took the lead of the race before losing steam and finishing bottom of the rankings.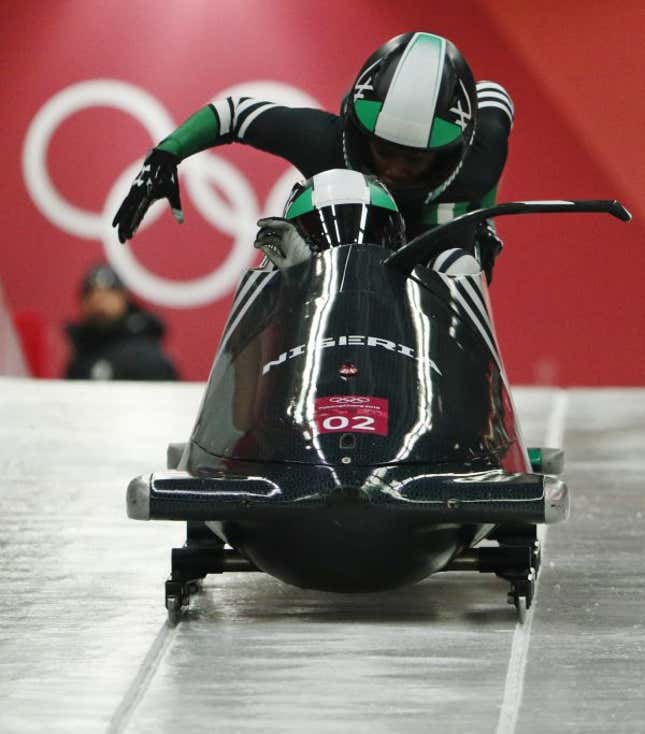 The prospect of finishing on the podium was always slim as the team's journey to Pyeongchang has been far from easy. Being former track and field athletes, none of them had any prior experience in the sport. But through sheer force of will and some ingenious planning along the way, they pushed themselves into reckoning. The first most Nigerians heard of them was in Nov. 2016 when they launched an eventually successful crowdfunding campaign to raise money to pay for their training and equipment. Since then however, the team has gone from being unknowns to being global celebrities. Even before the games kicked off this month, they had bagged endorsements from global brands including Under Armour, Visa and Apple-owned Beats By Dre and won the support of star athletes like Serena Williams.
Their celebrity status was further cemented at the games as they were a major attraction for fans, athletes and journalists in Pyeongchang.
But the novelty of participating aside, the team has long maintained that their goal at the games was to raise more awareness about the possibilities of Nigerian and African participants at future Winter Olympics events and breaking through gender barriers. Their biggest achievement in this regard, asides being subject of a media frenzy and generating significant local interest in the Winter Olympics, has been helping establish Nigeria's first ever bobsled and skeleton federation.