In a recent survey of social media use in Africa, WhatsApp—and its Facebook-owned sister app Messenger—was crowned the king of apps in Africa.
All except for one country: Ethiopia.
The Horn of Africa nation, joined by Iran and Uzbekistan globally, stood out as the only nation where Telegram was more popular than any other app. The ranking was based on data collated from the Google Play store for each country by Dec. 2017.
Telegram has 200 million users worldwide, compared with about 1 billion WhatsApp users. It's on course to raise about $2 billion, mainly through an initial coin offering.
So why is Telegram popular in Ethiopia? It's not immediately clear why the messaging service has emerged as the favorite alternative to WhatsApp or Messenger, but a few reasons give clues to its dominance.
Ease of use:
Gaining access to the internet is still very difficult in Ethiopia, with internet penetration at just 15% for its over 105 million population. And even though over 53 million people have mobile connectivity, just 3.8 million of them are active social media users. Part of the problem is that data is expensive and not competitive, given the government's monopoly over all mobile and internet services through the state-owned Ethio Telecom.
Given that, the economics of downloading and using Telegram (49 megabits) versus WhatsApp (103 MBs) or Messenger (125 MBs) is part of what makes Telegram attractive in Ethiopia, says Moses Karanja, a doctoral candidate at University of Toronto and researcher at the Citizen Lab. In his research, he says, Ethiopians have told him how "frequent updates were too expensive" and that "internet bundles consumption is lighter and hence cheaper" with Telegram.
Secured connection
Ethiopia is highly restrictive of the internet and regularly blocks social media outlets. Recent research has also shown officials using commercial spyware   to target dissidents abroad who have been supporting anti-government protests.
In such a sensitive political space, Telegram offers end-to-end encryption as well as a self-destruct timer that can remove messages without a trace. There's also the option of checking your secret chats using an image that serves as an encryption key. The app's programming interface also allows developers to create tailor-made interfaces for free instead of the one-size-fits-all functions of apps like WhatsApp. Telegram, which currently supports eight languages, is also expanding the number of languages developers can build into the apps. It also supports external language packs which help localize content and messaging.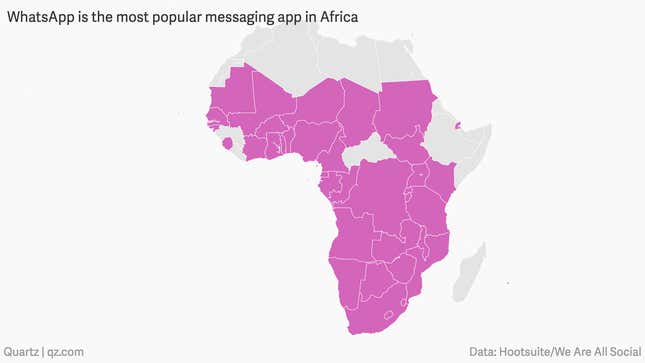 Tool for political activism
Karanja says the secured connections might not be the main driving factor for Ethiopians. Indeed, the messaging service has been compromised in the past, with hackers identifying the phone numbers of 15 million Iranians many of whom share subversive information on the platform. The company's commitment to free expression was also questioned after it removed content at the behest of the Iranian government.
Mark Kaigwa, the founder of Nairobi-based tech research company Nendo, says many Ethiopians could nonetheless be attracted to some of the other features that make Telegram unique. Key among these is the ability to create super groups of up to 100,000 members, hence facilitating political activism. In contrast, WhatsApp allows group chats and broadcast lists of up to 256 people.
Marketing platform
The digital finance services delivery system is still in its infancy in Ethiopia, and the country has a long way to go in building its e-commerce system. But Telegram has allowed retailers and entrepreneurs a cost-effective way to promote products and provide timely and consistent information to customers. Users are also able to pay for goods and services.
Biniam Alemayehu, a resident in the capital Addis Ababa said, he liked Telegram since it was easy to store and share large files, like videos and audiobooks. He also uses it for shopping "since it's relatively cheaper than the regular markets," he said. "Telegram is cool."