Lubumbashi, DR Congo
The Democratic Republic of Congo's economic capital and mining hub has mineral deposits so rich that the ground is a deep red, but the dust clings to a city where inequality is stark.
Like in any poor urban area, sports represents a way out. For most, that dream would be to play for the city's well-known soccer club TP Mazembe. More recently, thanks to Bismack Byombo's getting drafted into the NBA in 2011, basketball is taking off on Lubumbashi's street corners.
On Saturday afternoons and Sunday mornings, a new sport offers itself as a path of opportunity. But it is one that may already be so inaccessible to the poor and working class that efforts to groom new Congolese talent seem out of touch with the country's realities, no matter how noble its intentions.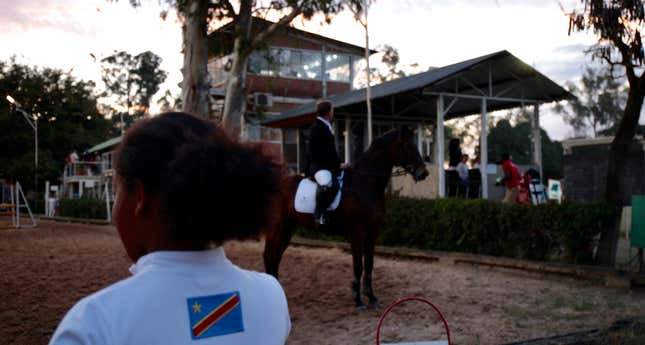 "It's a sport assumed to be just for wealthy," says Malta David Forrest, the president of Lubumbashi's equestrian club and local showjumping enthusiast. Named after his grandfather who started a transport company in the Congo in 1922, he is the son of George Forrest, the "viceroy of Katanga" and the tycoon at the helm of the Forrest Group International, which has since expanded across four countries to include sectors ranging from banking to energy, and of course mining and engineering.
"And that's why as a club we've invested in horses to allow it to be affordable. I'd like to think we've succeeded as most of our young riders are Congolese," says Forrest, sitting in his CEO's office at the surprisingly modest office in Lubumbashi, except for the smell of cigar smoke in the air.
The company is still family owned, and the Forrests maintain New Zealand and Belgian citizenship thanks to their grandfather. Malta David Forrest was born in Kolwezi in 1971, south of Lubumbashi, but does not have Congolese citizenship because the DRC does not allow dual citizenship, but he is able to do business in the country with no issue.
Lubumbashi's is the last surviving of five horse clubs in the country and opening it up to the community and helping a new generation of riders foster a connection with the animals is what Forrest believes will sustain the club.
"For the riders when you are on the horse you can dream because you're above everything," he says.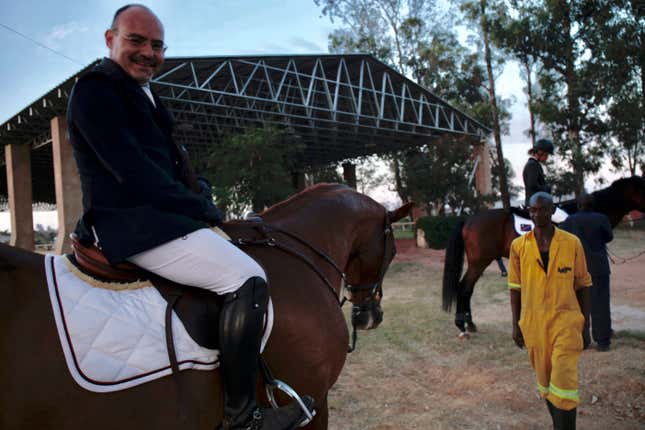 The Forrest Group has weathered independence, the regime of Mobutu Sese Seko, the coup of Laurent Kabila and the ongoing uncertainty under his son, current president, Joseph Kabila. Amnesty International has accused the group of illegally bulldozing, which the group denies (pdf), while a Wikileaks cable accused one of its mines of ignoring high radioactivity levels, an exposé which seems to have gone nowhere. Forrest refuses to be drawn into politics, saying only that the region known to be an opposition stronghold has struggled somewhat and infrastructure projects have halted.
He will, however, talk about horses. Forrest has been riding from the age of six, and remembers a time about twenty years ago when he could ride through the city streets (the family is rumored to have turned their compound into something of a small private animal sanctuary during the Mobutu years). Now as the population expands the facilities that date back to when the city was known as Elisabethville struggles to keep up. The DR Congo's mineral wealth has created a small but very wealthy class whose lives look nothing like the majority of the country, where the gross national income (GNI PPP) was just $730 in 2016, according to the World Bank.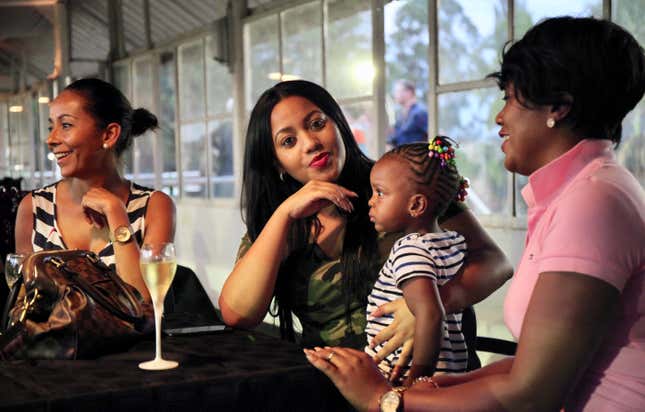 At the showjumping arena, the colonial-era comparisons are of a different kind. Lubumbashi's moneyed and aspirational quaff complimentary champagne and French and South African wines on the second floor of a clubhouse that overlooks the jumping fences and lawns. Here, Forrest is something of a celebrity, firmly ensconced in the top floor of the clubhouse, where his wife also acts as a commentator, her voice booming over the loudspeaker as the jumps are scored. Out back are well-kept stables and horses with shining manes. It's a world away from the city just beyond the walls.
A new generation of riders though look nothing like the colonial-era equestrian enthusiasts who may have ridden here before. Most of them are giggling Congolese adolescents who take the sport very seriously. Their parents are entrepreneurs who want to prepare them for life beyond Congo, so many of them attend international schools and slip easily between French and English. In Lubumbashi, there isn't much to do beyond WhatsApp groups and playing with Snapchat filters for the girls ages between eight and 13 so these events are as much a social gathering for them, as it is an aspiration for their parents.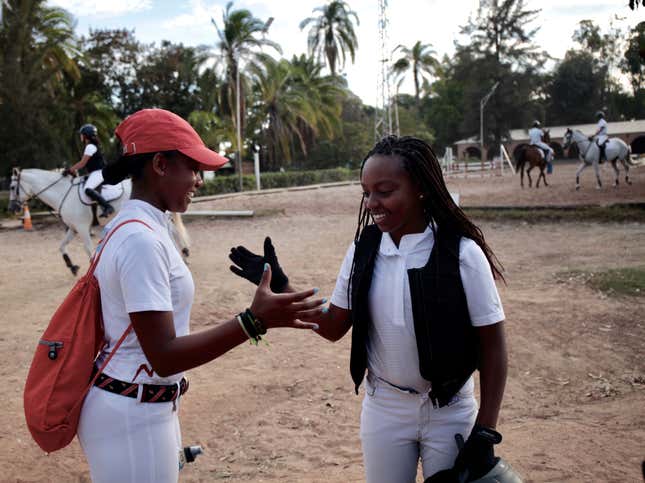 "It was a dream for me. Coming from a Muslim family, my father didn't allow me to do this. "So when I had my kids, I said I want you to do this," says Jamila Mwanza, in between comforting her daughter Sonia who took a fall. A businesswoman who moved to the more stable Katanga region from the east, her hometown of Bukavu also had a showjumping ring before it was a destroyed by the war.
"I own my horses," says Lucas Katebe confidently. The nephew of exiled opposition leader Moise Katumbi, he purchases his horses in Germany and Belgium where they easily sell for around $70,000, he explains. Homeschooled, Katebe speaks unaccented English and plans to go to university in London. The rising star of this arena, he hopes to become a professional rider. Clearly popular on and off his horse, his social status goes beyond the club. His coach is European and and he is mentored by Forrest, who is also listed as vice president of the soccer club Katumbi owns.
"When things got tough around the 90s a lot of businesses closed down," recalls Forrest, describing how he's kept the last equestrian club going in the Congo. "When you are in horse riding and want to promote the sport, you have to think medium-long term and that requires heavy investment."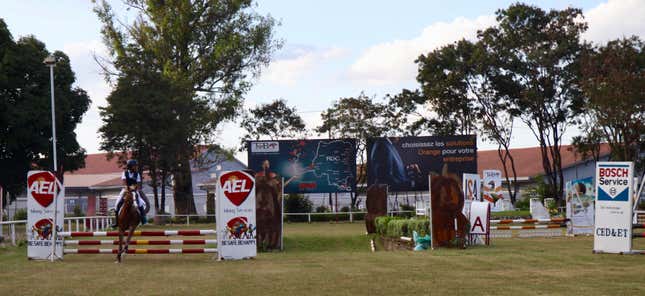 Forrest, it seems, has had no trouble attracting sponsors to a sport no one would associated with the Congo. All over the arena are the billboards of sponsors, including the Forrest Group. He organizes competitions and invites riders from Zambia, Zimbabwe and South Africa.
The Congolese who work for the stables remain far removed though, earning $200 a month looking after more than 50 horses for 12 hours a day. They're quick to point out that it's more than they would have made doing similar work around the city. Their children dare not dream of leaving Lubumbashi on horseback. Some working class Congolese bring their children to watch the show and feed the horses, but they remain outside of the clubhouse and excluded from this life.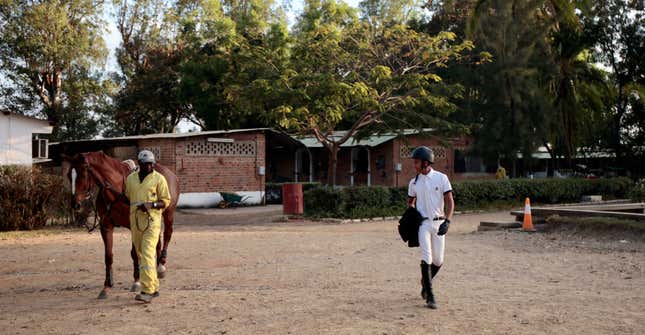 On horseback, the riders are above it all, just as the equestrian club seems so far removed from life in Lubumbashi. The DRC's mineral wealth and abject poverty are well known, and the lives of Lubumbashi's wealthy and aspiring upper classes starkly demonstrate this inequality. The club's willingness to encourage new riders, albeit still wealthy ones, demonstrates a self-awareness of its place in this society. Still, should Lubumbashi's wealthy feel any moral obligation to the city's poor, any more so than the wealthy of any other city?
To any outsider, promoting a sport for the wealthy in an impoverished city raises uncomfortable questions about inequality and moral responsibility, especially in Africa. They are perhaps the same questions that arise when looking up at Cape Town's seaside mansions from the city's shanty towns, or passing by Lagos' floating Makoko slums on your way to your penthouse on Victoria Island. The world has gotten very comfortable with inequality.
Reporting for this story was supported by the International Women's Media Foundation.