Rio de Janeiro
The receipts are in. Worldwide, Black Panther—a superhero movie about a never colonized, self-sufficient African country— has taken in close to $1 billion worldwide. Brazil, a country of more than 100 million black and brown people, is one of the top five international markets for the movie.
Afro-Brazilians in cities across Brazil organized all-black viewings of the movie. In São Paulo, a Facebook group called Intelectualidade Afro-Brasileira organized a private movie session and the previews featured marketing for black-owned companies instead of upcoming movies. As reported by The Intercept, Afro-Brazilians in Rio de Janeiro mounted gatherings in upscale shopping malls—spaces typically reserved for Brazil's white elite—as a protest against racial exclusion.
But these gatherings were not only celebrations of black pride protests against racial exclusion. They were also a positive signal to the mainstream and Afro-Brazilians themselves that they could economically support products that represented them on a large scale. Since the debut of Black Panther in Brazil, the "Black Money" movement—the idea that black Brazilians can use their money to support black businesses—has gained steam and support has even crossed over into mainstream media.
Compared with African Americans, black Brazilians have always felt a very strong connection to their African roots. But their black African pride is rarely celebrated in mainstream society, which in this context could be a euphemism for Brazil's white establishment.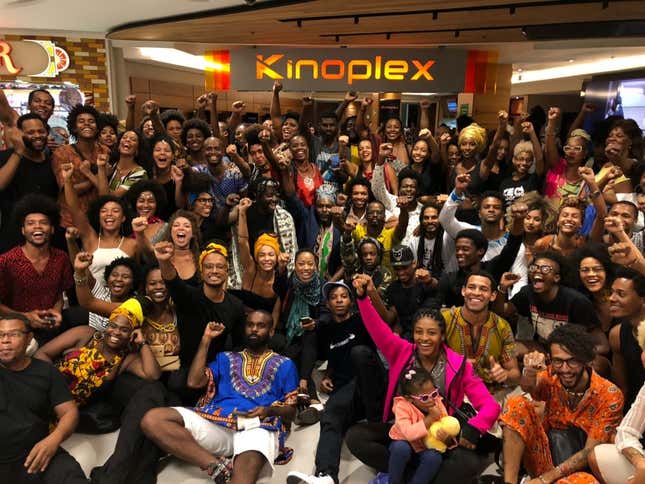 For Afro-Brazilians like Rodrigo França, the success of Black Panther represents showed that blacks could organize for a common goal that was strongly connected to spending money.
"For us, the success of Black Panther was a grand example of how much we have to consume and it also showed the potential of how we can consume products that are related to our representation, products that will respect our culture," said França, who is a social scientist, philosopher and actor. "If we stop buying from racist companies and companies that do not engage in diversity, those companies will not survive."
Unlike the United States, where support for black movies, companies, and products is expected among African Americans, the idea that blacks in Brazil can organize and unite to economically support something " black" or black-owned is less common.
"We don't have this culture for money to leave black hands and go directly into another black person's hands," said França, organizer of an all-black Black Panther viewing in Rio de Janeiro. "Due to the myth of the racial democracy, some black people think it doesn't matter if they support black products."
The numbers also show that black Brazilians have economic power and entrepreneurial potential. More than 50% of Brazil's 200 million people identify as black or brown. Although black people make up a majority of entrepreneurs in Brazil, most of them are one-person businesses.   Black people have institutionally been shut out from building wealth in Brazil via large-scale entrepreneurship because they have lacked capital and access to credit. Afro-Brazilians, on average earn just 55% of the monthly income of white Brazilians—1.531 Brazilian real ($472) compared with 2.757 Brazilian real ($850) for whites, according to IBGE.
Despite these disparities, the annual consumption of Afro-Brazilians is 1.6 trillion Brazilian real ($493 billion), according to Instituto Locomotiva. These numbers would make Black Brazil the world's 11th largest country by population and the 17th largest economy in consumption terms.
The concept of "black money" and black entrepreneurship is something Daise Rosas Natividade, founder of Black Pages Brazil, has been working on since 1993. She says interest in black entrepreneurship among Afro-Brazilians has surged in the recent years because of several factors. The introduction of affirmative action in universities, has led to more college-educated Afro-Brazilians who are conscious about racial issues. A beauty movement that promotes a positive black aesthetic has helped some Afro-Brazilians have higher self-esteem, she said. Today, knowledge and opinions on black issues spread fast through social media networks.
But she thinks the film Black Panther, tipped the conversation about Black money and economic power over the ledge. "The entrance of a film like Black Panther created a positive space where people could start to think positively about black money."
Black entrepreneurs with big dreams are recognizing this. Diaspora.Black, a Brazilian startup marketing itself as the Black Airbnb, just concluded a crowdfunding campaign in which it raised more than $5,000. This year the startup,  will participate in an accelerator supported by Facebook in São Paulo. Last year, social entrepreneur Paulo Rogerio launched Dendê Valley, an accelerator that will nurture the creative economy of black entrepreneurs in the city of Salvador. More than 80% of Salvador's three million people identify as black, making it Brazil's "blackest" large city. So Rogerio wants Salvador to be the Atlanta of Brazil—the country's capital of black entrepreneurship, creativity and consumption.
"Black Money is a movement to increase black economic empowerment and black connections," said Rogerio, who was the only Afro-Brazilian invited to lunch with president Barack Obama when he came to Brazil last October. "With Black Panther, black people in Brazil are finally starting to think that they do big things on a major scale."
But some black entrepreneurs are hesitant to celebrate this moment so early. Aline Lourena started her communications agency Thelírios 10 years ago and while large companies—her clients—are showing interest in reaching Afro-Brazilians, many don't see it as marketing.
"The interest is there but the money isn't there yet," Lourena said. "This isn't a structural change in Brazilian society, which has proven itself to be racist and sexist. We're just in the beginning so I'm hoping in 10 years we will see major change."