Accra, Ghana
Ghana is the world's fastest growing economy, with a government set on attracting investment and tourism. But residents of its biggest city, from taxi drivers to academics, are overwhelmed by its state.
Accra's gutters are persistently clogged, despite pressure on government and promises in return. A common complaint through the city is that when people clean out the gutters, waste will sit in a pile nearby and eventually find its way back. Piles of rubbish sit on street corners, picked on by birds. After a storm, plastic bottles washed out with the rain return to line the beaches.
Accra officials says residents need to pay for waste management—many won't or can't. The resulting limbo has become a major test for one of Africa's most promising and up-and-coming cities.
While waste management is a nationwide issue in Ghana, it's most obvious in Accra, a fast-growing city of four million that generates about 3,000 metric tonnes of waste a day. In 2012, the World Bank estimated that poor sanitation was costing Ghana's economy around 420 million Ghana cedis ($290 million) each year, equivalent to 1.6% of its GDP. The study found most of these costs come from the annual premature death of 19,000 Ghanaians, largely due to poor sanitation and hygiene.
Accra's problem is a global one. Africa's population is expected to increase to 2.5 billion people in 2050, from one billion people in 2010, and like in other rapidly developing regions, its cities are being stretched by infrastructure and resource demands.  The higher a country's income level and rate of urbanization, the greater the amount of solid waste produced. Waste generation rates are set to more than double over the next 20 years in lower income countries, and the cost of dealing with it will increase at least four-fold, according to the World Bank.
With limited space, resources and infrastructure to deal with increasing populations and waste, development organizations are calling for more education, waste reduction, and innovative recycling programs across the continent. In response, countries have adopted measures like banning plastic bags and non-biodegradable plastic. Often these measures have come at a steep price.
A majority of Accra's residents live in low-income, densely populated communities, with inadequate infrastructure and services. Residents often dump their waste into open spaces, drains and rivers, which contributes to flooding in Ghana's rainy season or on open spaces. Others resort to burning it on the side of the road.
The trash has become an an eyesore and a political flashpoint. In January, Australia's High Commissioner to Ghana tweeted photos of refuse near his commission in an affluent area of Accra, adding to the conversations and complaints on Ghana's traditional and social media.
After becoming president last year January, Nana Addo Akufo-Addo's created Ghana's first ministry of Sanitation and Water Resources as part of a pledge to make Accra the cleanest city in Africa. Last August, sanitation minister Joseph Kofi Adda told local media the government was going investigate changes to the way the city processed its waste (pdf), while investigating renewable energy and increased recycling.
In the meantime, the city's focus has been on getting residents to pay to have their waste collected, with the Accra Metropolitan Assembly pulling back on offering waste management services, citing an unmanageable cost burden. Before 2009, the city paid contractors to collect waste from 300 large refuse containers throughout the city. Now, residents and businesses are expected to pay for door-to-door collection services provided by twelve private waste management companies.
Companies charge different monthly fees depending on the neighborhood. Households in poorer areas pay around 20 cedi ($4.50) a month while wealthier areas pay 100 cedi ($22.40). The city has stopped short of making this service compulsory, and still pays for refuse collection from vulnerable communities, markets, and some public spaces, while supporting community cleaning initiatives.
AMA's director of waste management, Victor Kotey, says charging for individual collection is the only way the city will see an improvement, but convincing everyone to do their part and pay for services has been a huge challenge.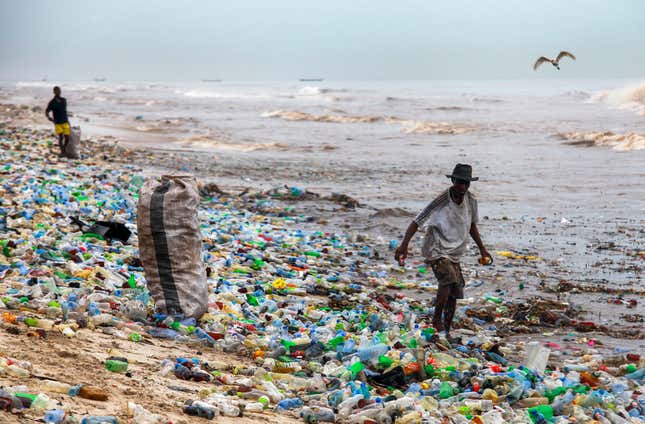 "If the beneficiaries are not paying for services and they want to avoid payment then they are not being responsible and it will affect achieving the president's goal," Kotey says. "Obviously, whatever services you enjoy you need to pay for it—even if there is a government subsidy but you still have to pay something. That is how we will improve services, otherwise it will be difficult to achieve the goal."
Across Accra, informal waste collectors load carts or tricycles with refuse from poor areas that can't pay monthly fees for private waste collection, aren't served by them, or aren't able to easily access AMA remaining trash collection points. These 'Borla Taxis' generally serve low income households in Accra's formal and informal settlements, charging around a cedi ($0.20) for daily collection.
At an overflowing refuse transfer site in Ghana's capital, a group of informal rubbish collectors emphatically responded "no" when asked if the president's pledge to make their city the cleanest in Africa would come to fruition.
"Our president is not doing anything, it's all just political talk!" shouted a furious Otuer Serebour, who has been working as an informal waste collector for close to 20 years.
Serebour and his colleague Steven Dogbey work from 4.30 am until 10am, collecting garbage from homes and paying 5 cedi ($1.10) each time they dump the trash at a waste collection station, which then transports it to a landfill. They are considered self-employed informal collectors, earning about 40 cedi ($8.90) a day, and are not associated with the contracted waste collection companies.
But even the small fee they charge is unaffordable to many in Accra, a city with a minimum daily wage of 9.6 cedi (about $2 a day), and a 2014 average annual income per household of approximately 17,023.71 cedi ($5,100 USD).
Critics of AMA's approach say that the user pay system won't work in a city where people don't have enough money to pay for their simplest living costs, let alone waste.
"We have to provide people with infrastructure so they properly dispose of waste," says Professor George Owusu, the director for the Centre for Urban Management Studies at the University of Ghana argues. "Now people collect their waste and don't know where to put it."
Owusu believes to really clean up Accra, there should be free and reliable services to those in the poor areas of the city, while middle and high income households should be required to pay for waste collection services. Better infrastructure and waste sorting and recycling by the companies and collectors would also do more to clean up the city, he added.
"Waste collection is so critical to make Accra clean, attract businesses, tourists, and reduce malaria and other diseases," Owusu says.
Allowing fresh ideas into the sector would be key to meeting Akufo-Addo's target, argues environmental educator and campaigner Cordie Aziz. While the local assembly and central government were taking the president's pledge seriously, Aziz says more innovative ideas are needed to really affect change. There were other small, innovative startups in Ghana she wants to see working with the government.
Her non-profit, Environment 360, offers recycling education in schools in Ghana, funded through a recycling program, membership fees and partnerships with other programs. Educating children and making recycling compulsory in the hospitality sector should be key aspects in any cleanup plan, she said.
"The inability to sort out the waste issue in Ghana has huge impact, not only for our environment and our communities but also for our economic situation." Aziz says. "We are at a critical point and it's something that has to absolutely be done, not only by one player—but every player in the system."