Amid the cocktail of characters and cultures in Marvel's Black Panther movie, Dora Milaje, the all-female bodyguards of the king of fictional Wakanda, have won themselves enough fans to strike out on their own.
Marvel has announced Wakanda Forever, a three-part comic series focused on the Dora Milaje, including characters like Okoye (played by Danai Gurira in the Black Panther movie). The comic series will be written by Nigerian-American author Nnedi Okorafor and will start in June.
It's Okorafor's latest engagement with Marvel after co-writing Black Panther: Long Live the King, a six-part series with the first issue released last December. Last year, Okorafor also wrote "Blessing in Disguise," an eight-page comic set in Lagos, Nigeria for Marvel's Venomverse anthology. Okorafor's work has also attracted attention from other Hollywood heavyweights: in July 2017, HBO announced that her novel, Who Fears Death, will be turned into a television series with Game of Thrones creator George R. R. Martin as executive producer.
The Dora Milaje first appeared in Black Panther comics in November 1998 but have become more popular since they were brought to life on the big screen in the Black Panther movie. The characters are believed to have been inspired by an all-female military unit in ancient Dahomey, present-day Republic of Benin in West Africa. The unit was known for fighting colonial French forces in the 1800s but also for warring with neighboring kingdoms and and participating in slave raids around West Africa.
Lupita Nyong'o and Viola Davis are also working on a new movie, The Woman King based on the true story of the Dora Milaje.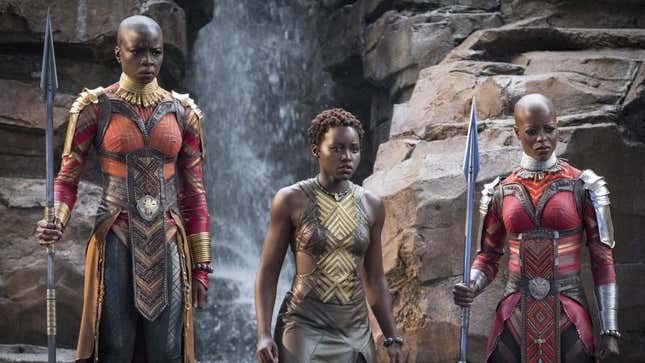 Already known for her work around Afrofuturism, writing about fictional Wakanda, an advanced technological haven in Africa, is right up Okorafor's alley. "I like to write the future; the Africa I feel can be and the Africa that will be, that has always been my vision," she told Vogue. "With Wakanda, a place set in the present but with a futuristic outlook, it wasn't a hard transition—it made a lot of sense."