Winnie Madikizela-Mandela was a complex woman, and the obituaries and tributes issued in South Africa after her death at 81 have struggled to find balance in recalling her life.
"Flawed" is how many obituaries have described her. Some zeroed in on her missteps rather than her contributions as a leader of South Africa's struggle against apartheid. Others reduced her to Nelson Mandela's adulterous ex-wife.
Thousands of South African women wore black and wrapped their hair in a scarf or donned a beret on Friday (Apr. 6) , mimicking Madikizela-Mandela's style. With the message "She is not dead, she has multiplied," the aim was to counter the unflattering stories that have been told since her death.
Defending her in death
The words of the apartheid-era president F. W. De Klerk convinced Nombulelo Ngeno, 31, who grew up in Soweto, to join the head-scarf campaign. "There is also a dark side of her reputation and history, which one does not delve into at a time such as this," De Klerk said of Madikizela-Mandela.
"Many have described Mama Winnie as a controversial figure, which is the norm when you are a powerful black woman who is a warrior," Ngeno said in an interview with Quartz. Like many others, Ngeno posted a photo of herself on social media #AllBlackWithADoek and the message "She didn't die, she multiplied."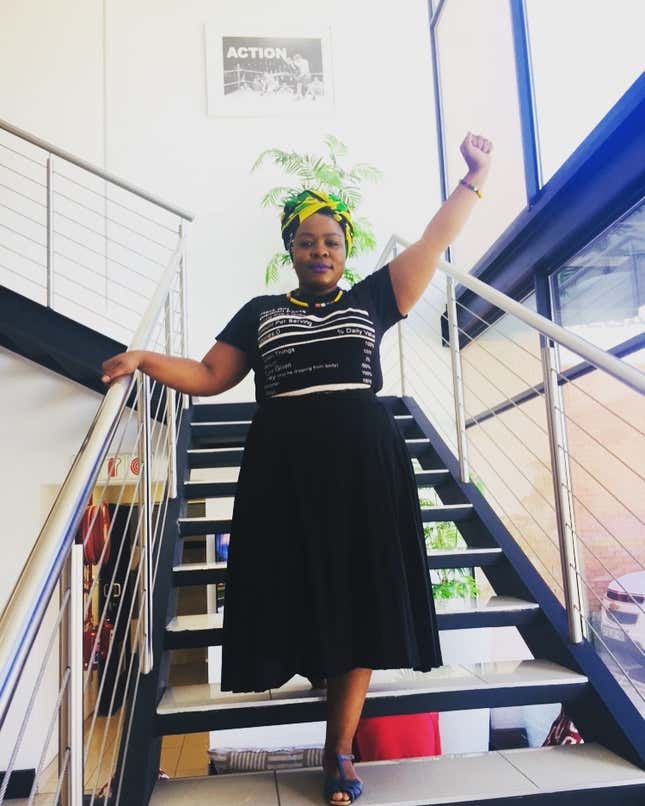 By minimizing the torture, solitary confinement, banishment, and habitual harassment Madikizela-Mandela faced during apartheid, some accounts in the local and international press have reduced her to the stereotype of an angry black woman—as if her anger were not justified. Other obituaries described her as bitter for openly opposing how black South Africans were treated even at the end of apartheid and her criticism of Nelson Mandela for negotiating a deal with the administration that terrorized her.
In response to the coverage of her Apr. 2 death, many South Africans took to Twitter and Facebook to challenge the narrative. It forced some columnists to take stock, questioning whether Madikizela-Mandela would have faced the same criticism if she were a man. History—and obituary writers—have been far kinder to Winston Churchill, Ronald Reagan and even Nelson Mandela, while Madikizela-Mandela's role in controversies, rather than in the fight against apartheid, has been magnified.
"One should not speak ill of the dead, but I shall make an exception," wrote Andrew Malone in the UK's right-wing tabloid Daily Mail, promising to reveal "the dark side…cannot be swept under the carpet."
"Winnie Mandela was an odious, toxic individual who continued to preach hatred rather than reconciliation right up to the end of her life," he wrote, describing her affair with a younger man and the victims of the violence she allegedly orchestrated in Soweto.
The unspoken discussion
Yes, Madkizela-Mandela resorted to violence in retaliation, was embroiled in corruption and was not the dutiful wife of a liberation leader. Yet now Madikizela-Mandela's critics have been as harsh and unforgiving as they accuse her of being. There is no one simple image of what a political figure who has endured so much should look like.
Her continued, post-apartheid radicalism reflected South Africans' own ongoing frustration and she remained a pillar of her community and a champion for the poor. South Africa is indebted to her for the decades of sacrifices she made on the frontline of the opposition to apartheid while others were imprisoned or exiled.
Harshness with which she has been described in death has forced her supporters to raise their voices in praise to tilt the narrative in the other direction, instead of inspiring sober reflection on the choices Madikizela-Mandela made—and what they mean for South Africa now.
*"When you strike a woman, you strike a rock."