In Aug. 2016, Ethiopia's Olympic marathon silver medalist Feyisa Lilesa crossed his hands above his head as he finished the race in Rio—calling the world's attention to a wave of protests in his home country.
The gesture of solidarity with the demonstrations snubbed Olympic protocol, but it further championed the Oromo demands for political reform and equal economic opportunities. Security forces continuously cracked down on protesters, killing hundreds and detaining tens of thousands, according to Human Rights Watch. The government repeatedly shut down the internet, instituted two states of emergencies, and declared posting about the country's strained status on social media illegal. Interethnic violence also undermined stability, triggered a humanitarian crisis, and displaced a record 1 million people in the Horn of Africa nation.
However, after almost three years of internal unrest, Ethiopia witnessed a political sea change in late March after an Oromo ascended to power. The ruling Ethiopian People's Revolutionary Democratic Front (EPRDF) coalition elected Abiy Ahmed as premier following the resignation of prime minister Hailemariam Desalegn in February.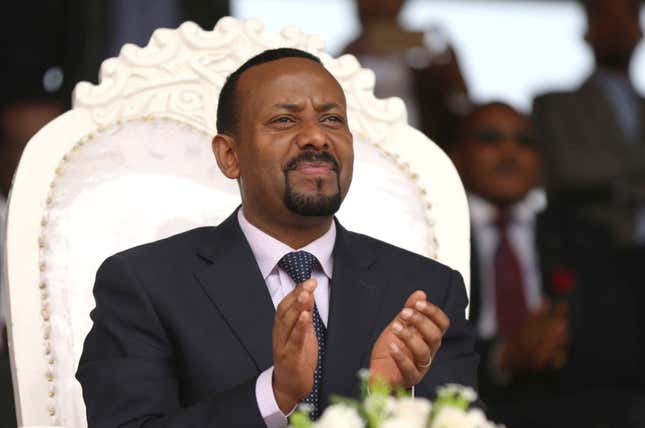 Abiy was elected on the backs of protesters, and in his first speech, he raised the stakes for political transformation by appealing to Ethiopian nationalism, democratic ideals, the supremacy of the law, freedom of expression, and justice for all.
Thousands of miles away in his new home in Flagstaff, Arizona, Lilesa watched Abiy speak about establishing a "new height for our country's prosperity" and laying the "foundations for a durable and all-inclusive constitutional order." Lilesa, 28, has not been home since Rio, and has been constantly training, participating, and winning marathons in London, Bogota, and most recently, Tokyo.
"If he can turn the rhetoric into action, he could really change things," Lilesa told Quartz in an email exchange.
In the days that followed his swearing-in, Abiy closed the Maekelawi prison that functioned as a "torture chamber," brought back the internet, released journalists and bloggers, met with opposition and civil society members, and visited Ambo town which was at the heart of the protests in Oromia region.
The call for change is personal for Lilesa, who hid in farms at night to evade security crackdown in Oromia, and whose own relatives were imprisoned by Ethiopia's Tigray-dominated government. His wife Iftu, his six-year-old daughter Soko, and his four-year-old son Sora, currently live with him in the US, but with Ethiopia at a crossroads, every bit of news could mean the decision between going home or staying in exile.
"My wife worries a lot about her family, including her brother, who is still in jail," Lilesa said. "But she is coping just okay. The children are too young. They have adapted quite easily. At this age, wherever they go, is their country."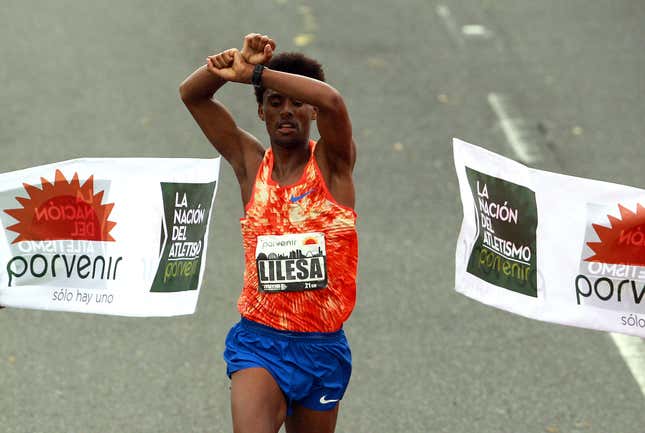 Mounting challenges:
Given Ethiopia's decentralized ethnic representation, Abiy has to walk a tightrope between satisfying the demands of his own Oromo community while assuaging fears from other ethnic groups and saving the EPRDF coalition from collapse. Observers say he will also need to utilize his previous involvement with the military and internal security apparatus as a leverage to carry out reforms while minimizing threats to the interests of security forces. To turn around the country, he will also have to bring in a whole host of fresh faces into government, remove restrictions on media freedom, and create a level playing field for competition during the next regional and nationwide elections scheduled for 2020.
If he follows through with these promises, "he can radically transform Ethiopia," says Ethiopia analyst Mohammed Ademo.
Abiy will also have to maintain the impressive socio-economic growth and the industrial ambitions of Africa's second-most populous nation. Though the political violence has had a modest impact on gross domestic product figures, the turmoil affected both the horticulture and apparel sectors. "For the first time in many years, political stability has become a serious concern for investors considering long-term projects," says Ben Payton, the head of Africa research at global risk consultancy Verisk Maplecroft.
When he assumed leadership, Abiy said the symbolic shift in power was being viewed across the world with "great attention, admiration, and expectation." Like millions of Ethiopians, Lilesa says he's closely watching Abiy's moves on where he takes the country from here.
"I am hopeful that he will change things. At least some things will be better than the past," he said. "However, this won't happen overnight. I think it is better to give him some time and see what he does."