KPMG's expanded campus overlooking one of Johannesburg's main highways used to be a sign of the firms confidence in the South African economy. Now, however, it is South Africans who have little confidence in the international auditing firm after it was embroiled in an epic corruption scandal that is still unfolding in South Africa.
On April 15, KPMG South Africa released its plan to "accelerate change and rebuild public trust." This was a day after the latest revelation that two partners had resigned when faced with disciplinary charges for their involvement in signing off on the books of the embattled VBS Bank.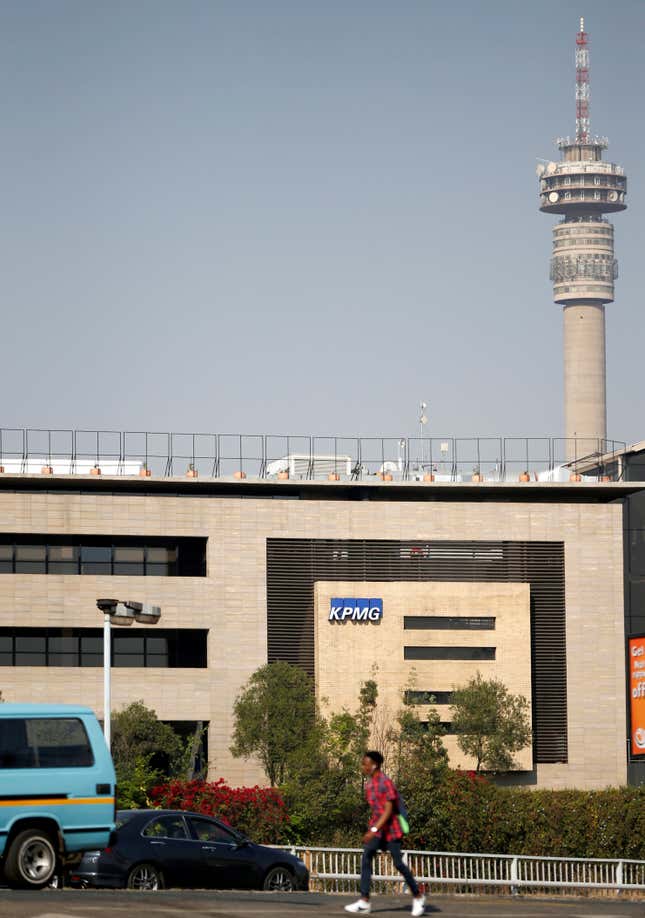 The bank, best known for giving former president Jacob Zuma a mortgage for his Nkandla compound, is now under curatorship after the Reserve Bank found that it 900 million rand of 2.9 billion rand (about $75 million of $240 million) in deposits could not be confirmed. A closer examination found that the bank may only have 24 million rand in liquid assets and is under investigation for tapping into the bank's funds to enrich individuals and companies. The KPMG partners also allegedly received loans from the bank itself.
"This has been a very disappointing episode for KPMG," said CEO Nhlamulo Dlomu.
But it got worse. On Tuesday (Apr. 17), KPMG South Africa lost, what is possibly their biggest client, the South African government. The country's auditor general announced a decision to terminate all public contracts with KPMG. That would have included work for KPMG at every level of government
On top of that, one of South Africa's major banks says it will review its relationship with KPMG in the new financial year. Last year, several listed companies cut ties with KPMG after it was revealed the firm had provided auditing and advisory services for the Gupta family and their various businesses. One of those was for a company called Linkway Trading, which was allegedly used to channel taxpayer money to pay for a lavish wedding.
The Guptas are an Indian immigrant family who became among the wealthiest South Africans thanks to lucrative contracts with the state under Zuma. As their world unraveled and their power diminished when Zuma left office, the companies and public officials who had any involvement with the Guptas continue to deal with the fallout. The Guptas are believed to have relocated to Dubai.
KPMG isn't the only international brand sullied by its links with the Gupta name. SAP, McKinsey and KPMG's links to the Guptas were revealed by a whistleblower unleashing a trove of emails. In January, South African prosecutors tried to freeze $130 million of McKinsey South Africa's assets over their role in a deal that saw a Gupta-owned company become the main coal supplier for the national power company Eskom. McKinsey, while denying any wrongdoing, plans to pay the money back to the South African state.
German software company SAP is currently under investigation for paying a Gupta-owned company millions of rands to secure a contract with the national rail company Transnet. The German multinational handed itself over to the US Department of Justice and the Securities Exchange Commission for investigation. The most high-profile of all the Gupta-related corporates was the spectacular implosion of London PR firm, Bell Pottinger, which has since been closed.