Cairo
Amid a backdrop of Facebook facing intense scrutiny over its privacy data breaches from the US congress and the European Union, Egypt's top mufti Shawki Allam has landed his own punches with a fatwa (religious edict) deeming the purchase of promotional likes and advertising a form of fraud and deception.
Ironically, posted on the top Islamic cleric's own Facebook page, the fatwa fits within a larger pattern of Egypt taking aim at the social media giant and social media in general. The mufti says it is deceptive and contrary to the Prophet Muhammad's transparent teachings for businesses and social media personalities to grow their followings by buying followers.
Fatwas address everything that affects the lives of Muslims from the mundane to new technologies such as bitcoin to theological matters that require a legal opinion based on interpretations of Islamic jurisprudence.
Egypt boasts a sizeable numbers of Facebook users topping 35 million in a country with about 35% internet penetration. Last month Yasser El Qady, the minister for telecommunications, announced that the government would launch an awkwardly named social media network called Egypt Face. The reasoning behind the network was in order to protect citizens' data and to fight extremist ideas posted online by terror groups.
Although authorities never officially launched a site, one was online within a day of the minister's announcement and then abruptly taken down after users took to it in droves a day after. Currently the site egface.com is unavailable when accessed through an Egyptian IP.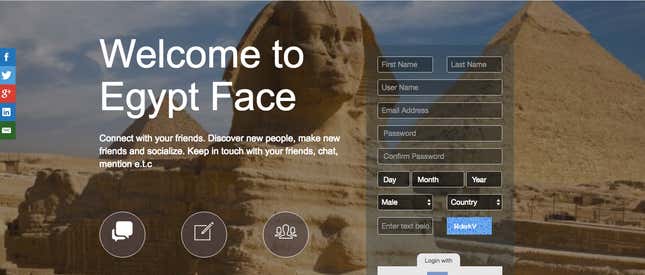 The focus on Facebook comes amid increased online surveillance with over 500 sites, including many news outlets such as Huffpost and the popular blogging site Medium, blocked.
Human rights activists and journalists have been routinely arrested for their social media posts including three last week showing a government that is keen on shutting down dissent and mobilization online, which were crucial in rallying people to the streets in the revolution seven years ago have been heavily monitored.
"We have seen different attacks and interception methods that reflect the Egyptian security sector's persistence in monitoring people and showing high levels of curiosity in their private lives" said Ramy Raoof, a Citizen Lab fellow at the University of Toronto who conducted an investigation into a phishing campaign targeting Egyptian civil society groups.
Raoof does not see this as a sign of technical sophistication but of experimenting with the diversity of cyber warfare. Egyptian security bodies have been investing in hacking technologies from Germany, Italy and Finland.
Facebook's controversial Free Basics Internet service in Egypt was suspended in December 2015 over concerns the government wanted the ability to spy on its users. The pared down version of the internet is available in many African countries such as Nigeria, South Africa and Ghana.
Other concerns of privacy have also been revealed in recent weeks with the Egyptian parliament fast tracking a law to provide users' data to Uber in order to regulate ride hailing apps in the country after taxi drivers filed a lawsuit against it and its rival Careem.