As Arsene Wenger steps down as Arsenal coach and the longest serving manager in the English Premier League era, a discussion of his legacy will inevitably ensue.
In England, introducing new training methods, radically changing dietary and nutrition habits at Arsenal influenced other clubs, grooming some of the world's best players as youngsters, winning a historic league title after going an entire season without a loss, winning a record seven FA Cup titles and coaching his team to play free flowing, attacking soccer will all rank among his finer achievements.
In Africa though, Wenger will mostly be remembered for the faith he placed in signing African players and giving them a chance before it became fashionable to do so. From legends of old to current promising stars, Africans too are paying homage to the man who gave them their big break in soccer.
In his 22 years at Arsenal, Wenger signed 16 Africans from nine different countries most of whom were the first of their countrymen to play for the Gunners. That number doesn't included several other Arsenal players of African heritage who played for the national team of a European country. Under Wenger's tutelage, many of these players also went to become household names globally. Indeed, much of Arsenal's popularity and fan base across the continent was down to the many African stars Wenger signed for the club.
Wenger's willingness to sign Africans came despite supposed drawbacks including the scheduling of the African Cup of Nations (until a summer switch was agreed last year, the tournament was always played between January and February in the middle of most top European league seasons). His early success with African players in key "intelligent" positions helped shift some of the perception of African players as only "raw talent" or "big, strong athletes" in the English game.
African players who featured regularly for Arsenal under Wenger
Arsene Wenger was the top trending topic on Twitter in Nigeria, Kenya and South Africa on Friday after the announcement, according to BBC Africa. Cameroon's Lauren told BBC he would forever be grateful to Wenger for the opportunity he was given to play with Arsenal's legendary "Invincibles" which went the whole 2003/04 season without losing a match.
Wenger's biggest success in this regard is George Weah, now president of Liberia. Throughout his career and beyond, Weah has regarded Wenger as a "father figure" and credited the French manager for kick-starting an ultimately successful soccer career. In 1988, Wenger signed Weah to Monaco from a local club in Cameroon. Seven years later, Weah won the FIFA World Footballer of the Year and Ballon d'Or prizes—the only African to ever do so. "Arsene Wenger made me not just the player I am today but the man I am," Weah has said of Wenger.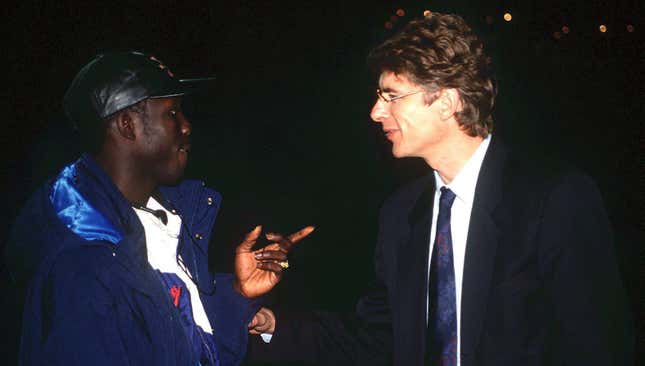 Nigeria's Kanu Nwankwo is another who owes his success at the highest level to Wenger's faith. In 1999, two years after undergoing a major heart surgery and with serious doubts over his long-term career, Wenger took a punt on Kanu.
Kanu went on to win four major titles in a five year stint at Arsenal and was one of the three African players, including Cote d'Ivoire's Kolo Toure and Cameroon's Lauren, that were part of Arsenal's historic 2004 "Invincibles" team. Kanu has been voted 13th on the list of Arsenal's 50 greatest ever players.