Rafiki was supposed to be celebrated as the first Kenyan feature film to be screened at the world renowned Cannes Film Festival. It could have put Kenya's nascent film industry on the map. Instead, it has become the center of a controversy over censorship and a worrying sign for freedom of speech in Kenya.
The Kenyan Film Classification Board has banned the film over its plot of a lesbian love story, meaning Kenyans will not be able to see the film. The film's writer, director and co-producer Wanuri Kahiu says the board is acting beyond its mandate by shrinking the rights of audiences and creators.
"We feel that they are challenging the constitution because the constitution clearly says that artists have the right to freedom of expression," said Kahiu, a Quartz Africa Innovator in 2016. 
Rafiki, meaning "friend" in kiSwahili, is based on the 2007 winner for the Caine short story prize, Jambula Tree. Written by Monica Arac de Nyeko, it tells the story (pdf) of two teenage girls who fall in love in Uganda, where same-sex relationships are illegal.
In the short story, they are spied on by a neighbor perched in a Jambula tree, whose fruit is used as a popular image for breasts in Uganda. Kahiu sets the tender adolescent love story in Kenya, challenging her country's own stance on LGBTQI rights.
That challenge, however, was taken up by the communications board. On April 27, the commission announced in a tweet that it is banning the film.
"Its homosexual theme and clear intent to promote lesbianism in Kenya is contrary to the law," the board said in a tweet, creating its own hashtag around the decision, #KFCBbansLesbianFilm.
"So the classification board is saying that there is no single adult able to watch the content and be able to have a conversation about it," said Kahiu, adding that the producers had requested an 18-classificaion. While the Cannes screening will go ahead and the film will be distributed outside the country, the producers will comply with the law and geocode the film so that it cannot be viewed at home.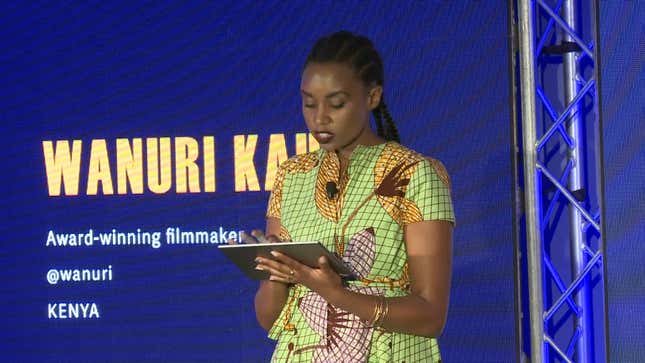 "It means that things that are celebrated outside of Kenya won't be celebrated by the audiences within Kenya itself and we think that's a shame because we think that the Kenyan audience is an adult, mature enough audience to handle the subject matters, or choose to see it or not to see it," said Kahiu, saying the board is now "speaking on behalf of all adults in Kenya."
"It is immoral to expose children to film and broadcast content that glorify vices," the board's CEO Ezekiel Mutua told a church congregation on Sunday April 29 in a "public sensitization" workshop. The board seems determined not to back down, saying it will not be influenced by foreign critics.
Mutua has developed a reputation as Kenya's "censor-in-chief" who refuses to allow Kenyan audiences access to any content not "sanctioned" by the board, especially not international shows. When Netflix was introduced to Kenya, the board deemed it a risk to national security "that could corrupt the moral values of our children." Last year, the board banned several US children's shows that featured queer characters "disturbing content glorifying homosexual behavior."
When asked about LGBT rights in Kenya in a recent CNN interview, president Uhuru Kenyatta claimed it is a nonissue.
"It is not of any major importance to the people and the Republic of Kenya. This is not an issue, as you would want to put it, of human rights. This is an issue of society, of our own base, as a culture as a people," he said claiming 99% of his fellow citizens agree with him.