Vanderbijlpark, South Africa
My feet may only have been four inches off the ground, but my brain was convinced I was more than 623 feet in the air. Logically there was no real danger, but by then my brain already dispatched a mayday warning to the rest of my body that sent my heart racing and unleashing a cold sweat.
The virtual reality experience took me to the top of a blast furnace at the Arcelor Mittal steel plant in a simulation that would test a fear of heights I had no idea I had (after all, I've gone bungee jumping). The program is aimed at workers who would be repairing and maintaining the two blast furnaces on the Vanderbijlpark plant nearly 50 miles outside Johannesburg. One of the first of its kind, its an example of how virtual reality could save real lives.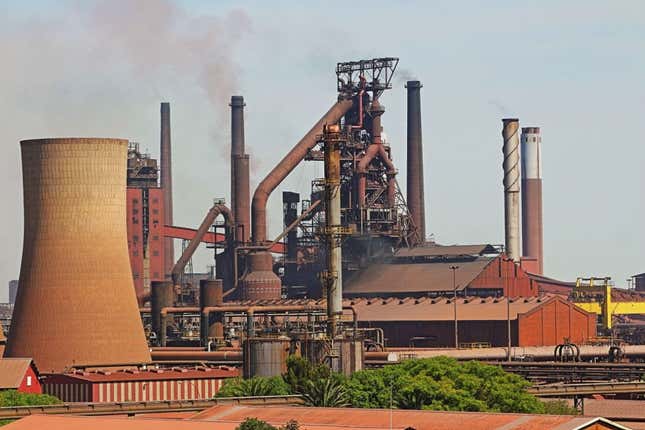 Named the Blast Furnace Experience, the virtual reality training draws from the gaming world but it has a very serious aim: to save lives. Last year, Arcelor Mittal South Africa lost three workers, according to a report (pdf), but would not say how the deaths occurred.
In collaboration with trainers LRMG Performance Agency and animation and game developers Sea Monster, Arcelor Mittal devised an immersive experience that also includes a moving platform that imitates the lift and fans that give users an experience of windspeed hundreds of feet in the air to test for basic functionality at that elevation.
"In the past we would take them up to the heights and see if there are any signs of fear but there was no science behind that," said Gerda Fourie, learning experience design specialist at Arcelor Mittal South Africa. Fourie is always in the room with the trainees and supports them if an unexpected fear of heights leaves them terrified.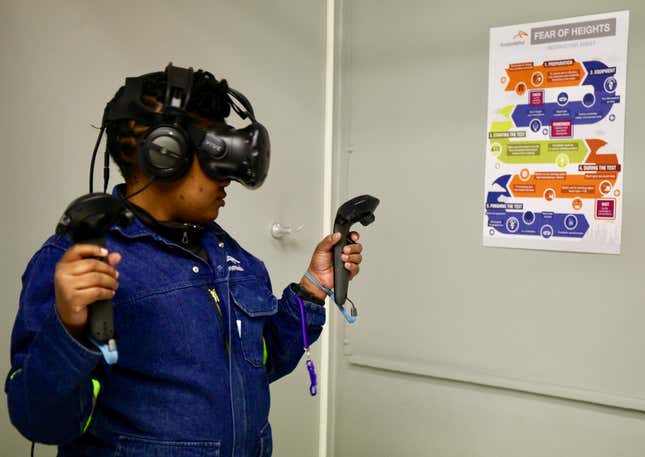 "I was so scared I wanted to cry," said Lerato Mokoena, a trainee who'd just been through the simulation, still clutching her chest and breathing heavily. Until now, the 24-year-old thought she could handle work on the blast furnace, but has since asked to be moved to another area of the plant.
Opened in January, the experience has been used to test around 400 trainees already and found that eight had a crippling fear of heights—all of whom had no idea they would be scared, said Fourie. The training experience has not only saved lives, the investment of around $160,000 to create the program is said to have saved millions compared to what a fatality would cost the company. Arcelor Mittal has already expressed interest in expanding the innovation of the South African plant to their plants around the world, said Fourie.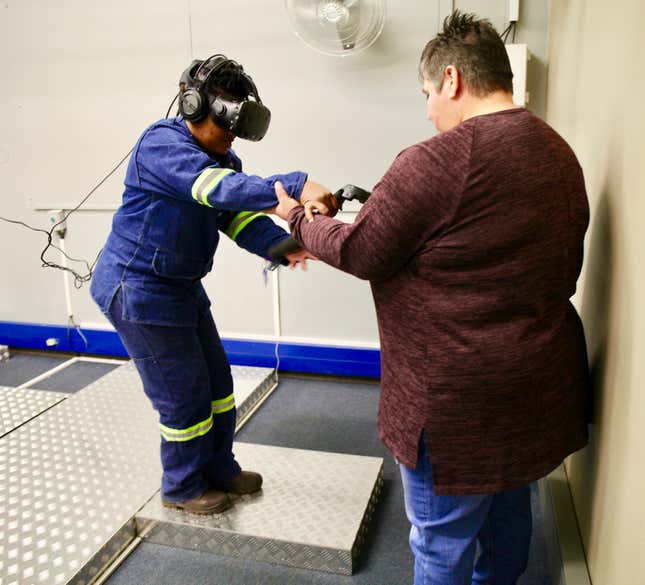 The training experience is an example of how the world could use this a relatively new technology. Games or tours are certainly a new dimension of fun, "but after a couple of minutes, you're like why am I doing that?" said Glenn Gillis of Sea Monster.
Gillis and the Sea Monster team specifically designed an animated world, rather than opting for a 360-camera live shoot because they wanted the environment to be interactive. Users must complete a simple color and shape exercise at the simulated height. This also allows Sea Monster to expand the program to other training needs.
There is a lot of attention to detail. Cars and buildings become smaller as users ascend and an animated version of the real heart rate monitor is also visible in the simulation. The moving platform and the fans add to the immersive experience. There are still concerns about the long-term effects of a technology that so blurs the edges of reality, but for now the potential advantages seem to outweigh those.
"It is a technology that we need to evaluate very cautiously and we need to embrace a scientific process to do so but obviously in a creative context," said Gillis.