Cannes, France
When a Kenyan director, with the help of a South African producer, turned a Ugandan short story into a feature film, the result led to a history-making movie. Rafiki, a coming-of-age story about two young women in Nairobi, became Kenya's first ever film to make it into the Cannes Film Festival's line-up. It also made headlines for being banned by the Kenyan Film Commission, which condemned the lesbian love at the center of the story.
But Rafiki also changed the game in another way. It showed what can happen when Africans come together to tell their own stories at the world's most influential film festival.
"Europe has been funding African cinema for decades," says Steven Markovitz, who works with filmmakers across the continent and helped co-produce Rafiki. "And what tends to happen is African creatives develop a project but they can't find money in their countries, so they go to Europe, they find a producer who raises a lot of money and then takes control of the subject. If you do a survey of the intellectual property ownership of African cinema over the past 40 years, I think it's safe to say the majority of ownership of those films would be in Europe."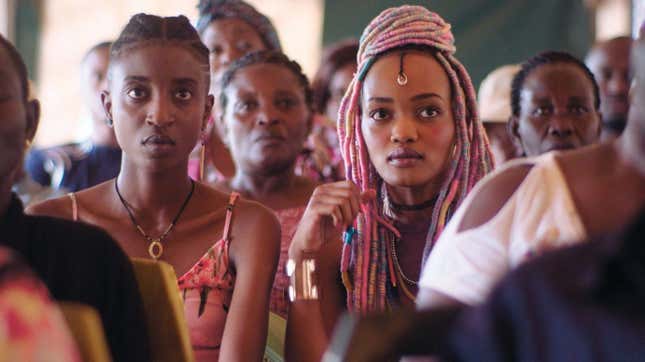 This has been a problem that's irked African filmmakers for some time now. "We have to break that pattern as producers from the south," says Markovitz. Wanuri Kahiu, Rafiki's 36-year-old director, agrees. She thinks working closer together as a continent would help improve Africa's standing, and morale, at Cannes. "I think it's high time that we come together and do more pan-African collaborations because west Africa has a really great history of cinema. As does Egypt. Egypt has over a hundred years of cinema."
Indeed, looking at Africa's presence at Cannes, it's evident that films from Mali, Senegal and Mauritania, supported by European film companies, have had great success at making it into the festival's official selection over the years.
The early part of the century seemed to be a heyday for these African film industries at the fest, says Jean-Pierre Garcia, former editor of the now defunct Le Film Africain & du Sud magazine. A whole new set of directors came to the fore of the festival's global platform, from Mauritania's Abderrahmane Sissako to Chad's Mahamat-Saleh Haroun, and Bissau-Guinean Flora Gomes and Nigeria's Newton Aduaka. All the while, Senegal's Sembène Ousmane continued to flourish as the "father of African cinema". These names have become etched in the history of African cinema—following in the wake of Malian Souleymane Cissé first brought his film Yeelen (Brightness) to the official competition in 1987—making him the first Black African filmmaker to compete at Cannes.
But the first and only African film to have won the Palme d'Or remains Chronicle of the Years of Fire, a 1975 Algerian film by Mohammed Lakhdar-Hamina. Since then, the continent has had a number of stops and starts when it comes to Cannes. With the example set by Rafiki, some African filmmakers, like Kahiu and Markovitz are looking within to help boost the continent's film industry.
A victory such as Kahiu's becomes all the more laudable when looking at how few films make it to Cannes from Africa, especially from countries further south. It took the tenacious filmmaker seven years to get Rafiki funded and made. "We must have pitched the film to 200 to 300 people and ended up with 30 different little funders. In that time, I had two children!" Kahiu says.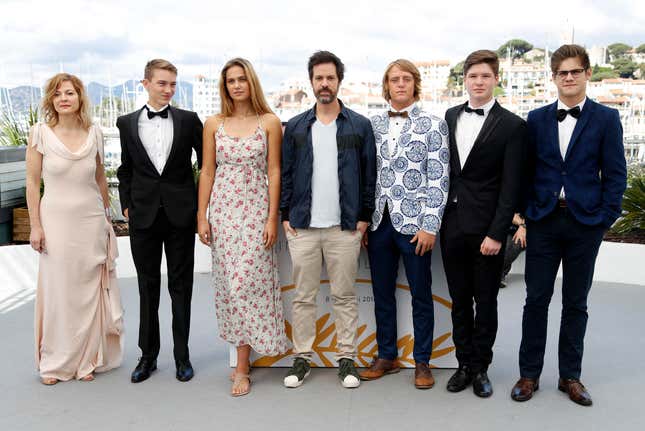 Sitting alongside Rafiki, at this year's fest, was first-time South African director Etienne Kallos' film The Harvesters (Die Stropers), which was made with funding from mostly European countries, like Poland, Greece and France. Markovitz says if there were more treaties between African countries it would be boost the morale of filmmakers on the continent, because it would mean greater control of how their stories are told.
And yet, neither Kenya nor South Africa helped provide funding for Rafiki, highlighting just how much European funding continues to be a hallmark of African cinema at Cannes as it was in the early 80s. "When Europe funds our films, they tell our stories," says Mayenzeke Baza, sales agent of AAA Entertainment, the only African distribution company to have a visible presence at the market of the Cannes Film Festival. "We don't want to see people in loin cloths, dancing for others at the airport."
Kahiu believes the solution lies in forging greater ties between each of the African countries. South Africa has a number of co-production treaties, but they're all with countries beyond the continent. "I think we need to work with the nations that have already been in the industry for so long — that already have established producers and a filmmaking community — to get governments to talk to each other," says Kahiu. She wants to see co-production treaties created between African countries, just like those that African countries such as South Africa have with Europeans.
Capetonian, Kallos believes it would help African filmmakers with the edge they need to continue to make to into the Cannes official selection, and even beyond. "It would be amazing to be in competition [for the Palme d'Or] once again, but I don't think it matters that we keep climbing up that rung. We just need to keep being out there. As long as we keepo telling our stories, and keep making them specific yet relatable, whatever that may mean for us. That's what counts."