Paris
France has had a long centuries-long relationship with Africa—in particular with the countries it colonized until the early 1960s. Those countries, mainly in West and Central Africa and also in North Africa, are home to more than 120 million people.
Unlike Britain, the other major colonizer of Africa, France's post-colonial ties have remained firm, through major upheaval and economic change. In recent years those ties have started to fray around the edges, with the increasingly tense debate around the CFA, the two common currencies of West and Central Africa, which are still guaranteed by the French treasury and pegged to the euro.
Enter president Emmanuel Macron. At 39, he became the  youngest-ever president of the French republic, he's widely credited with revitalizing France and elements of French self-belief. As the first president born after the majority of Francophone Africa gained independence, he's made clear time and again he believes African countries can find their own way without paternalistic European leadership, though he's also had missteps in getting that point across.
The French president also leans into a "make France great again" philosophy. He's determined for France to be seen as a modern country, leading on the 21st century global stage, particularly when it comes to business and trade.
Macron has visited Africa seven times, touching down in nine countries since becoming president last May. He sees Africa playing an important role in bolstering France, its business and a Francophone-first philosophy. Not all African Francophone thinkers agree with that philosophy.
His stated interested in Africa was clear to see at Vivatech, this year where he toured the packed exhibition hall in Paris and made a point of visiting the Africa stands with Rwandan president Paul Kagame, taking selfies with African entrepreneurs.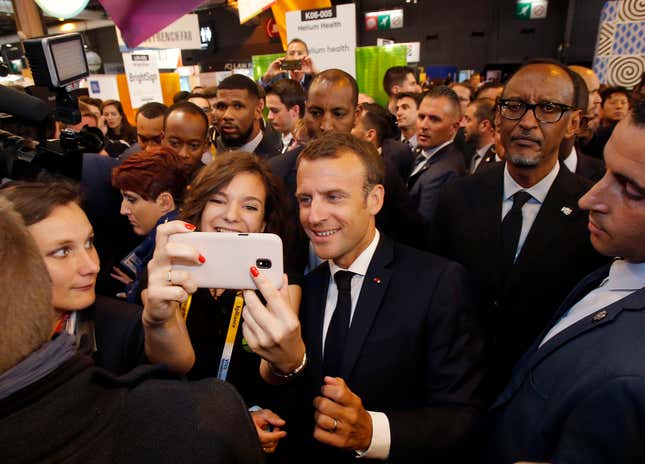 On the main stage Macron said the French development agency (AFD) will be backing a new $76 million (€65 million) digital project that will offer funding for African startups.  "African startups have energy but the big providers of development aid and financiers have not adapted to that. We ourselves are too slow, too hesitant," he said, speaking on stage switching between French and English.
He said the fund would work "to fill the gaps in the support with small sums ranging from €30,000 to €50,000, which is what startups need."
Rebecca Enonchong, who chairs Afrilabs, a network of African tech hubs across the continent and a partner in the project, said that level of funding is needed to help get more African startups get off the ground. "It's practical and targeted and addresses a significant market need," she said on the sidelines of the show after signing the agreement.