Nigeria isn't one of the favorites to win the 2018 World Cup but it certainly seems to be the leading favorite for best kit, even before the tournament in Russia kicks off next month. 
The team's World Cup jersey, which has been described as "stunning" and a favorite of neutral soccer fans is set to go on sale on May 29. But it has already received three million pre-orders, according to the Nigeria Football Federation, which said the number was revealed by Nike during a meeting at its Europe headquarters in Amsterdam. 
Nike is yet to independently confirm the number ahead of the official release, but three million would break records for an African team and even some of the biggest clubs in the world. For example, back in 2016 Manchester United, often acknowledged as one of the three biggest soccer clubs in the world, based on revenue and the size of it fan base, sold the most replica jerseys in the world with 2.8 million sales.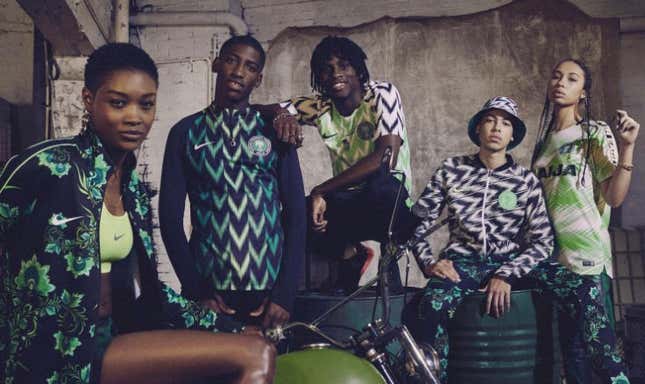 Only a limited number of jerseys have so far been released, even though the World Cup is in 20 days, to the players and some Nigerian celebrities. This lack of supply coupled with the $85 price tag means the jersey is out of reach for many ordinary people in Nigeria. It implies any such pre-orders are coming from the Nigerian diaspora, soccer fans who've adopted Nigeria as their World Cup team and general sports fashion fans who have been raving about its design.
The price tag of the original Nike kit also means ordinary Nigerians have turned to bootleg versions which have been on sale local markets and online shops for a third of the price since March.
NFF vice president has lambasted those who have bought the knockoff jerseys."The people who will criticize the NFF for not getting a so-called big sponsorship kit deal are the same ones who will undermine our ability to do so by buying the counterfeit jerseys", he told KweseESPN. But given the average Nigerian worker earns less than $85 in a month the chances of big sales in Nigeria were always slim.
The Super Eagles jerseys are a throwback to good times—the home jersey has a recolored badge reminiscent of the one worn when Nigeria became the first African country to win gold at the Olympic soccer event while the away jersey is inspired by the one worn at the 1994 USA World Cup, the first time Nigeria qualified for soccer's showpiece event.