Accra, Ghana
At 232 square kilometers, the Atewa Forest Reserve in Ghana's Eastern Region is home to rare flora and fauna including two butterfly species not found anywhere else in the world – Mylothris atewa and Anthene helpsi – and a rediscovered West African White-naped Managbey monkey classified as 'endangered' on the IUCN Red List of Threatened Species.
The reserve is also the source of three major rivers that serve five million people including residents of Accra, the capital. Local residents and environmental campaigners fear the ecosystem would be irreversibly decimated if plans for a multi-billion dollar deal with the Chinese Development Bank to mine bauxite in the forest goes on. Bauxite is the ore of aluminum – which is used to make a variety of things including airplanes, cars, cooking utensils and some types of cement.
The $10 billion deal, agreed back in June 2017, Ghana will give up about 5% of its bauxite to China. China would then pay Ghana with a variety of infrastructure projects including expanding the rail network, building new roads and bridges. The government estimates Ghana's total untapped bauxite reserves at $460 billion and is hoping to cash in on the rise in the price of alumina (refined bauxite).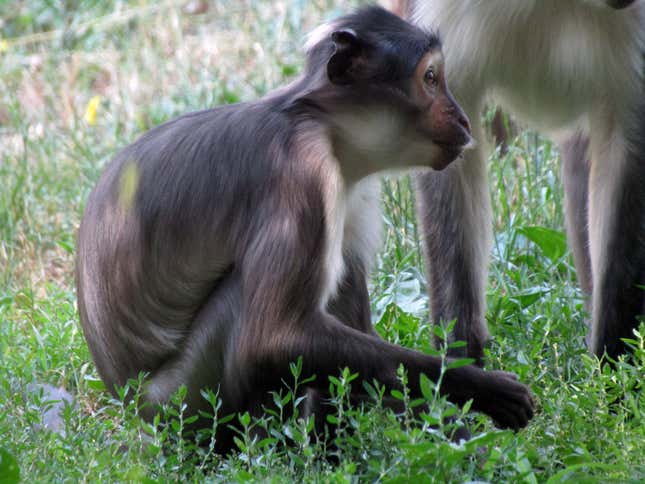 In an address to the nation on Independence Day 2018 (Mar. 6), president Nana Akufo-Addo said bauxite revenue was going to help fund his government's much-trumpeted vision of "A Ghana Beyond Aid". As many African countries struggle with Chinese debt, Beijing has been striking similar direct deals where precious minerals are exchanged for loans as is in the case of Angola (cash for oil) and in another deal with Guinea, to barter bauxite for infrastructure projects worth $20 billion.
The Atewa Forest Reserve is not the only ecological site in Africa threatened with mining. Despite international pressure forcing British firm Soco to scrap plans to drill for oil in the Virunga National Park (Democratic Republic of Congo) in 2014 – the Congolese government is still going ahead with drilling plans in another national park.
For a long time, the campaign was to get the government to upgrade the Atewa Forest Reserve into a national park, a move that would have increased its current environmental protections—insulating it from attempts to logging and illegal gold mining, says Daryl Bosu, deputy national director of A Rocha Ghana, a Christian conservation NGO. But the campaign has been forced to alter its strategy since the June 2017 announcement, instead it is now focused on stopping the imminent plans to mine.
For decades, Ghana was one of the leading timber exporters in the world but its forest cover has shrunk significantly over the years leaving timber processors in the country contemplating the importation of lumber from neighboring countries and South America.
Nearly 80% of Ghana's forest resources under state management has been lost to illegal activities since 1990, according to Ghana's Forestry Commission [pdf p.3] in 2016.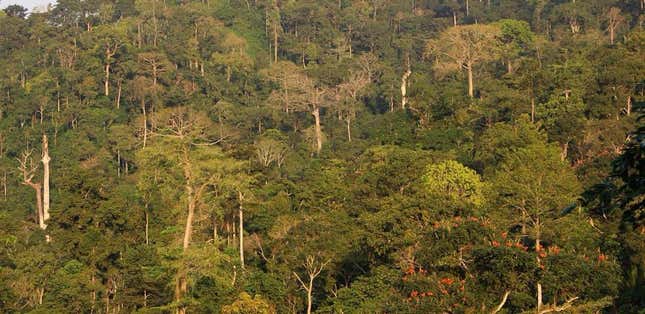 Last week, the commission also joined calls for the government to cease plans to mine in Atewa Forest warning that "the real cost of getting money from bauxite is the water you deprive the people of and if we do not take care, we will start importing water 20 years to come."
Air, food and visual pollution has long been linked to dust from bauxite mines in Malaysia and in Jamaica, which is among the leading producers of bauxite, large-scale deforestation has occurred as a result.
Aside from environmental degradation, campaigners cite president Akufo-Addo's own acknowledgement that mining in Ghana has historically not benefited local communities. Rather, campaigners propose that a more sustainable way of revenue generation would be to bestow national park status and to focus on ecotourism.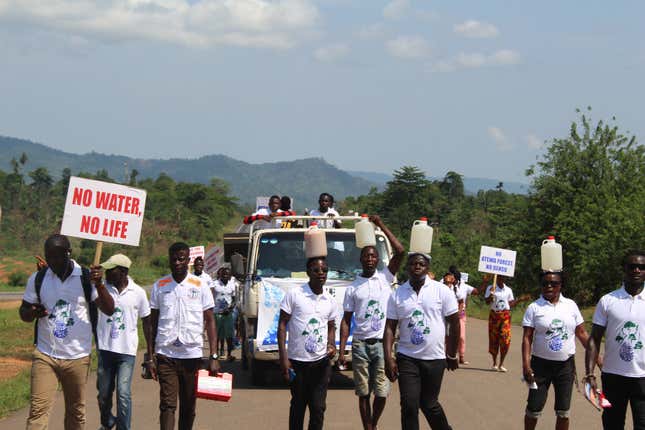 Carrying bottles of water from Atewa's rivers on their heads, the Concerned Citizens of Atewa Landscape—a broad coalition of faith groups, cocoa farmers and youths drawn from communities near the reserve and environmental activists—took their campaign a notch higher in March. They embarked on a six-day 95-kilometer protest walk from eastern Ghana to Accra, where they sent a petition to the president. Goals six, thirteen and fifteen of the SDGs are about access to safe, affordable water, combating climate change and forest conservation. Critics point out the obvious irony that Ghana's president is the co-chair of the UN Secretary General's SDG Advocates along with Norway's prime minister.
No way back
However, there are few indications the government is going to scupper the deal. In April, the minister of information claimed the deal was worth $15 billion deal plus a separate $4 billion (also from China) would be finalized by August and plans for the establishment of a bauxite development authority are forging ahead in parliament.
But the campaigners are not losing hope. Last month, they held a press conference targeting the Chinese Development Bank, and their involvement in what Bosu describes as "a dirty deal of mining in a watershed."
As the campaigners and the government head for a showdown, the media and the burgeoning urban middle class, who already feel the effects of climate change, hold the balance of power.
The activists are hoping to tap into growing environmental consciousness within these groups, who have successfully forced government action against illegal gold mining that has polluted many rivers in Ghana, to tilt the scales in their favor.