Google squatter camps and South Africa and images of impoverished white people are returned. The search has incensed and confused South Africans, who took to social media on June 14 to question this skewed representation of poverty in South Africa.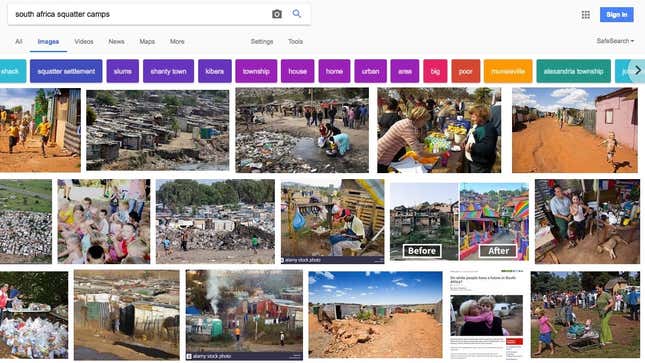 With apartheid's segregated past casting a long shadow over everyday life in contemporary South Africa, the Google search quickly took on a tone of racial inequality. The anger at Google though is misplaced since algorithms learn what humans teach them through their behavior. The search results are a reflection on a broader conversation on race and poverty.
Google's web crawlers search millions of pages to create an indexed library. Algorithms in turn help users locate useful information in this massive index, by matching search terms and prioritizing reliable results through ranking.
Ranking is influenced by user behavior, with google searches prioritizing sites with more clicks, repeated information, sponsored links and other factors. It's why site managers create tags and give their work titles optimized for search, putting popular terms at the top. But it also means that this reflects existing social prejudices, as Google learned with an image search that turned up black people with natural hair for the term "unprofessional hair."
The search results reflect what is already out there and who is talking about it, explains LindaMutunga, who studies the intersection between cognitive science and digital media.
"Most black South Africans present themselves in more positive light online and will celebrate achievements or black excellence rather than tag themselves as squatters or poor," she explained to Quartz. Still, a google search for poverty still shows black people as the face of poverty, but the international attention white poverty has received influences the ranking.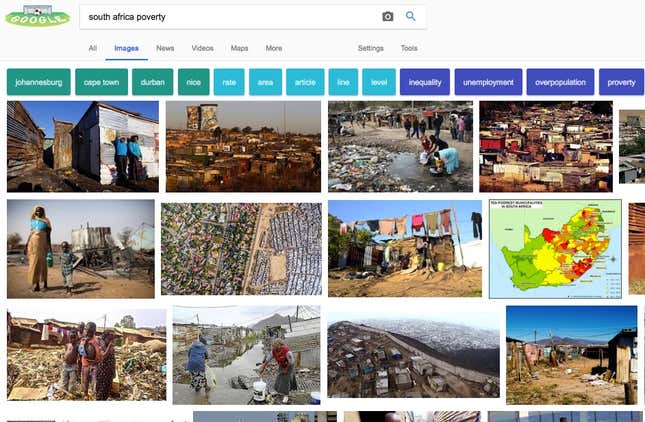 "What is interesting is when you put more specific search words, you are presented with similar results, and this is something Google should tweak, especially with consideration to its target audience in the South African market," said Mutunga.
The results also reflect the fascination of the international media with the idea of impoverished white South Africans. These publications influence the online conversation because of their existing audience reach, their in-house tagging systems and as a source of reliable information.
In 2010, Reuters focused on a squatter camp inhabited by white South Africans (which is where the feature image for this story was sourced). Then in 2013, the BBC questioned whether there was even a future for white South Africans post-apartheid. In 2016 again, the Daily Mail found another white squatter camp. Today, conservative Afrikaans groups are lobbying international allies with the message that white people are oppressed in post-apartheid South Africa.
The voyeuristic images and feature stories exoticize white South Africans in poverty. The statistics underpinning these stories—that 400,000 whites or 10% of the white population live below the poverty line and in squatter camps—have since been debunked. Yet, the attention remains.