A cursory search of travel boards of some of Africa's favorite vacation destinations reads like a lesson in the African cliché: roaring lions, curious giraffes and dancing locals on the way between the airport and the game park.
Many African nations have long recognized how lucrative tourism is to their economy and have taken steps to formalize their industries. Yet, their marketing strategies and accompanying brochures and videos still overlook a growing and lucrative segment: young black travelers from around the world.
In the last few years, the so-called "black travel moment" has seen thousands of African Americans in particular go in search of experiences around the world. As the numbers of increasingly affluent African Americans has grown, more of them have been interested in connecting with contemporary urban Africa, not just safaris. Niche African American travel companies have existed for decades, but a new generation of Instagram-savvy startups is offering experiences curated to black culture, disrupting the tourism industry.
Yet, African tourism boards aren't tapping into this growth. Of course the numbers support this kind of investment. Where statistics are available, white baby boomers are the most frequent travelers to Africa, while China is quickly gaining. Yet, where African governments are creating new partnerships in China and India specifically aimed at making travel easier, few are launching similar programs with black travelers in mind. The South African tourism board, for example, told Quartz they market to black Americans, but gave no further detail how. Other tourism bodies overseeing popular destinations like Ghana and Senegal, did not comment.
Part of the problem is marketing, and who has the budget to spend, explains Cherae Robinson, founder and CEO of Tastemakers Africa. More established tour operators have the money to buy an exhibition stall at global travel shows like the New York Times Travel Show and these are the operators who have historically marketed to white Europeans and Americans.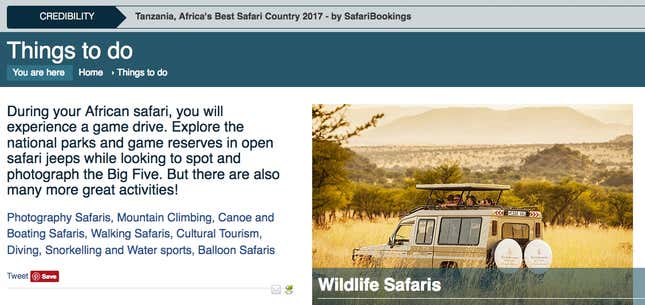 There's something of a renaissance Robinson noticed with young African Americans showing a renewed interest in Africa, not seen since perhaps the 60s. Through sounds like Afrobeats and the growing popularity of African textiles in modern fashion, there is a new, more intimate curiosity to discover an Africa beyond the traditional imagery of lions and game reserves.
Emerging tour operators could cater to this new traveling demographic but they have little support from state-run tourism boards, says Robinson. This reflects at major tourism shows like the Travel Indaba, the largest on the continent, which Robinson described as "frustrating" for their failure to recognize a market beyond safaris or narrow regional trips.
"It's a necessary space but we'd love to see more leadership from those organizations on being more reflective of the continent and pave the way for people who are not doing safaris to actually showcase at Indaba and use that platform to grow the conversation and level up their skills," says Robinson.
With no oversight or assistance, there are small operators who have spotted the potential of this trans-Atlantic curiosity and are exploiting it, eroding trust in the broader tourism industry. Small, often informally organized  groups, are filling the gap with so-called heritage trips, which promise to reunite African Americans with their long lost ancestral villages, but leave a sense of disappointment or downright dishonesty.
T. Michelle Curry believes that even more black Americans want to travel to the continent beyond sites like Senegal's Goree island, but are put off by negative stereotypes or a lack of information. Deterrents range from cost, diseases, poverty and the perception that Africans don't like black Americans. Curry started the Travel Africa Movement, dedicated sharing tips and experiences for African Americans who want to travel to Africa.
"African countries generally have done little to dispel these notions," says Curry.