Africa's hope of making it to the next round of the World Cup firmly rests on Senegal.
The Teranga Lions, as the national team is known, take on Colombia in a crunch make or break fixture for a place in the round of 16 today (June 28). Africa's four other representatives at the competition—Nigeria, Egypt, Morocco and Tunisia—have all had underwhelming campaigns and have been knocked out. It's an interesting turn of events as going into the World Cup, Senegal was possibly the least-discussed African team. Nigeria's fashion sense, Egypt and its global superstar and Morocco's "imported" team all garnered far more coverage.
Senegal's fast and organized attacking style has already won plaudits at the World Cup and made them a favorite among neutrals. Their fans have also made positive headlines at the World Cup for staying back to clean their section of the stadium after the team's opening game. Against Colombia, avoiding defeat will be enough to seal a second round place while a win likely guarantees top spot in the group. If they do qualify, Senegal will be facing either England or Belgium in the round of 16.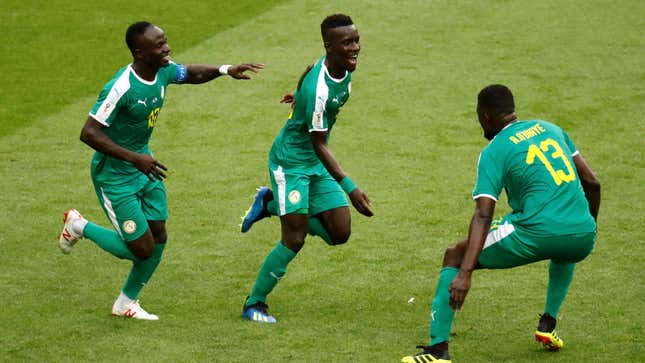 The game also presents an opportunity to try to match past heroics. Back in 2002, in their debut World Cup appearance, Senegal reached the quarter-finals—the farthest an African team has reached at the World Cup—beating then-world champions France along the way.  Should the current crop of Teranga Lions need any reminders of their brilliant 2002 run, they will find plenty in current head coach Aliou Cisse, the only black manager at the World Cup, who was captain of the famous 2002 team. If Senegal achieve similar success this time around, some of it will have been powered by foreign-born talent: nine of Senegal's 23-man World Cup squad are foreign born. 
But while much of the continent cheers Senegal on, they will likely be inquests into the continued poor performances of African teams at the World Cup. Chances of progress will soon be increased though: the expansion of the World Cup to 48 teams starting from 2026 means will gain four extra slots.