Kampala, Uganda
The Chinese deputy premier, Wang Yang, was in Uganda in June to commission a 51-kilometer expressway from Kampala to Entebbe Airport. The new road, like many here in Uganda, was built by Chinese Communications Construction Company (CCCC).
But the road, or rather its price tag, had been causing jaws to drop, long before it was opened to traffic by Wang and president Yoweri Museveni. On average, each kilometer of the four-lane expressway cost $9.3 million dollars. Eventually, the road cost 1.7 trillion Uganda shillings ($450 million). That is more than Uganda typically spends on its entire road network in a year: an average of 1.6 trillion shillings for the past six years.
The expensive road is just the icing on the cake for Chinese contractors in the country. Analyzing the data for 48 national road contracts issued in the past decade, Quartz found that 70% of the funding went to Chinese contractors and only 4% to locally incorporated firms.
To be sure, when compared with other external contractors Chinese firms make sense. They have generally been cheaper. The Entebbe Expressway is an outlier in both cost and specifications.
Nonetheless, Uganda's taxpayers are footing the bill and will be on the hook for a growing pile debt being used to build roads. But the local construction industry is not getting a piece of the action nor is it developing the capacity to maintain these roads. Instead, most of the funding is going to Chinese contractors. Half of the funds that built these roads came directly from the Ugandan government coffers. For about a decade now, Uganda between 10% to 23% of Ugandan public expenditure has gone to roads and other transport infrastructure. Much of the half of the funding is debt taken on behalf of the Ugandan taxpayer.
The 20% financing from China's Exim bank is a single loan to Uganda for the Entebbe Expressway and generally, grants don't feature prominently in China's "win-win" approach to aid. While the flow of official Chinese finance into Uganda has grown from around $33 million a year in the early 2000s, to about $197 million in more recent years, according to 2017 data from AidData, 81% of it was in loans.
For five years, Ugandan engineers lobbied their government for a preferential policy that would see them participate more in the construction of national roads. They got it in March 2017. The public procurement authority issued a regulation reserving 30% of big value projects to local firms. However, less than a year later, in February 2018, the same authority repealed that regulation. The reserved 30% was opened up to any firm that has been incorporated in Uganda for at least two years.
"What this implies is that there is no reservation anymore. The new guideline repealed last year's before it was even tested, " says Francis Karuhanga, the president of the association of civil engineers in Uganda. He says that most Chinese firms have or will incorporate subsidiaries in Uganda and "will be able to trade between themselves and continue taking all the profits away from Uganda."
In the months when foreign firms were compelled to subcontract local ones, three Chinese firms brought some Uganda contractors on-board for roads being built in the country's oil rich region. Charles Kyenkya, a local engineer got his first opportunity to work on a major road when the firm he manages, Pioneer Construction Limited, was sub-contracted to build embankments. "You learn a lot about quality control, project management, and other things, when you work with the big contractors," he says. "We will be working on this over all three years of the project so it will end up being a very big contract for us." he says. Not many other Ugandan firms and engineers will get the same opportunity going forward.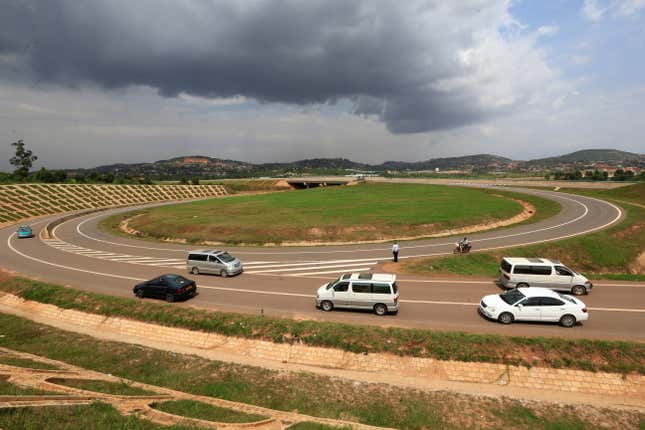 The procurement authority has been reluctant to explain why the reservation was loosened. Following weeks of repeated request for comment from Quartz, the authority said that it was instructed by a higher power—the ministry of finance. The head of its legal department said the initial reservation went against the government's policy to attract foreign investment. Observers put it in much plainer language. "UNRA (Uganda National Roads Authority) met with the contractors and the foreign ones were totally against it," says Stewart Mutabazi, the executive director of Uganda Road Sector Support Initiative, a civil society organization that monitors the sector. The foreign contractors, he says, argued that the obligation to subcontract Ugandan firms was extending their liability too far. "What if the Ugandan contractor did shoddy work? Would the foreign firm still be responsible for it?"
If they were to reverse themselves again on this issue, Ugandan authorities would find plenty of examples in the region to copy from. Kenya reserves all road contracts of 1 billion Kenya shillings or less, for local providers only. In Tanzania, foreign firms are compelled to work in partnership with Tanzanian nationals to the tune of 49% of the value the civil works contract. Ethiopia reserves all projects that are funded by its own government (as opposed to donors) for local providers. Foreign firms can bid for any works in Rwanda but at registration to operate in the country, they are required to indicate that 51% of their workforce will be Rwandan.
However, more than road contractors will ask for preferential policies. Private Chinese entrepreneurs (from petty traders to mining magnets) have poured into Ugandan markets, stirring up competitive resentment from their local counterparts. In April 2017, local traders in down town Kampala closed their shops for days, protesting what they called unfair competition from Chinese & Indian traders. Data from publications of the Uganda Investment Authority indicate that China is the country's top source of foreign direct investment. Between July 2013 and June 2016, Chinese projects amounted to 32% of the country's foreign direct investment.
The Ugandan engineers who lobbying for reinstatement of the reservation, are not getting much audience from the authorities. With Chinese dominance growing across the entire economy, the government appears to have decided that protecting local industry is neither sustainable nor compatible with its free market stance.
*Corrected: Corrects the dollar amount of Kenyan contracts reserved for local firms.