Johannesburg
Aliko Dangote may not agree with president Donald Trump that higher tariffs would be good for the United States, but the Nigerian businessman thinks they could work for his own country.
"If you look at what president Trump is doing right now—not that I agree with what he is doing because they are in a totally different economy to what we are—but if you look at where we are today, where there's no protection, then you are not going to have any industries," Dangote said to rousing applause.
Dangote was in Johannesburg this week, where he was one of the mentors brought in to address the 200 young people who are part of the inaugural Obama Foundation Leaders program.
Dangote was on a panel with South Africa's former finance minister Trevor Manuel and Irish tech billionaire John Collison. The panel was meant to discuss innovation in business, but was quickly overtaken by a conversation on tariffs in Africa.
"The idea of  building high walls behind which you can do anything doesn't help the population," countered Manuel, wriggling in his seat as Dangote spoke. In the model Dangote was suggesting, inequality would only deepen said the former community activist turned finance minister.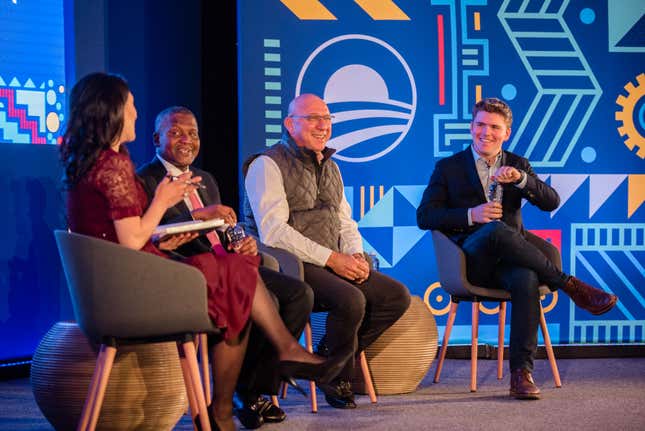 "Consumers don't have a choice, productivity doesn't actually matter and price doesn't matter and the people who suffer are actually the poor in the country," said Manuel.
The discussion came a day after former president Barack Obama warned about the failures of the international global economy to create a more inclusive form of capitalism in the annual Nelson Mandela lecture.
The impromptu debate is one which policymakers continue to grapple with. Given the two men's backgrounds, the debate was unsurprising. As finance minister under Nelson Mandela, and then under Thabo Mbeki, Manuel worked to open South Africa's economy, reversing the role of apartheid-era international sanctions while trying to boost exports.  But it was also under Manuel that South Africa's textile industry collapsed under the weight of cheap Chinese imports.
Dangote became Africa's richest man in Africa in no small part thanks to his relationship with the Nigerian government which helped restrict cement imports as he ramped up production. Dangote Cement, from which he derives 90% of his net worth, has a 65% share of the Nigerian market, allowing Dangote to essentially set the prices for the commodity in the country. This advantage has brought with it huge profits—the gross margin on its cement was as high as 70% a few years ago and has slowly come down to just under 50% in 2016.
The trade war between the US and China, and its effects on the rest of the world, was also clearly top of mind. China has accused the US of violating World Trade Organization rules by imposing the tariffs. For his part, Trump is sticking to his "America First" trade policy as a way to boost domestic manufacturing and protect local jobs.
"On the current administration in they US, if they become embroiled in big tariff wars, I guarantee you, the Midwest of the United States, who happen to be more dependent on imports from china, objectively will feel it more," Manuel said.
"I don't think the US should go and put up tariffs, but in Africa if we don't really put up tariffs we'll end being the dumping ground of the entire world," Dangote countered. Mentioning China's unequal relationship with Africa, he feared that unchecked markets could choke African industries before they even had the chance to take off.
Manuel the went on to warn against the collapse of multilateral trade agreements in the developing country and the knock-on effect in developing countries. If the World Trade Organization can't deliver smart rules that apply, then who will, explained Manuel.
"But those countries [developed nations] have institutions, and that's what we don't have in Africa," answered Dangote.
_____________________________________________________________________________