When China's president, Xi Jinping was first appointed president in 2013, his maiden foreign visit included a trip to the Congo Brazzaville and to South Africa. Once again, since being appointed a second term, his first trip is a four-nation tour of the continent. So far, Xi Jinping has visited Senegal, Rwanda, and is currently in South Africa where he is attending the BRICS Summit. He will be concluding the tour in Mauritius. 
Throughout his presidency Xi Jinping has made it a priority for him and other top state officials to visit African countries as a way to solidify and build upon ever growing Sino-Africa relations. In fact, the Chinese foreign minister makes an annual visit to the continent at the beginning of each year.
Whilst some have criticized China's ever growing presence in Africa as  neo-colonial, following Xi Jinping's recent trip to the country, Rwanda's president Paul Kagame praised China's treatment of Africa "as an equal" hailing it as "revolutionary posture in world affairs."
China's top leadership (the president, premier and foreign minister) has made a total of 79 visits to 43 different African countries over the past 10 years, according to international consulting firm Development Reimagined.
The strengthening economic relationship between China and Africa to China's growing military footprint in the continent, help explain why the world's second largest economy will be deepening their ties. 
South Africa has had the most visits with a total of seven (now eight) visits by Chinese officials in the last ten years. This makes sense as South Africa does have the largest stock of Chinese foreign direct investment in Africa. It's worth noting visits to South Africa by Chinese leadership are not limited to meeting South African officials, The 2015 FOCAC summit was held in Johannesburg where Xi Jinping met with a number of leaders from East and West Africa. In 2013, his visit to South Africa included meetings with the heads of state of Uganda, Mozambique and Ethiopia.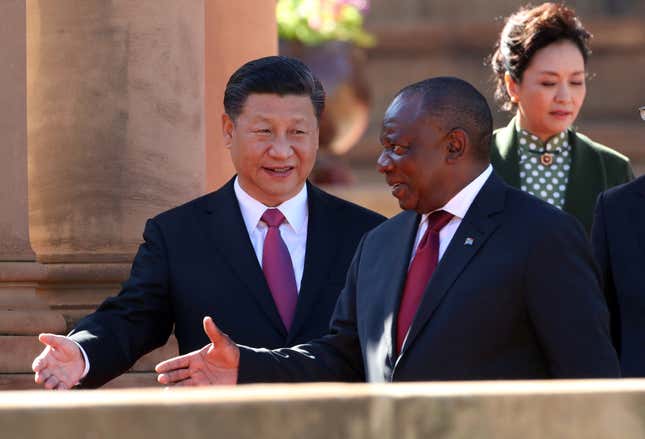 Tanzania and Zambia were next up in number of visits from Chinese leaders, with four and three visits respectively. Deemed a "fragile state" Chad also received a number of high level trips from the Chinese. Ties with Taiwan mean that Chinese officials are yet to visit eSwatini (Swaziland) and Burkina Faso.
The study also found that Chinese leadership have visited 26 of the total 33 African countries that are classified as least developed by the United Nations.
China favors this person-to-person form of diplomacy that, according to analyst Cobus Van Staden, carry significant "symbolic weight." Pertinent in a global context where no UK prime minister has set foot on African soil since 2013 and the US president's disparaging remarks about the continent.  
France's president Emmanuel Macron is the closest rival to China when it comes to tête-à-tête diplomacy in Africa. Macron has visited the continent nine times, touching down in eleven countries since he became president last year.