Johannesburg
To be privy to Barack Obama's lifehacks are certainly a career maker, at least that's what it must have felt like for the young people chose to be part of his foundation's fellowship for young Africans.
The 200 young people chosen for the Obama Foundation's Leaders: Africa fellowship met for the first time in Johannesburg. They spent a week on the campus of the African Leadership Academy, a specialized pan-African high school.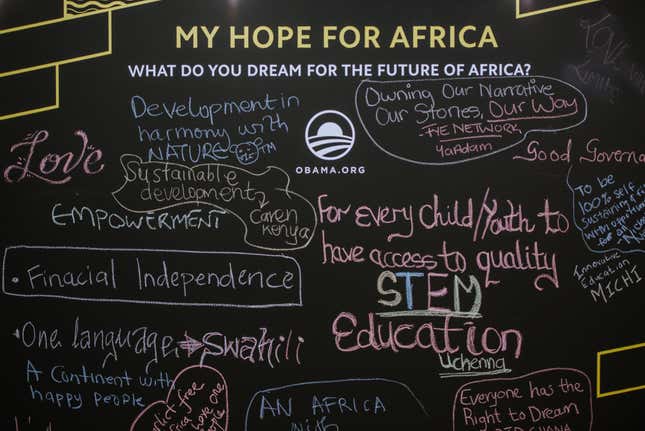 For the Obama Foundation course, the campus now featured an innovation room that had a networking space, a temporary art and photography exhibition and a pop-up book shop that featured titles like Ta-Nehisi Coates' Between The World And Me, Yaa Gyasi's Homegoingand of course the Chinua Achebe classic Things Fall Apart.
From July 15 to 18, the campus was home to intense leadership training with a revolving door of big names. For the inaugural meeting, Obama seems to have gleaned his address book for the world's most influential leaders to share their insights with the cohort. On a Sunday afternoon, business leaders came to talk to talk to the young people about "Failing Forward: Risk-taking and the Benefits of 'Failure.'"
In one session, 'The Future of Africa: Elders Pass the Baton,'Africa's first female presidentEllen Johnson Sirleaf, former United Nations Secretary-General Kofi Annan and legendary diplomat Lakhdar Brahimi, sat down with former US Ambassador to South Africa and Obama advisor Patrick Gaspard, the young Africans literally got to sit at the foot of the continent's elders.
They got business advice from Africa's richest man, Aliko Dangote, one of the world's longest-serving finance ministers Trevor Manuel and the world's youngest billionaire John Collison. In another session, Graça Machel shared tips on "Leadership in the Face of Adversity" and Mo Ibrahim taught them about "Ethical Leadership in Africa."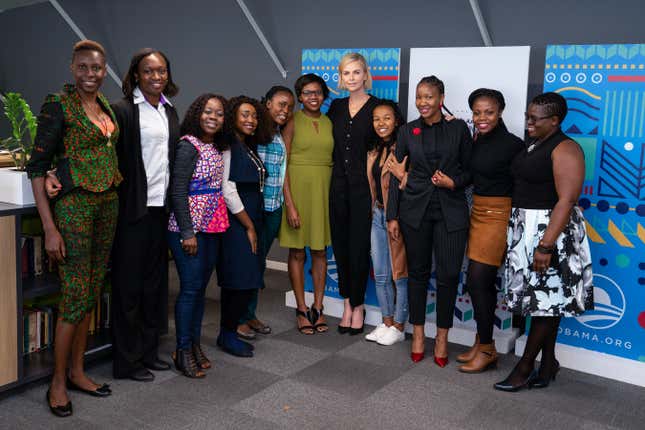 Throughout the week, there were also various skills-building workshops, from fundraising, campaigning and leveraging technology. Oscar-winner Charlize Theron popped for a breakaway session with the women only, to talk about girls education, global health and HIV/Aids. After his talk, Black Panther director Ryan Coogler hung out with the fellows and danced with them. The week culminated in a town hall with Obama himself.
In a room filled with impressive resumes and noble ambitions, it was very easy to truly believe that this was Africa's future. And it is—for a few. On the northern end of the continent, hundreds of young people were about to board to boat to cross the Mediterranean in search of a better future, away from Africa. But there is a perception that fellowships like these are they threaten to keep the opportunities within a very small elite who are already living in a different Africa to the majority.
This privilege weighed heavy on YaAdam Fye, a 32-year-old Obama fellow who returned to the Gambia this year and found that her efforts to help were not always welcome. After the euphoria of the fall of dictator Yahya Jammeh, Gambians are finding that the work of repatriation and rebuilding is not without its political issues.
"A lot of us are coming back, but we're having a hard time finding our footing," Fye told Quartz. "There is that power play between the diaspora coming back and the locals who have been there."
That power play comes from the privilege that the returning Gambians seem to have inherently. Fye is a children's book author and literacy and education activist who wanted to use the story of a princess to empower children but found that even Gambian teachers struggled to read her books. She wants to help more, but her efforts have been spurned by some Gambians who withstood Jammeh's rule. She isn't angry about it though, understanding that she's had an access to opportunity that most young Gambians don't have, like this fellowship.
"If there are opportunities and you don't know someone, it doesn't trickle down to you," she said.
For some, that opportunity is a gateway to a more prosperous life in Europe or North America. Oluwaseun Ayodeji Osowobi, 27, went to school in the United Kingdom, had an opportunity to work at the United Nations in New York City after college, and so the decision to return to Lagos in 2014 seemed odd to her friends who decided to stay on the other side of the Atlantic.
Osowobi now works with survivors of domestic violence, providing medical, legal and psychosocial support services. She's increasingly worried, though, by the gaping hole left by leaving young people in industries from technology to fashion, but especially in medicine.
"What if I fall sick, will I have a doctor to treat me? What if my mom is dying, will there be somebody there to revive her?" she asks rhetorically.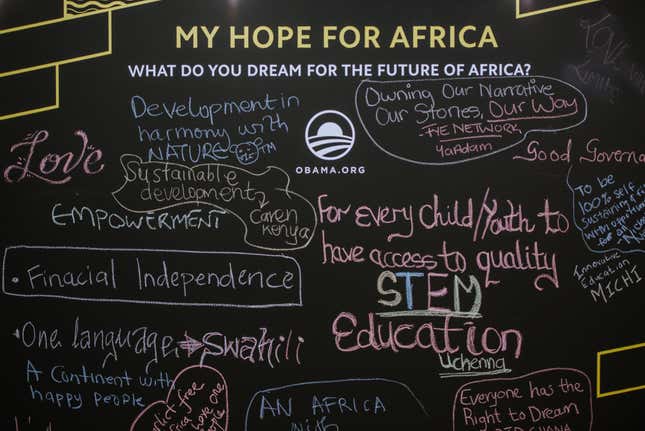 Obama Foundation—or any other international non-governmental organization, for that matter—is not responsible for creating opportunities for young Africans to get them to stay. There's also a consideration that middle-class Africans shouldn't be expected to work for the greater good. Fellowships, internships and programs like these are meant to build careers. Yet, there are concerns these programs risk perpetuating the inequality that is driving this mass migration.
This is way there is more focus on ensuring young people selected as fellows go back to their communities and enact what they've learned. The Obama foundation said it picked people specifically based on their actions. The session in Jo'burg was aimed at creating the foundation for this new community of leaders, who would then stay in contact via a digital platform. Cognizant of the "fellowship circuit," the foundation said even turned down candidates who already had access to similar programs.
"We specifically sought to identify the 'hidden gems,' who may not have already had the opportunity to have benefit from similar programs in the past," said Bernadette Meehan, chief international officer at the Obama Foundation.
It was during Obama's presidency that US state department established the Mandela Washington Fellowship. Started in 2014, the program selects young Africans to spend six weeks at an American institutions, culminating in a summit in Washington D.C. This year, 3700 young people from sub-Saharan Africa would have participated in the program.
Tessa Dooms works with young people in South Africa teaching civic participation. She was one of the recipients of the fellows of the Mandela-Washington fellowship, and while she found her experience positive, she could see how the program could lean toward people trying to elevate their careers, rather than making a positive difference.
Looking into the Obama Foundation's Africa: Leaders program specifically, the application could exclude people who don't have the language required of successful essays, while the gathering itself in Johannesburg, seemed exclusive and driven by outside voices rather than getting the young people to tap into each other's experiences and innovation. Still, given Obama's own nascent political career as a community organizer, and his foundation's willingness to get back to that, Dooms is hopeful.
"Instead of convening people to have words of wisdom from Kofi Annan, and Mo Ibrahim and Barack Obama, I hope what they do is empower people to do projects in communities at local levels, that will make active citizens of other people, other than themselves," she said.