Electoral violence, flagrant malpractices, and more recently, fake news: these are some of the issues that have come to define African elections. But for years now, polls across the continent have also added one more defining feature: a plethora of candidates running for president.
A Quartz analysis of African elections in the last three years shows dozens of candidates, mostly male, running for the top job. The latest example of this is Zimbabwe's historic election, where 23 candidates attempted to succeed president Emmerson Mnangagwa who rose to power after Robert Mugabe was ousted last year. The same is also true of Mali, where in late July, 24 contenders vied to challenge president Ibrahim Boubacar Keïta for the incumbency.
The profusion of candidates is also true of smaller nations with even smaller electorates. Take Somalia, which has no universal suffrage, and where 329 clan-appointed lawmakers elect the president. And yet, 24 candidates were cleared to run for president. In Liberia, a nation with two million voters, 20 candidates ran to replace Africa's first elected female leader, Ellen Johnson Sirleaf. In Benin, 32 aspirants participated in the first round of a poll with some 4.7 million voters. In the Central African Republic, 30 contestants jockeyed for the presidency in a country with less than six million people. And in Niger, the opposition candidate Hama Amadou campaigned from behind bars in a crowded field that included ex-prime ministers besides sitting and former presidents.
So why do so many candidates run? One reason is universal and is about the substantial power that presidents wield. This is true in nations like the United States, where the field of aspirants for the White House starts wide, only to narrow during the primaries and leading up to the presidential nominating conventions.
But in many African countries, the influence that comes with the office becomes more attractive and competitive when you add the ethnic and religious realities; pervasive graft; demographic fault lines; succession troubles; and strongman politics that define political governance. And in the absence of strong institutions and growing inequality, presidential polls become fierce, all-or-nothing affairs, says Michael Orwa, a governance expert in Nairobi. Disenchanted voters, he says, internalize the avaricious perspective that the only way to have their piece of the national cake is through their big man or woman in office.
"Without equitable development, citizens have little trust in the capacity, willingness, and possibility of 'others,' as opposed to 'our own,' to bring the fruits of nationhood to them."
Another reason for the many nominees involves "the weakness of parties," says Ken Opalo, assistant professor of African studies at Georgetown University. With strong presidencies, dysfunctional and weak parties, and a political culture steeped in clientelism, this gives individuals an incentive to run on their own. And "in some instances, incumbents have been known to sponsor candidates to divide the opposition."
Registering to contest even with no viable chance or plan of winning can also be a "strategic decision," says Jamie Hitchen, director of Africa-focused research consultancy AREA. In polls where run-offs are likely, applicants run to strengthen their bargaining positions for opportunities post-election or securing a seat at the table when leading protagonists disagree on outcomes. This was the case in Sierra Leone, Hitchen says, where a majority of the parties with presidential candidates didn't even have written manifestos.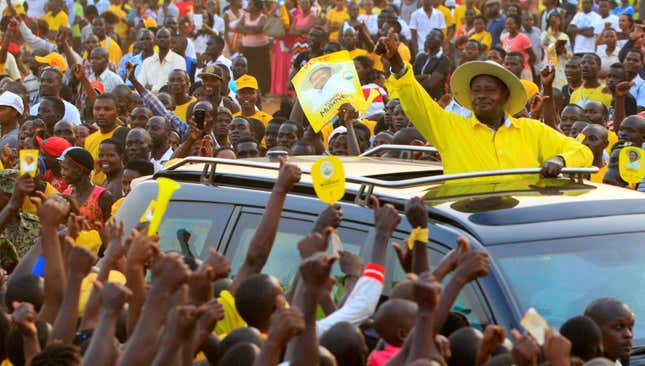 Ultimately, while the huge number of contestants could be a sign of growing democratic spaces, Hitchens says this shows how "personalized and not issue-based" campaigns have become—denying the electorate any meaningful choice based on substantive policy or ideology.
To address this, Orwa and Opalo both argue for the need to tackle the winner-takes-all mentality that defines the presidency. Establishing stronger presidential constraints, introducing term limits, greater post-poll distribution of power, besides building and strengthening alliances among smaller parties could help remove some of the pressure from the presidency. Forming devolved economic and political functions of the central government such as the governor positions in Nigeria and Kenya might also lessen the impact of this zero-sum game.
And if anything, Orwa says, that could push younger and more qualified candidates to "seek offices lower than the presidency, and which have even higher potential for transformation."