As global media brands push to expand their reach and audience, Pidgin English—a language spoken by millions across West Africa—is gaining currency.
The language, a mix of English, words from local languages and a range of street slang depending on which country you're in, has some of its roots in the trans-Atlantic slave trade: it is believed to have developed as a way for foreign merchants to communicate with locals in West Africa at the time.
But it has endured through colonial times till present and is currently spoken by millions in the sub-region as an informal alternative to English particularly in urban areas with the working classes. While the use of Pidgin, also called "broken English",  might once have been a clear signifier of the speaker's education level and class, popular culture has changed that over the decades since independence.
Afrobeat star and activist, Fela Kuti played a key role in bringing the language of the masses to the global stage in the 1970s and 1980s by using pidgin lyrics to take down Nigeria's leaders and educated elite while speaking to the common man. Today Pidgin is adopted everywhere from Nigeria's popular Nollywood movies to the lyrics of modern Afrobeats pop music.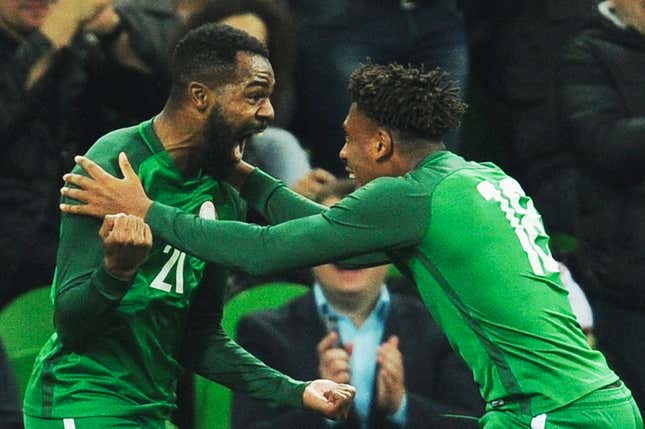 Now, as international broadcasters look to better connect with local audiences, they're making a big bet on Pidgin. Last year, as part of a $370 million expansion in Africa and Asia, BBC launched an online Pidgin news service which publishes news reports and stories via text, audio and videos. Within a year, it has garnered 7.5 million readers, according to  Oluwatoyosi Ogunseye, BBC's head of West Africa languages, with its biggest audiences in Ghana, Nigeria and Cameroon. "The response has been beyond what we sought but there's still so much room for growth," Ogunseye tells Quartz.
During the World Cup, DStv, Africa's biggest pay TV company originally from South Africa, also offered viewers in Nigeria and Ghana a Pidgin commentary feed for every game for the first time. The move proved a popular enough for DStv to consider more opportunities to offer Pidgin commentary on popular European club soccer matches, an insider tells Quartz.
Common denominator
The attraction of Pidgin media as a business opportunity lies in its ubiquity and authenticity. In a broad West African region that's home to hundreds of languages—Nigerians alone speak over 500—Pidgin has the potential to cut across board. It also connects with the audience in an informal, convivial way that English does not. "That's the beauty of pidgin," says Tatiana Moussalli, deputy managing director of AIM Group, parent company of Wazobia FM, Nigeria's first all-Pidgin radio station. "It's very casual, there are no boundaries, no prejudice, it just flows."
As pidgin is often regarded as a sub-par alternative to English (it's hardly adopted in formal business or academic circles), broadcasting in pidgin might be seen as a play for the mass lower-income market in West Africa. But that's not the case. "It's a language for everybody, it has nothing to do with class," says Chris Ubosi, chief executive of Megalectrics, parent company of Lagos-based Naija FM, another popular Pidgin radio station. Indeed, in some parts, speaking pidgin fluently enhances street cred. Beyond West Africa, pidgin is also bound to stir some interest. Ogunseye says BBC Pidgin is piquing interest among non-speaking audiences abroad who are likely fascinated by its quirky structure and grammar.
Major news headlines in pidgin
Despite growing wise to the promise of pidgin, international broadcasters are already a few years late to the party. Local Pidgin radio stations have become popular in Nigeria since Wazobia FM went live in 2007. Given their pull and appeal, some of these stations have also become lucrative businesses. Wazobia, for example, is consistently highly ranked in media advertising agencies' ratings, a source tells Quartz. (In the absence of reliable listener rating numbers in Nigeria, ad agencies' ratings of popularity—based on their surveys—are a measure of success.)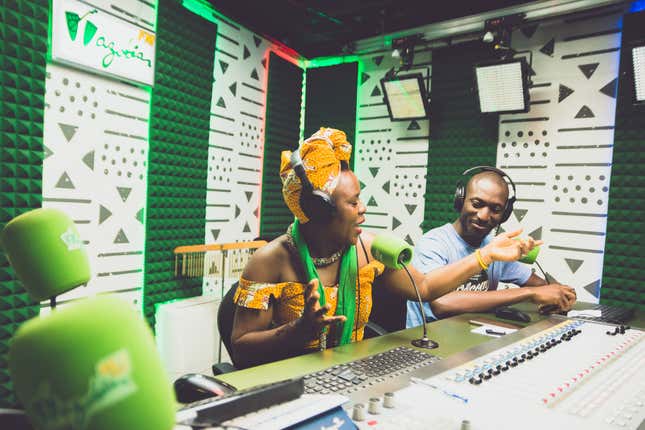 But things have not always been rosy for Wazobia, Moussalli tells Quartz. While Pidgin programming had been around for decades on government-owned stations and in radio advertising, a Pidgin-only station was an entirely different prospect. In its early days, Wazobia faced doubters from advertising circles and even among some of its own staff.  Indeed, as professional broadcasters  seemed unsure of taking up Pigdin, Wazobia's first radio hosts were cleaners hired from the restaurant business owned by its parent company. 
After its initial teething problems, Wazobia has since gained a foothold and a decade later (Wazobia also launched a Pidgin TV channel in 2014), its success is no longer in doubt. "Our Wazobia airtime is beyond choked. We've got to a point where we have to turn down adverts," Moussalli tells Quartz. 
Indeed, the successes of local Pidgin media serve as a pointer of what's possible for international broadcasters. As such, for global media brands trying to penetrate as much of the market as they can "Pidgin is a natural extension," Ubosi says. Having enjoyed tangible success in its first year, Ogunseye expects BBC Pidgin to see some competition soon as other international broadcasters to enter the fray. "I see that coming," she tells Quartz. "Pidgin is a language you need to pay attention to."