Over the last two years, Cameroon's government has gained a poor reputation for being repressive when it comes to internet freedoms. It's had one of the longest-running intermittent internet shutdowns on record of 230 days between January 2017 and March 2018 as it tried to prevent political activists in the English-speaking regions of the country from using social media platforms to share information or organize.
Because of this reputation, many watchers expected the government would again block the internet in the run-up to a highly contentious election in which the president, Paul Biya, 85, is looking to extend his 36-year rule by another seven years.
But the government has left the internet alone—for now. Internet usage has been shaky at times, but it has by and large stayed on. High-profile pressure from internet rights organizations like Access Now and Internet Without Borders has, so far, helped to dissuade the government from disrupting connectivity like other Africa countries have done during elections.
Yet, that has brought a different challenge for the government.
Voting, which took place on Sunday (Oct. 7), was mainly straightforward and peaceful, though not for the conflict-ridden Anglophone regions, where gunfire and other incidents were recorded in Kumba, Buea and Bamenda.
Although normal life in most of Cameroon resumed on Monday, anxiety remains high as there is now a long wait for results. It is expected to take up to 15 days from election day on Oct. 7 before official results are announced. The problem with that is Cameroonian social media channels on Facebook and WhatsApp have been flooded with unverified voting numbers from local polling stations. Most of the voting trends shared favor opposition candidates and there are fears the information which is spreading rapidly will likely spark some sort of official government backlash.
It also taps into a concern the government had shown a few weeks ago when it claimed it was working with Facebook to help combat so called "fake news" and misinformation spreading on social media.
Peter Essoka, president of Cameroon's National Communication Council (NCC) criticized people sharing unverified result trends. He said only the Constitutional Council has the mandate to proclaim results.  As the unverified results go viral, Paul Atanga Nji, minister of territorial administration, has warned that no one should substitute the Constitutional Council which alone has the power to declare the winner of Sunday's poll. "Any form of challenge to the verdict of the polls other than the constitutional legal means will not be tolerated," Atanga Nji said.
But some have not taken the warning of the government officials seriously, making the country experience scenes of electoral confusion that have become something of a hallmark of recent African elections, with opposition candidates claiming early victories ahead of official results.
Maurice Kamto, one of the presidential candidates, who was backed at the eleventh hour by another candidate, Akere Muna, claimed victory on Monday ( Oct. 8). At a press conference in the capital Yaounde, Kamto called on the "outgoing president to organize a peaceful way to transfer power."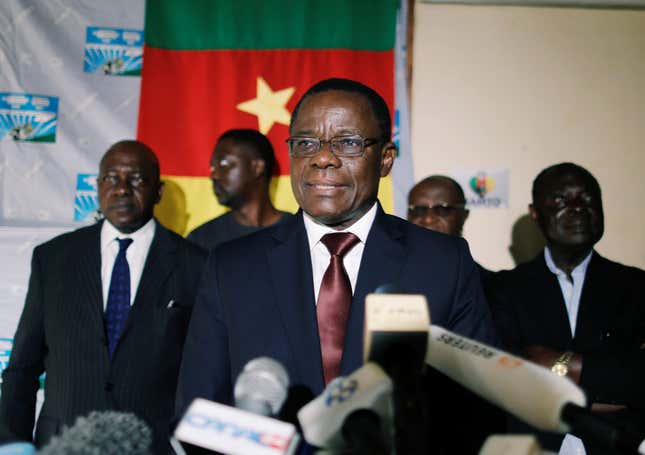 This self-declaration of victory, without evidence, has raised fears that the deteriorating security situation in the country could worsen.
Statistics by the electoral commission — Elections Cameroon (ELECAM) — show that 6.6 million voters were registered in the country and 19,356 in the diaspora, though Cameroon has well over 18 million potential voters. Some of the registered voters were disenfranchised.
Sign up to the Quartz Africa Weekly Brief here for news and analysis on African business, tech and innovation in your inbox