One of the most vexatious ironies about Nigeria – perhaps even an embarrassment—is the lack of a national airline. Nigerians are often very piqued to be traveling on airlines owned by smaller less resource-endowed African countries. Ethiopia, Kenya and Rwanda and South Africa national carriers are some of the big players on the continent.
Foreign airlines do well from the large and growing number of Nigerian passengers. For instance, Emirates flies twice a day from Lagos.
Many Nigerians were, therefore, elated when the Nigerian government announced during the 2018 International Air Show in London that it intended to establish a new national airline to be named Nigeria Air.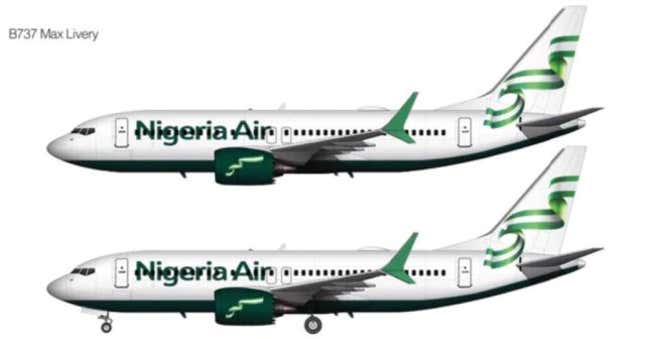 The new national airline was expected to be jointly owned by the government and unnamed private investors at a cost of $300 million. To ensure that it didn't run into the same set of problems that spelled the doom of Nigeria Airways in 2003, private investors were to hold a majority stake in the new venture. This was no doubt to shield the fledgling airline from undue interference by the government.
I was among some of those who were skeptical about the revival plan. Two previous attempts to resuscitate Nigeria Airways had been unsuccessful. So it came as no surprise when the government announced it was abandoning its latest effort. Many of the structural and institutional deficiencies that caused the collapse of Nigeria Airways remain.
Additionally, the global airline industry has become fiercely competitive, and new entrants would have a very hard time surviving. According to FlightGlobal, 37 airlines ceased operations in 2017 alone.
Growth, middle class and air travel
Impressive economic growth within the past two decades in Africa has spurred demand for air travel. Foreign airlines that used to shun the continent are now scrambling for a share of the market. Average annual growth in passenger air travel in Africa is estimated at 7.5%, compared with a global average of 7.9% in 2017. To meet the increasing demand for air travel in Africa, the region would need about 970 new passenger aircraft (worth $126 billion) by 2032.
Despite this unprecedented growth in air travel, the market in Africa is still untapped. Although the continent constitutes about 12% of the world's population, air travel in Africa is only 1% of the global air travel market. Foreign airlines are now picking up the slack left by defunct national carriers in Africa. This has included US airlines like Delta Airlines and United, among others.
Demand in Africa is expected to continue to grow, due mainly to a phenomenal increase in the size of Africa's middle class. It's estimated that the middle class in Africa and the Middle East will more than double, from 137 million in 2013 to 341 million in 2030.
Nigeria deserves a share of this growing market, especially given its desire to diversify its economy away from oil and gas. This is one of the reasons why Nigerians were excited about the prospects of reentering the global airline market.
But disappointment was waiting in the wings.
Dashed hopes
On Sept. 19 the government announced it was jettisoning the whole idea of a national airline. No formal reason has been given for the abrupt change in course. But there's speculation that the government was hard-pressed to attract willing joint-venture partners.
In fact, it's not difficult to fathom that the idea of a national airline in Nigeria is purely a mirage. Nearly all the problems that beset Nigeria Airways, and which eventually resulted in its demise in 2003, are still present.
One is monumental corruption. Airline officials were accused of regularly inflating contracts for a cut of the contract sum, kickbacks for contract awards, and outright theft of revenues generated from airline operations.
Another problem that undermined the performance of Nigeria Airways, and which the new airline would also have to face, is crass nepotism. During the Nigeria Airways era, company officials were dolling out free or heavily subsidized airline tickets to friends, family members and the political elites.
The toxic combination of inflated contracts and lost revenues made the airline insolvent. This meant that it frequently needed an infusion of government cash. With declining revenues and meagre government subsidies, the airline was unable to service or replenish its aging fleet. At a particular point, it had more grounded planes than the ones that were operational.
The current Nigerian government faces very serious fiscal constraints. It's therefore not in a position to subsidize a complex project like a new national airline.
Tough competition
Another reason why it would have been an uphill task for Nigeria to sustain a national carrier is the fact that the competitive landscape in the global airline industry has changed dramatically since the days of Nigeria Airways. There are now far more competitors.
A new national carrier in Nigeria would have to compete with a host of new airlines. Learning how to compete in a crowded market would certainly be a herculean task for a new national airline. This would become particularly onerous given that many foreign airlines are heavily subsidized by their own governments.
Given all these facts, it hardly seems likely that a new national carrier in Nigeria will fly in the foreseeable future.
Stephen Onyeiwu, Professor and Chair of the Economics Department, Allegheny College
This article is republished from The Conversation under a Creative Commons license. Read the original article.
Sign up to the Quartz Africa Weekly Brief here for news and analysis on African business, tech and innovation in your inbox