Nigeria's military is using Donald Trump's words to justify its violent actions at home.
The army today (Nov. 2) posted a video of Trump saying that soldiers deployed to the Mexican border could shoot migrants who threw stones to justify opening fire on a group of Shia protestors this week. In the video, Trump says that he would consider stones thrown by Central American immigrants attempting to illegally cross the US border "a rifle."
"We are not going to put up with that. They want to throw rocks at our military, our military fights back."
The official account of the Nigerian Army posted a tweet saying: "Please watch and make your deductions." It has now deleted the tweet.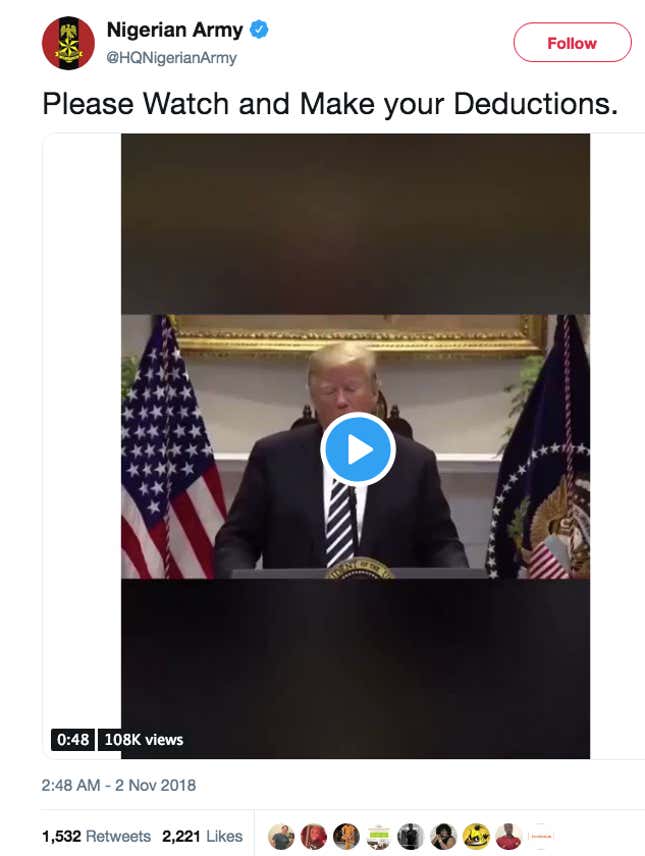 Members of the Islamic Movement of Nigeria have been demanding the release of their founder Sheikh Ibrahim El Zakzaky. The 65-year-old cleric has been in detention at an unknown location without charge since Dec. 2015, even though a court ruled that he could not be held without charge and should be released.
Shias are a minority of muslims in Nigeria, and members of the group have protested in recent days leading to deadly clashes with security forces. While the Nigerian army says six protestors have been killed, Amnesty International says at least 45 peaceful demonstrators were gunned down in the capital Abuja and Nasarawa state.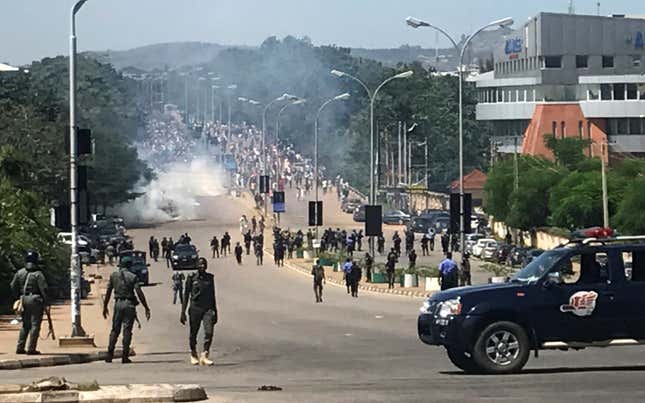 "They were perfectly within their rights to hold a religious procession and protest and there was no evidence they posed an imminent threat to life," Osai Ojigho, Director of Amnesty International Nigeria, said.
Nigeria's defense spokesman John Agim told AFP the army posted the video in response to criticism that its security forces had acted unlawfully. But while the army sought to justify its actions through Trump, the US mission in Nigeria countered by calling for "a thorough investigation of the events and to take appropriate action to hold accountable those responsible for violations of Nigerian law."
Sign up to the Quartz Africa Weekly Brief here for news and analysis on African business, tech and innovation in your inbox