The early box office success, and swift criticism, of the Queen biopic Bohemian Rhapsody, is also attracting interest in Freddie Mercury's African roots. The country of his birth, may not have embraced him, though.
Mercury was born in the historic quarter of Stone Town on the island of Zanzibar, the semi-autonomous island off the coast of Tanzania. Last month, the government announced a regional taskforce to "hunt down" men and women suspected of being LGBTQI. Homosexuality is illegal in Tanzania but the law was rarely enforced until president John Magufuli's stepped up his anti-LBTQI rhetoric. 
Starring Rami Malek, Mercury's sexuality is a key part of the on-screen character.  Malek explores what he calls the "unsettled" Mercury, a man at odds with his religion and family. Yet, the film has been criticized for overlooking his childhood in Zanzibar, using it instead as a brief backdrop to the tense relationship between conservative parents and their rock star son. 
Born Farrokh Bulsara, his father worked as a cashier at the island's High Court and the family lived comfortably in a flat overlooking the ocean. Anglican nuns oversaw his early education at the Zanzibar Missionary School before his parents sent him to school in India at the age of eight. The Bulsaras were Parsi and devout Zoroastrians who attended a temple in Stone Town. 
Mercury returned to Zanzibar in 1963, aged around 17, but his time was short-lived. The Bulsaras were among thousands of Indians who fled to Britain in 1964 during the Zanzibar Revolution. While the film may not explore these details of his early life, the Lesley-Ann Jones book Mercury: An intimate biography of Freddie Mercury digs deep into his Zanzibari roots. 
Mercury and Zanzibar's relationship remains complex, even after his death. Along with the spice markets of Stone Town, local guides also offer a tour of Mercury's Zanzibar. The tour takes fans from the Bulsara family home through Stone Town's narrow streets where Mercury might have played, to the Zoroastrian Fire Temple where he would have been initiated, and ending with dinner at Mercury's a restaurant named and decorated in his honor.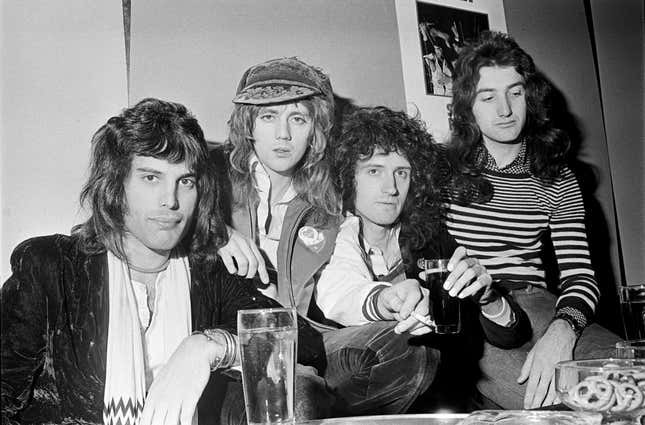 Yet, Mercury's sexuality remains an uncomfortable topic in the conservative society, even as it brings business to locals cashing in on tourism and bootleg Queen albums and DVDs.
Last week, 10 men were arrested for suspicion of being gay, following a call by politicians to report gay people to the police. Hundreds more have gone into hiding, or fled to Kenya and other more liberal countries. If he were alive, Mercury would have been forced to flee again. 
Sign up to the Quartz Africa Weekly Brief here for news and analysis on African business, tech and innovation in your inbox