Uber is expanding its imprint on public transportation—this time with the establishment of a bus service.
The ride-hailing giant launched Uber Bus in Egypt on Tuesday (Dec. 4), the first country to roll out the service globally. The platform allows passengers to request for buses through the app, after which they are matched with other riders on the most suitable route. Riders are allowed to pay via cash or card and will only be able to request Uber Bus if their pickup and drop-off locations are within the currently-serviced neighborhoods in Cairo.
The announcement comes as competition for bus-booking services heat ups across the Egyptian capital. With traffic-clogged roads and badly-maintained bus and train services that experience crashes, Uber's rivals have all looked into creating cheaper and more reliable alternatives to public transportation. Launched in 2017, the startup Swvl has partnered with hundreds of buses in both Cairo and Alexandria and recently bagged "tens of millions of dollars" in their Series B funding round. The Dubai-headquartered Careem has also launched its own bus service, with the aim of improving mobility around Cairo.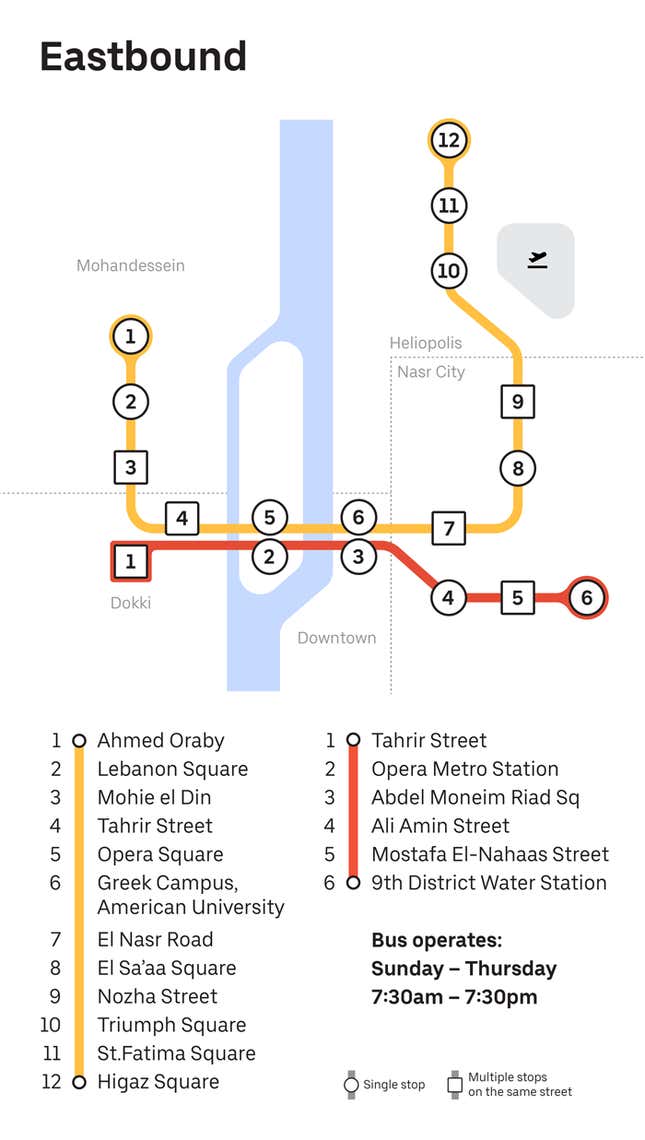 Uber said it was launching the bus option as part of efforts to improve its service in Egypt. The north African nation is one of Uber's fastest growing markets, with over 150,000 drivers giving rides through its app in 2017 alone. The company's chief executive Dara Khosrowshahi also said they will invest in a $100 million Egyptian customer support center and launched a simpler version of the app known as Uber Lite that works on Android phones and with low bandwidth.
The bus service is the latest example of Uber's experimentation and innovation across Africa. For instance, Nairobi was the second city globally after Hyderabad, India, where the ride-hailing service began testing the cash payment methods. To reduce drivers' operational costs and give riders more choices, the company has introduced various options including boda boda (motorcycle) and rickshaw services in Uganda and Tanzania respectively. Earlier this year, it launched quick low-cost trips around Nairobi by partnering with the Japanese carmaker Suzuki which supplied its drivers with the fuel-efficient Suzuki Alto model.
Yet for Uber and other ride-hailing rivals, Egypt has not been an easy market to operate in. The country's economy has been in the doldrums since the Arab Spring revolution in 2011 and compounded by the political instability that followed. Ride-sharing apps there have also faced the fury of taxi operators who accuse them of short-changing drivers and avoiding taxes.
The ride-hailing services have also battled regulatory agencies: in March, an administrative court asked authorities to revoke both Uber and Careem's licenses, a decision that was later suspended by another court.
Sign up to the Quartz Africa Weekly Brief here for news and analysis on African business, tech and innovation in your inbox