When it comes to climate change, Africa is in the eye of the storm. This is especially true of its fast-growing cities, where a change in climate patterns is threatening rapidly-expanding populations and investment opportunities, a new report shows.
High birth rates and increasing rural-urban migration means Africa has 86 out of 100 of the world's fastest growing cities. At least 79 of those cities, including key political and commercial hubs, are faced with "extreme" risks due to climate change, claims new research from risk consultancy firm Verisk Maplecroft.
With rising sea levels, increasing temperatures, and changes in rainfall patterns leading to floods or severe droughts, these cities will face a strain on their essential services including healthcare amenities and disaster mitigation systems
The study combined United Nations projections on population growth in over 1800 cities along with data on climate change vulnerabilities to assess the threat of extreme weather in cities over the next three decades.
The results showcase how Africa remains the continent most vulnerable to the impacts of climate change, even though it contributes the least to global warming in both absolute and per capita terms. The increased threat comes as emissions are on the rise too for the first time in four years according to the United Nations, which last month warned of "unprecedented changes" needed to limit global temperature increases to 1.5 Celsius (2.7 Fahrenheit).
Verisk notes the scale of the risk to African cities threatens the capital flows that have streamed into these markets to take advantage of burgeoning economies, emerging middle-class consumers, besides cheap labor. As the full impact of climate change unfolds, it predicts cities and nations will experience damage to key infrastructure, property, and assets, besides much-needed agricultural outputs.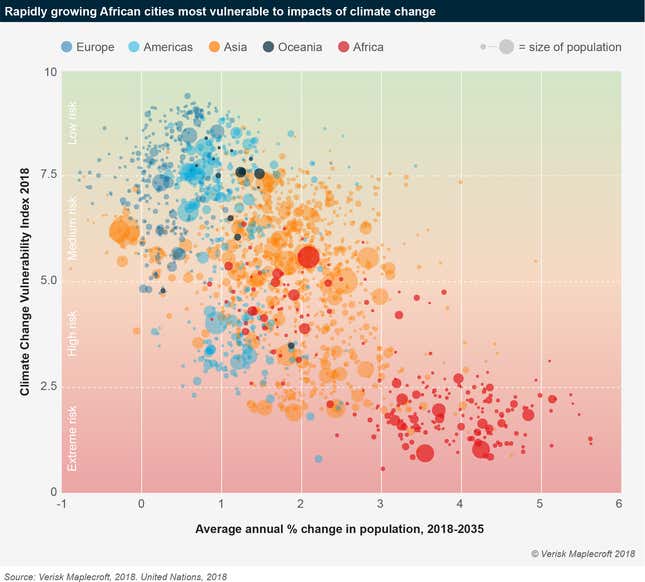 Previous research has also shown intensifying heat levels will also impact worker productivity, lead to a surge in operational costs stemming from greater energy demand, increase negative effects on export values, and affect sectors ranging from mining and oil to gas and manufacturing.
Verisk now puts a number to this, noting the amount of GDP in African nations vulnerable to extreme climate patterns will grow from $895 billion in 2018 to $1.4 trillion in 2023—a significant 48% of the entire continent's GDP.
Sign up to the Quartz Africa Weekly Brief here for news and analysis on African business, tech and innovation in your inbox